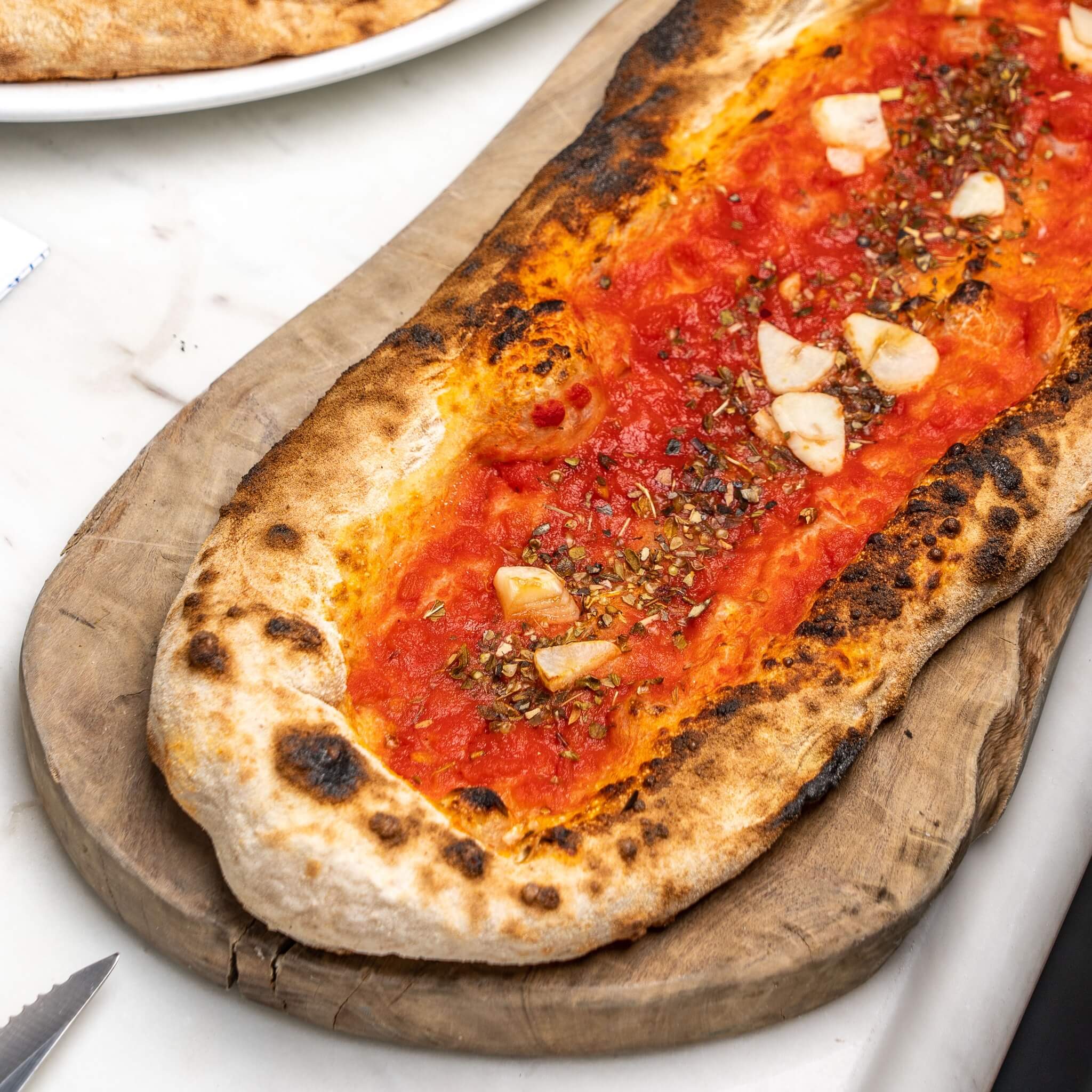 A hill we are willing to die on is that all foodies love pizza. Therefore, as a food fanatic, you will likely enjoy this blog post about pizza bread, including the secret ingredients and methods used by our chefs at Cinquecento Pizzeria to create our iconic Neopolitan pizza dough. 
What is Pizza Bread? 
Pizza bread is essentially the same as pizza dough after it has been baked in our 500-degree stone pizza ovens. Neopolitan pizza dough is made with four simple ingredients: flour, water, salt and yeast. We only use Neopolitan bases at Cinquecento Pizzeria as we love the thin and crispy base that works perfectly with our homemade tomato sauce, cheese and other toppings. 
Learn more about this dough in our previous post about pizza bread and the flour we use in our delicious dough. 
Pizza bread ingredients
As mentioned, our Neopolitan pizza dough is made with flour, water, salt and yeast. Some pizza dough is made with the addition of olive oil, but this ingredient is typically used only in Roman-style pizza. The oil made the dough even stretchier and almost window-like when stretched to full capacity. However, our chefs prefer to stick to the Neopolitan style of pizza breads. It gives you a crispy base with a thicker crust to hold onto while allowing the inside of the pizza to flop nicely. 
Of course, the exact quantities of these ingredients are part of our secret recipe, which our Nonna would love to stay within the family, so we can't calculate the pizza bread calories in each slice. When you are enjoying a meal out or a takeaway with friends or family, you should try to focus on the taste of food and the company over the calories in the food. Although we realise this is easier said than done, please try and go off what your body enjoys, not of a figure representing how much of something you are allotted within the day. 
What are the types of pizza crusts?
Each type of pizza will have a unique way of making the dough and shaping it into a pizza base. In the case of Neopolitan pizzas, we create thin pizzas with slightly thicker crusts compared to the inside of the pizza. Then our chefs cook the pizza in a scorchingly hot oven to get the iconic crispy base. 
What is the best type of pizza dough? 
As per our traditional pizza recipe, we use 00 flour. This finely ground wheat flour allows our chefs to create a soft and elastic dough with a slightly lower gluten content than the average wheat-based flour. 00 flour is the best flour to use when making Neopolitan pizza dough, which is traditionally well stretched to create a thin and crispy base. 
Can you use pizza dough for other foods?
Yes absolutely! We use our 48-hour raised dough for a selection of our delicious appetisers, including the much-loved focaccina. You can try the focaccina with garlic and tomato (and the option for additional mozzarella) or a focaccina with pancetta and Parmesan cheese. 
How to Make Pizza Bread
Various pizza bread recipes are available on the internet nowadays, so how can you trust one to be authentic to the Italian methods? Ideally, you need to find a source from an Italian chef with a history of bakers in their family to share their secret recipe with you. However, understandably this isn't an easy task. 
Therefore, your best bet as a non-Italian foodie is to visit plenty of Italian-owned restaurants and enjoy their pizza and make mental notes of what it tasted like and why you enjoyed it so much. Of course, if you are in London, you can always pop in for a bite to eat at one of our branches and taste our Italian Nonna's recipe that we have been using and perfecting for generations. 
Can I use pizza dough to make bread?
Pizza dough and bread dough are made using the same ingredients, inducing flour, water, salt and, of course, yeast. Although you can certainly use pizza dough when attempting to make bread, it probably won't turn out how you expect. This is generally because bread dough uses more yeast to allow for more rise while baking. In the case of our pizza dough, we love creating Neopolitan bases which are thin and only rise on the outermost crust. Therefore, for the most part, a top-tier Italian pizza bread is made not to rise to give it that iconic floppy centre that the Neopolitan pizza dough is known for. 
Can you buy pizza dough?
In our restaurant, we make all our pizza dough from scratch in our kitchens using 00 flour. The best pizzas are made using freshly made dough. Therefore, we don't recommend buying ready-made pizza dough as it will have many additives and maybe even chemicals to help it stay fresh. Therefore, the ready-to-go dough is not as easy to digest and may give you tummy problems if you are sensitive to some foods. 
Luckily as our pizza dough at Cinquecento Pizzeria is left to ferment for about 48 hours before cooking, it is easy on your stomach compared to shop-bought bread. 
Enjoy Mess-Free Pizza in London
Although you may be tempted to make your own pizza at home, we recommend trying some pizza from an authentic Italian restaurant near you so you can see exactly how a top-tier pizza tastes. If you are based in London, please feel free to pop down and try our Italian chef's homemade pizza bread. You can view our menu on our website before you arrive to check what options we have available to you. See you soon!