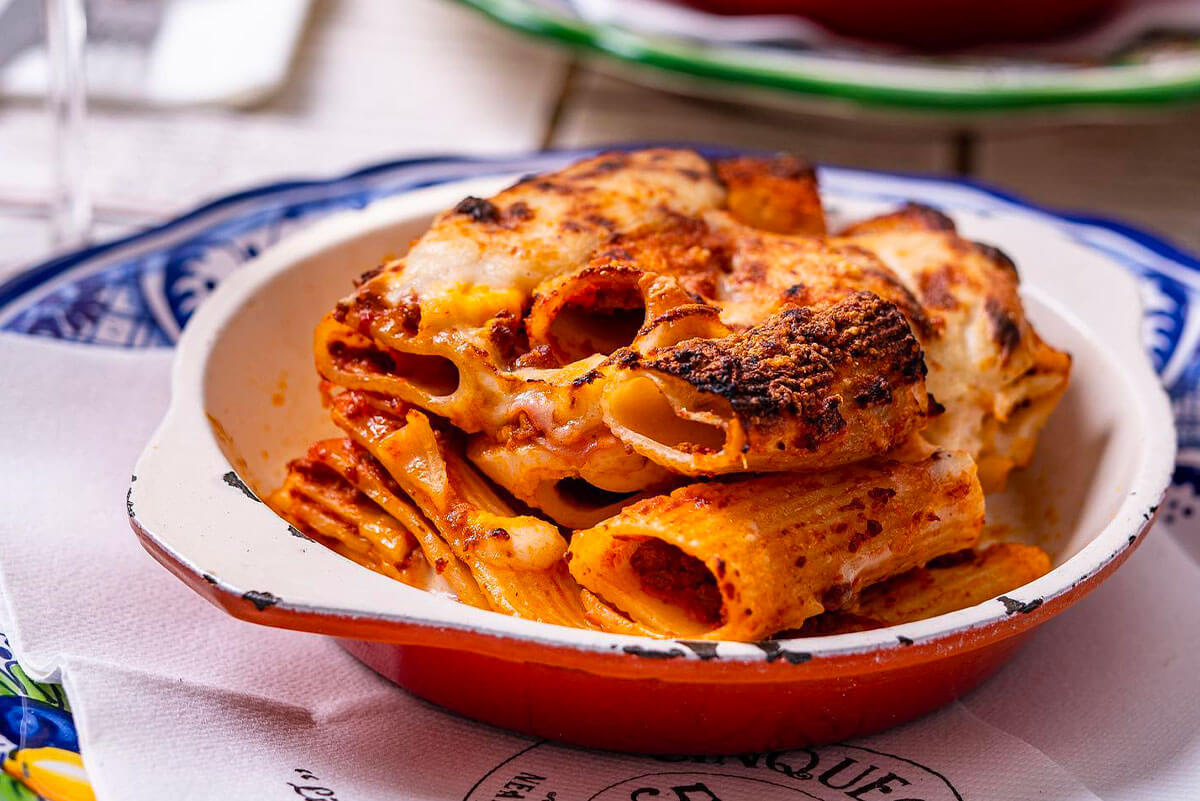 Are you ready to treat yourself to one of our tasty Italian pasta dishes? Although we specialise in pizza, as a team of Italians, we couldn't create a menu without a few comforting pasta dishes for those who fancy something a little different or just want a break from pizza. Of course, there is nothing wrong with having pizza every time you visit us, but if you are in the market to give your palate something new to enjoy, here is everything you need to know about the best Italian pasta recipes we offer at Cinquecento Pizzeria.  
The Secret to Our Chefs 10/10 Italian Pasta Recipes
As a broad generalisation, Italians LOVE pasta, and our top Italian chefs are no different. We love creating a hearty pasta dish with a simple sauce on almost a daily basis. So you can bet we have learnt a thing or two about cooking a traditional pasta recipe. 
Without giving all our family secrets away, here are our golden rules when it comes to whipping up the best tasting pasta recipes in our restaurants in London:
First, don't oil the water. 

Boil the water before adding the pasta. 

Salt the pasta water to season the pasta as it cooks. 

NEVER, ever, ever break your pasta into smaller pieces. This is Italian blasphemy, haha!

Check on your pasta with a small taste test. Nothing can tell you as accurately as actually trying the pasta, whether it is done or not. 

Serve with a fresh sauce. 
List of Italian Pasta Dishes
We offer five incredible classic Italian pasta dishes plus a pasta fritti at our restaurant Cinquecento Pizzeria:
Pasta e Fagioli 
Before you skip this authentic Neopolitan dish for its simplicity, we urge you to reconsider. Sometimes some of the seemingly simple dishes are the best when they are executed well. 
This pasta dish is made using a slightly different shaped pasta to what you may be used to at home and is served with hearty cannellini beans in a tomato-based sauce. 
Although it is somewhat a soup regarding the sauce to pasta ratio, there is no way you could leave the restaurant unsatisfied if you choose this pasta dish from our menu. Plus, it's topped with freshly grated parmesan cheese, so you can guarantee it'll hit the spot. 
Beef Lasagna 
We couldn't leave a beef lasagna dish off our menu. After all, we pride ourselves in being the creators of everything as Nonna used to make it back home in Italy, and lasagna is undoubtedly a dish she would want to see us serving. Our lasagna is made with a home-baked bolognese sauce, bechamel cheese layers topped with nutty Italian parmesan. 
Gnocchi Dishes 
As well as two traditional pasta recipes, we also serve up a few varieties of our delicious homemade potato gnocchi, which you may be interested in trying:
Gnocchi al Pesto:

Gnocchi served with our Italian Nonna's family recipe for traditional basil pesto. This dish is topped with a light touch of parmesan to finish it off to perfection. 

Gnocchi Alla Sorrentina:

This baked gnocchi dish with an Italian San Marzano tomato sauce and a crispy top of mozzarella is comfort food at its finest. If you're in the mood for a rich and indulgent dish, this is our top pick!

Gnocchi al Gorgonzola e Tartufo:

Calling all truffle fanatics! One of the more unique dishes is our gnocchi with a gorgonzola cream sauce, topped with walnut and truffle oil. Go for this option off the menu if you are interested in trying something a little different to a standard tomato pasta dish. 
Frittatina de Pasta
The frittatina is a deep-fried bucatini pasta with bechamel cheese (a runny, mild cheesy sauce made with butter flour and milk), cured ham, and punchy black pepper. 
Why not add the Frittatina from our fritti menu? This way, you can have a few bites of tasty pasta alongside your main meal. A great choice if you have decision fatigue and just can't make up your mind between pasta or pizza for your main course! 
You can also get the frittatina with the crocche and arancinetti in the mixed bundle of fritto misto. Trying these speciality Italian dishes as a sharing platter is a great idea if you are open to trying some new sides or starters as a table. 
View our full menu online
to help you decide what mouth-watering dish to order on your next visit to our pizzeria. 
What is Gnocchi? 
You've never tried gnocchi?! If this is the case, let us introduce you to the wonder that are these small potato and semolina flour-based dumplings. Gnocchi is an Italian speciality, and we can serve it with a variety of tasty homemade sauces. 
Although gnocchi is technically not pasta as its primary ingredient is potatoes (pasta is made with wheat), you will often see it on a list of classic pasta dishes due to the serving suggestions and the similarities in the sauces between the dishes. 
Not sure whether to go for a traditional pasta or try gnocchi? Our recommendation would be the gnocchi as it is filling, tasty, and offers a unique texture that can pique your palate's interest. 
Try These Pasta-tively Delicious Dishes Today!
Safe to say, our authentic pasta recipes are 100x better than our pasta puns. So get yourself down to one of our three restaurant branches today to try one of our pasta or gnocchi dishes. Although we do swear by our stone-baked pizzas as one of the best available in London, we know that sometimes you just might not be in the mood for a bread dish, so we can't wait to serve you a lip-smacking pasts dish on your next visit. 
For more images of our pasta options in our restaurant, visit our Instagram!