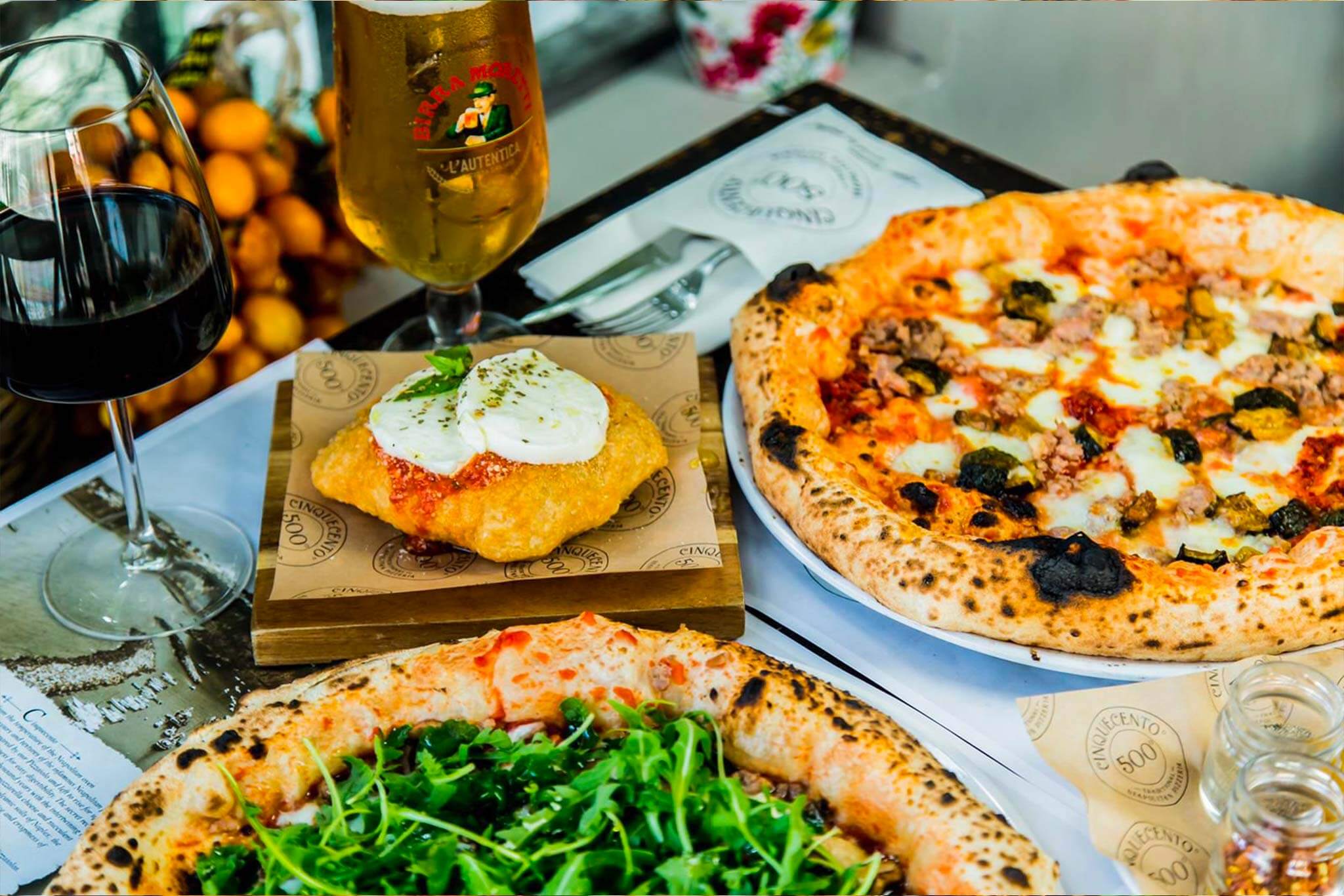 Dine in the best pizza restaurant London and enjoy a solo date night with our team at Cinquecento Pizzeria. 
Italian culture is well known for being unapologetically loud and welcoming. Italian people love to see their loved ones and spend time with the people who matter most. Of course, family values are super important, but that doesn't mean you shouldn't enjoy your own company once in a while. So why not treat yourself to lunch or dinner at our authentic Italian restaurant in central London? Italian restaurants, like ours, are a great choice for a solo date night as they offer a lively atmosphere and a buzz of background chatter to set the mood for your evening out. 
How To Make The Most Of Your Evening
You Deserve The Best Pizza In London
Choosing the first-class restaurant is the first step in enjoying your solo date night. Our top pizza restaurant London is a great choice when it comes to picking a venue that offers delicious food and excellent service, as well as a welcoming, friendly atmosphere. Enjoy one of our signature pizzas, or go all out with a 3-course meal. 
Get Dressed Up
Putting on a nice outfit and getting ready for an evening out can help set the mood for your solo date night. As they say, when you look good on the outside, you feel confident on the inside, so looking your best may give you that extra boost of confidence when being seated at a table for one. 
Put Your Phone And Other Devices Away
Even after you overcome the hurdles of ordering a pizza on your own, it can be tempting to pull out your phone and sit staring at a screen all evening to pass the time. Instead, try mindfully eating your pizza and savour every last delicious bite. 
If you struggle to sit in silence, you could also bring a book with you to read once you are seated. 
Not a fan of reading? Why not download an episode of an entertaining podcast or an audiobook to listen to while you enjoy your meal at our Chelsea or Portobello pizza restaurant London. 
Plan A Nice Walk Before Your Meal
If you have a little time before your meal, why not explore the area. Our Chelsea restaurant is near the Chelsea Physic Garden, a beautiful botanical garden (open to the public until 5 pm on weekdays and Sundays). Our restaurant in Portobello is near Hyde Park or Kensington Gardens (open until 4:15 pm in winter and as late as 9 pm in high summer).  
Feel The Fear, Then Enjoy Pizza 
It's safe to say most of us don't treat ourselves to dinner on our own nearly as much as we do with others. Many people feel anxious about eating at a restaurant alone, whether that be because you are worried about what others will think of you getting a table alone or because you don't know how to enjoy your own company without the presence of others. 
Although we encourage you to feel the fear of eating alone in a restaurant and do it anyway, there are a few ways you can alleviate some of the anxiety about dining alone:
Go at off-peak times

 
At our pizza restaurant central London, the best times are usually early in the week. Book a table for an early or late lunch or an early dinner on a Monday or Tuesday to feel less pressure when eating alone.
Plan and prepare

 
You may feel less anxiety if you book a table in advance and plan how you will travel to and from our pizza restaurant in London. Knowing the staff are expecting you may take the worry off whether they will have space for you. Plus, it is always a good idea to plan how to get home. 
Don't overthink it

 
Apart from the company, your experience will be much the same as dining with a friend. 
Cinquecento Pizzeria Can Cater For Any Dietary Requirements 
Our mission at Cinquecento Pizzeria is to share delicious and authentic Italian cuisine with the people of London. Therefore, although we aren't a fully vegan pizza restaurant London, we strive to offer quality vegan and gluten-free options for anyone to enjoy. So, no matter what dietary restrictions you have, we are happy to accommodate. 
Stay Safe
Above all, please ensure you take precautions to get home safe after enjoying a pizza London, especially if you leave us after dark. If you are nervous or unfamiliar with London you may wish to dine in with us earlier, in order to go before it gets too late. 
We recommend you plan how to get home ahead of time and let your friends know your route. You could even send your live location to a close friend and let them know when you get home safe. 
If you don't live far, you may wish to walk home. If possible, keep to busier roads with more people and avoid using headphones. Or you may wish to use a taxi app service to get you door to door safely. Our Portobello Road brand is close to the Ladbroke Grove tube station, and the Chelsea branch is just a short walk from Sloane Square.  
Treat Yourself! 
With many fantastic pizza restaurants London to choose from, we know it's a decision you aren't taking lightly. However, if you are looking for a place to relax and enjoy an authentic Italian dinner, we would be honoured to serve you at Cinquecento Pizzeria. 
When you visit our Italian pizza restaurant London for a solo date night, send us a picture or tag us on Instagram @cinquecentopizzeria, so we can share your Instagram stories with our community of pizza lovers.