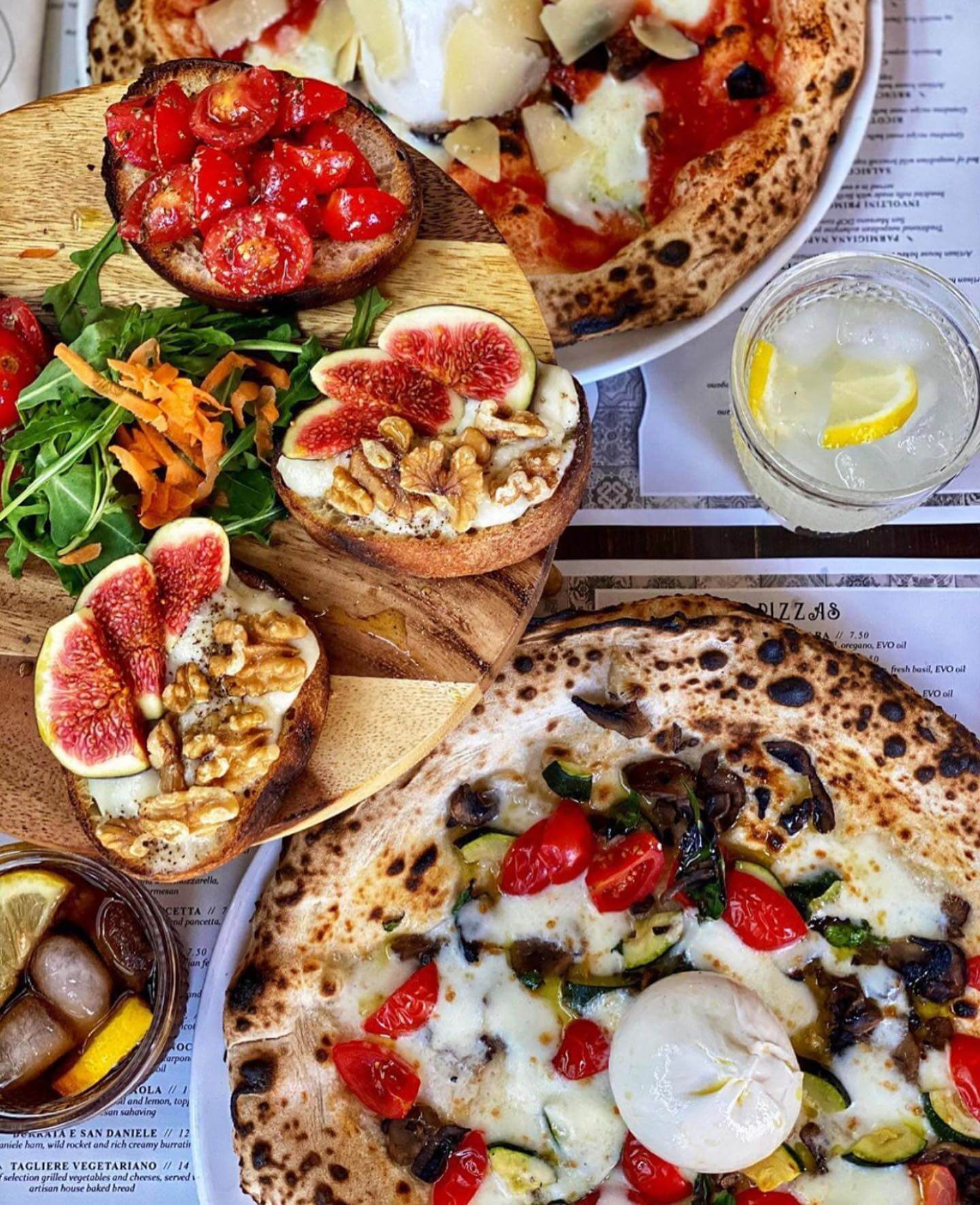 Cinquecento Pizzeria offers a solution if you are looking for a healthier pizza in London. Our pizzas are made in our kitchen using only the best quality, fresh ingredients so you can munch away knowing that you have chosen a healthier pizza option that's easy on your gut. So now you no longer have to choose between great taste and your health. 
Why are Cinquecento Pizzeria Pizzas Healthier? 
At Cinquecento Pizzeria, we understand the importance of nourishing your bodies with food that not only tastes great (and let's be honest, the Cinquecento pizzas taste AMAZING), but we know you also want to eat foods that support your overall health and well-being. That's why we've made it our mission to create delicious pizzas that are not only delicious but also gut-friendly.
One of the ways we achieve this is by using 00 flour for all our pizza bases. However, the reason our stone ground 00 flour is so great for the gut is that it is an exceptionally finely ground flour which means your body has to use less energy to digest the wheat grains in the pizza base. 
The 00 flour at Cinquecento Pizzeria is also left to rise for approximately 48 hours to create a fluffy, light dough which is easy for our chefs to knead and easy for your body to digest. 
Additionally, 00 flour is higher in protein and lower in gluten than most regular bread flours used for pizzas. So even some people who have gluten sensitivity (not the same as coeliac or a gluten allergy) claim they can enjoy our pizzas without feeling bloated afterwards. 
We also use only fresh, 100% Italian and DOP (Denomination Protected Origin) ingredients straight from our home country, so you know each bite contains as much goodness as humanly possible. 
You can read more about our restaurant's story and about the other ingredients we use, such as the San Marzano tomatoes, on the Cinquecento Pizzeria website. 
Healthy Pizza Toppings 
Pizza is often associated with being unhealthy. However, it doesn't have to be that way. Choosing the right restaurant that cares about its food production and opting for nutritious toppings can turn your pizza into a nourishing and delicious meal.
Even if you are a meat eater, one of the best ways to make your pizza healthier is by loading it with vegetables. Not only do vegetables add a burst of flavour and colour, but they also provide essential vitamins and minerals. 
Some of our favourite vegetable toppings include:
Bell peppers: These are high in vitamin C, which helps to boost the immune system.

Spinach: Spinach is an excellent source of iron and Vitamin K, which is essential for blood health.

Tomatoes: Tomatoes are rich in lycopene, an antioxidant that has been linked to reduced risk of certain types of cancer.

Courgette: Courgette is a great source of Vitamin A, essential for eye health.
Another great way to make your pizza healthier is by choosing nutritious protein toppings. And fortunately, there is an abundance of healthy protein-topped pizzas available at Cinquecento Pizzeria. Rather than a processed pepperoni pizza from one of the popular British fast food chains, Cinquecento Pizzeria chooses to use meats like 24-month cured San Daniele ham, Calabrian 'nduja, and Italian sausage.
Read the Cinquecento Pizzeria to see the vegan and regular pizza options available on our delicious Italian menu. 
Is pizza healthy?
Living in the capital, there are countless options for unhealthy, oily and processed pizza. However, there are also many places where you can find a more healthy pizza in London. And as our pizzas use fresh, 100% Italian ingredients and we cook everything, including the homemade tomato sauces, in-house, you are much better off choosing Cinquecento Pizzeria when you are looking for a healthy pizza. 
How many carbs in one slice of pizza? 
It is impossible to accurately calculate how many grams of carbs each slice of pizza will contain. And even 'healthy pizzas' should contain carbohydrates as these are essential macronutrients which help your body have enough energy to perform daily tasks. 
We understand some people may be trying to track their calories and macros when on strict diets. However, we believe that as you will likely only dine with us once or a handful of times a month, you are better off focusing on enjoying the pizza while fuelling your body with essential macro and micronutrients from our kitchens. 
Where does Cinquecento Pizzeria get its delicious pizza recipes? 
Like most Italians, we believe our Nonna (grandmother) knows all the secrets to the best pizza recipe. Therefore, we still use the super healthy pizza recipes in our restaurants in London. These recipes have been passed down through the generations, so you know that the pizzas from the Cinquecento Pizzeria stone oven are some of the most traditional and healthy pizzas in town. 
Healthiest Pizza on the Planet
Ok, so even with all the increases in technology over the last few years, we still can't promise a pizza with 0 calories, 0 fat and 0 carbs. However, Cinquecento Pizzeria in central London has managed to come up with the next best thing. 
Our pizza menu contains some of the freshest and tastiest pizzas outside of Italy. Furthermore, as mentioned, our dough is fermented to reduce digestive troubles. We even offer vegan and gluten-free alternatives to almost every pizza on our menu, so you can choose a pizza to suit any dietary restrictions. 
So next time you're craving pizza, visit us at Cinquecento Pizzeria and try one of our delicious and gut-friendly pizzas. We can't wait to serve you some of our authentic Neopolitan pizzas soon!