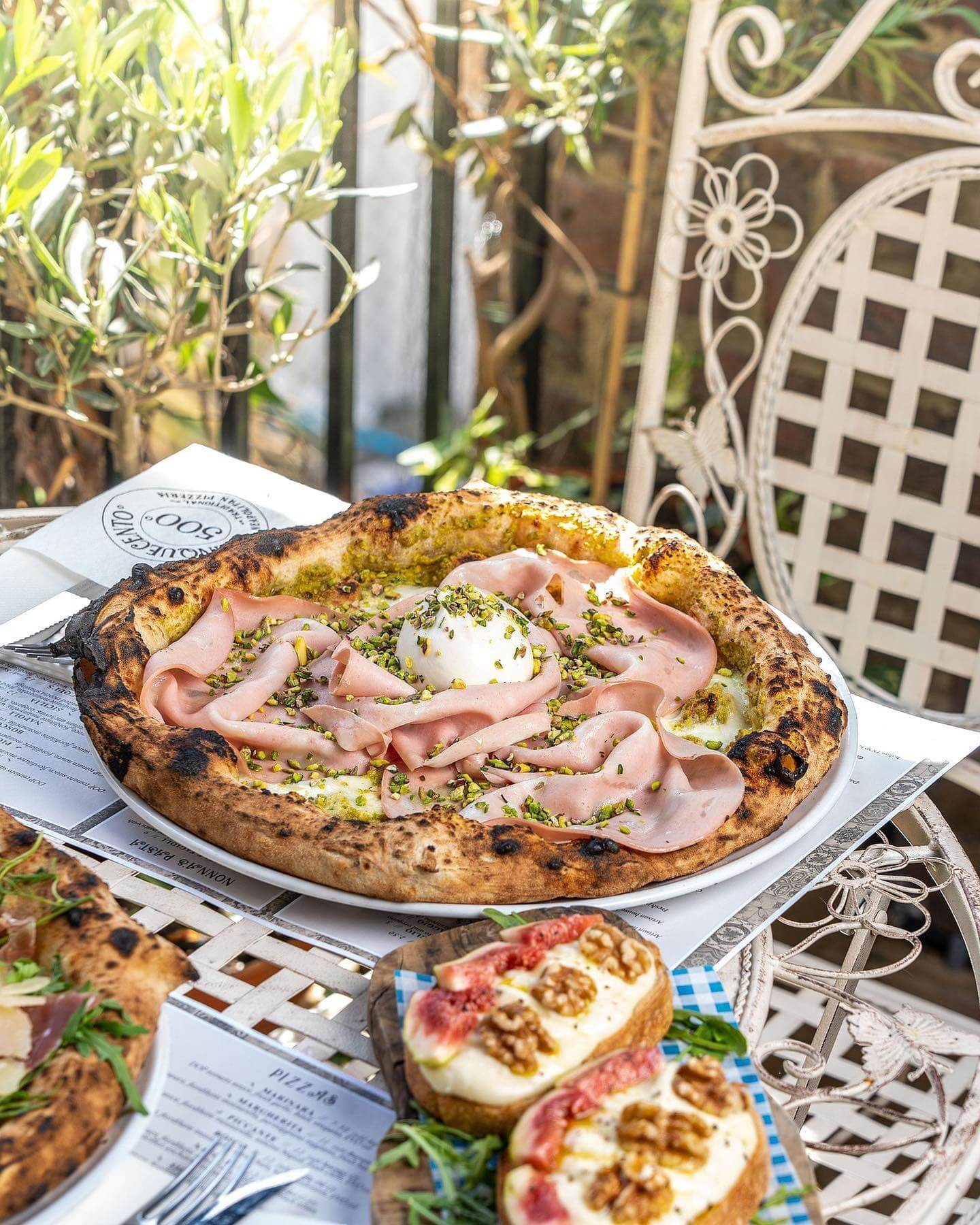 Get ready to learn how to make the ultimate summer garden party complete with Italian pizza takeaway, games and drinks. Cinquecento Pizzeria is here to show you how to be the best host this summer and make the most of the gorgeous weather while it's here.
5 Top Tips for Hosting an Italian Summer Party
Choose an authentic Italian pizza takeaway
Of course, the company is a crucial part of any good summer party, but the food is also important. Therefore, you must choose an excellent Italian takeaway near me. 
Fed up with searching for Italian pizza delivery near me? If you are in central London in the following areas:
Battersea

Belgravia

Chelsea

Earls Court

Fulham

Holland Park

Kensington

Knightsbridge

Ladbroke Grove

Marylebone

Mayfair

Paddington

Shepherds Bush

South Kensington

White City
You can order from Cinquecento Pizzeria for delivery or pick up depending on what is convenient for you. Look at our fantastic five-star reviews and Instagram to see the menu in action. Our Italian chefs would not deliver anything less than perfection, so you can guarantee a fabulous summer Italian pizza Italian menu when you order from us at one of our three branches in central London. 
The best thing about ordering from Cinquecento Pizzeria is that as well as being the best pizza takeaway near me you can find, we also offer a solution to your search for a pasta takeaway near me. Plus, we also offer vegan and gluten-free options, and many of the food options are suitable for little ones, so our tasty menu can cater for everyone.
Bonus tip: Don't forget dessert options!
We also offer traditional Italian desserts to enhance your authentic Italian feast or to help you celebrate a special occasion. 
Our most popular choices are the cannoli, a traditional Sicilian pastry filled with sweet ricotta and pistachios, and the apple and cinnamon cake or tiramisu. 
If you are close to our restaurant, you can also opt for a traditional Italian gelato; however, even with our fastest delivery service yet, on sweltering days it may go slightly soft before arriving at your door.
Hope for suitable outdoor dining weather
Of course, you can never count on good weather in the UK. But if it is sunny (or at least not pouring with rain), try and host your summer party in the garden or local park. Although not everyone has access to a private garden space in London, there are plenty of parks near our restaurants in central London for you to take advantage of. 
Here are some ways to make your garden or park party top-tier:
Pack a cool bag with ice to keep drinks chilled. 

Bring a speaker to play some background music. Find a 'summer vibes' playlist on YouTube or Spotify to set the atmosphere. 

Have plenty of plates, cups and cutlery on hand. 

Plan for more guests than you expect. You never know how hungry your guests will be, so it's always worth over-ordering on food and drink to ensure no one leaves hungry. Of course, you can always keep the leftover pizza for lunch the next day, and you're covered if anyone brings their significant other without notifying you first. 

Lay out a few blankets, picnic mats, or extra seats so your guests can settle in and enjoy the best Italian pizza takeaway in London. 
Set a dress code
There's nothing worse than not knowing what to wear to someone's event so remember to let your friends know the dress code before they rock up! 
Organise garden party games 
Spice up the party with some fun garden games. It's up to you whether you want to have more organised fun or have the games out in the background for people to dip in and out of as they see fit. Having games around is always a good idea when the food is on its way to help the time go faster until your food from one of our delicious Italian takeaway restaurants arrives.
Our top choices are giant Jenga, croquet and badminton (if you have enough space and it's not too windy) or you could even organise a talent show. 
Keep the drinks flowing
Even though we are in an independent pizza chain in central London, we know how much Brits love a good drink in the summer. Of course, people may bring their drinks to your summer gathering, but it's always an excellent idea to have a cool box with a few cans of beer, wine or premixed cocktails at the very least. 
You could also mix up a few homemade cocktails in pitchers, such as a piña colada, margarita or a classic Pimms (with strawberries, cucumber and orange, of course). If you are running low on drinks or haven't had time to organise them yourself, you can also arrange to order drinks from our restaurant when your food is delivered. We offer a range of sparkling, white, red, and rosé wines, Italian beers and soft drinks to accompany your tasty food choices.
Cheers to Summer! 
Now you know how to have a fabulous party and where to order your Italian pizza delivery from if you are in central London. Our team are passionate about sharing our love for Italian cuisine with the people of London, so let us show you how it's done with our crispy Neapolitan pizza bases, homemade pasta and mouthwatering Italian desserts. 
For more information, please see our menu or visit our Italian takeaway delivery website pages for more information on how to order. Get the perfect pizza delivered to your door in minutes and spend your time focusing on providing entertainment and enjoying your guests' company.