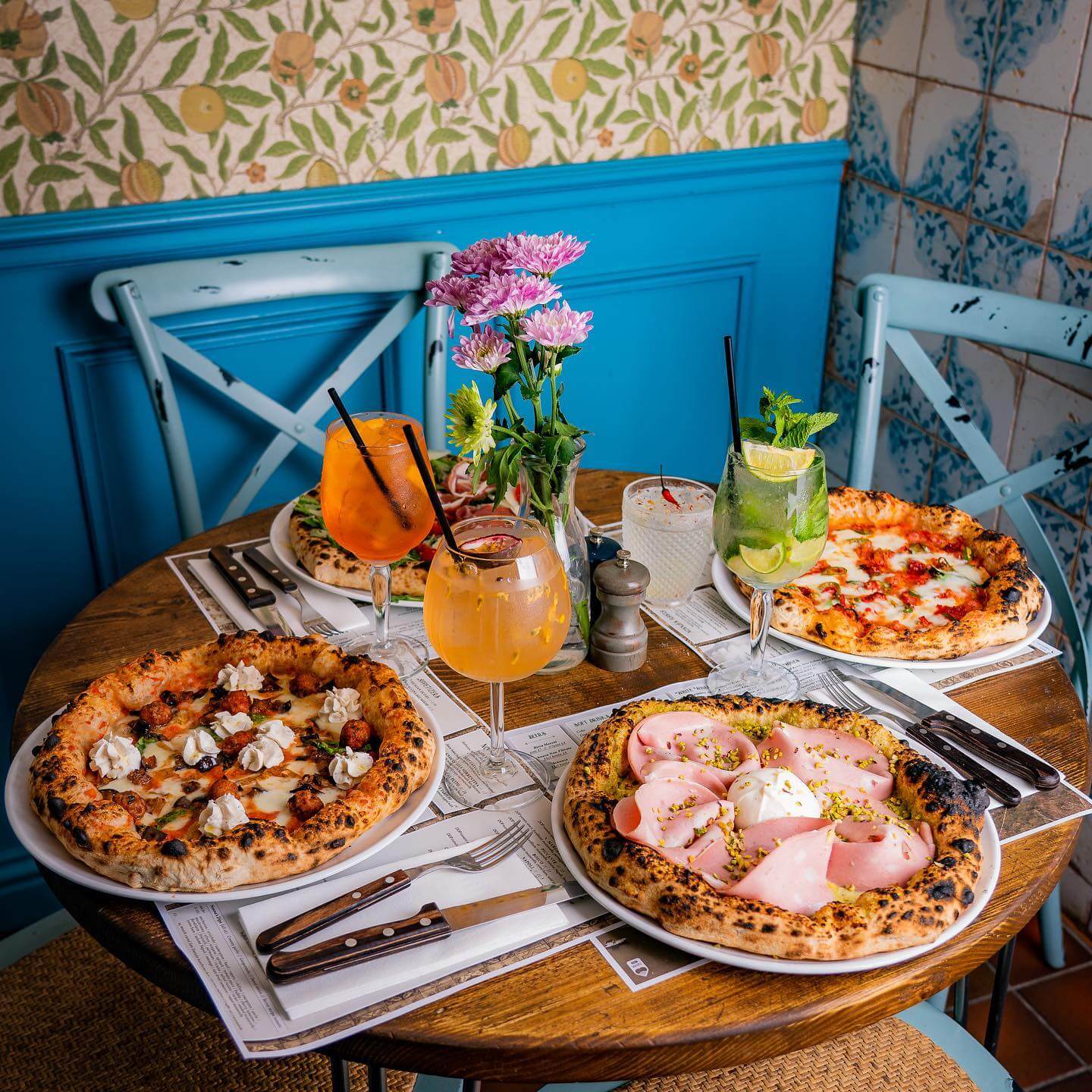 Did you know there are several types of pizzas that all vary in their ingredients or preparation? Although these pizzas are all Italian, they are unique. 
At Pizzeria Cinquecento, you can expect a traditional Italian Neapolitan pizza to be served piping hot to your table. However, what makes these Naples-style pizzas so special and popular with the people of London? Settle in and get ready to learn all about the types of pizza that come from Italy, including how to tell the difference between Neapolitan, Sicilian and Roman pizza. 
Different Types of Pizza in Italy
Neapolitan Pizza
Of course, we have to start our types of pizza list with our pizza of choice at Pizzeria Cinquecento. The Neapolitan pizza, which goes by Naples-style pizza or pizza Napoletana is known for its thin and crispy base. However, the base is also light and fluffy, creating the iconic puffed pizza crust and a more sloppy middle to the pizza slices. It's a doughy pizza that isn't overly bready – in our opinion, it is the perfect middle ground for the ultimate Italian pizza. 
You can also recognise a Neapolitan pizza from the taste of the San Marzano or Pomodorino del Piennolo del Vesuvio tomatoes that make up the bulk of the marinara sauce used to top the homemade bread. These tomatoes grow near the volcano Mount Vesuvius in Campania, and these particular varieties are known for their distinctly rich taste with a touch of soft acidity. 
The most famous Italian pizza, the Margherita pizza, is a form of Neapolitan pizza. The base is made with classic pizza Napoletana bread. Then it is topped with fresh basil, white mozzarella and red tomato sauce. For more information on the humble Margherita pizza, head to our previous blog post, 'an Italians guide to a top tier pizza'. 
Sicilian Pizza
The Sicilian pizzas name is also known as the Sfincione or pizza Siciliana, and you can identify this variety by its thick base, including a wide, fluffy crust. Sometimes you can also see this type of pizza made into a rectangle or square shape. 
Unlike the Neapolitan pizza, which uses fresh and creamy mozzarella, the Sicilian pizza uses a hard sheep's milk cheese. 
You may also notice some breadcrumbs on the pizza toppings, which help promote the distribution of the oil on the pizza and add in some moisture to compliment the bread. 
The Sicilian pizza has been famous in America for its thicker dough, typical of New York pizza and street food pizza sold by the slice. This is mainly because they are easier to hold than the more floppy Neapolitan pizza. 
Pizza Alla Pala 
Another different type of pizza is this paddle-like pizza made in the capital of Italy, Rome. This style of pizza started when bakeries needed a way to use up bread dough scraps without them going to waste. So the bakers began to stretch the dough enough to count as a large slice of pizza and then add toppings. The dough is usually very moist with high hydration to make the stretching of the base easier. 
The base tastes soft on the inside and crunchy on the outside – just like the perfect roast potato! 
Pizza Tonda Romana 
Otherwise known as the Scrocchiarella pizza, this dish is the complete opposite of the Sicilian pizza, with a wafer-thin base that is crunchy with every bite. 
However, this pizza isn't dry or overbaked as you may expect. Instead, bakers achieve this paper-thin base by using a dough that holds minimal moisture and, therefore, it cooks quickly. You'll know the Pizza Tonda Romana by the iconic crackle sound you experience when you bite into the slice. 
Chefs will then place the tomato sauce and toppings on the very edge of the pizza to avoid leaving you with any bread on its own. 
Pocket-Sized Guide To Pizza Toppings
Now you know about the different kinds of pizza you could choose, it's time to talk toppings! Although a few combinations of toppings are popular together, such as ham and mushrooms on a Bosco pizza, you can also customise your pizza at our restaurant with your additional favourite ingredients to tailor it to your taste preferences. 
Here are the most common toppings you might like to choose from that are available at Pizzeria Cinquecento:
Tomato sauce

Mozzarella 

Parmigiano Reggiano

Fresh basil

Garlic

Salami

Chilli

Cured ham

Mushrooms

Capers

Olives

Anchovies

Ricotta 

Aubergine

Spinach

Calabrian 'nduja (a spicy Italian sausage made with pork meat) 

Italian sausage

Courgettes

Broccoli

Rocket 

Truffle oil 

Pesto (we use a pistachio pesto)

Nuts

Cherry tomatoes

Burrata (a soft Italian cheese which is almost like a hybrid of mozzarella and cream) 
See our full menu for a comprehensive list of the pizza toppings you can choose from when ordering a tasty pizza at our Italian restaurant.
Where to Try Neapolitan Pizza in London 
Now you know all about the different pizza type names and how to tell them apart! If this has got you tempted to try a traditional Neapolitan pizza, head over to our restaurant in Notting Hill Gate, Portobello Road or Chelsea to try a bite in person. 
However, if you just aren't in the mood for a pizza, you can read more about what pasta dishes to try at our Italian restaurant. We have something on the menu for everyone, so head down to one of our branches in central London and try a taste of Italian heaven. 
We don't take bookings for tables under six, but please feel free to turn up and let one of our friendly team members know how excited you are to try a Neapolitan pizza, and we will do our best to find you a table. See you soon!