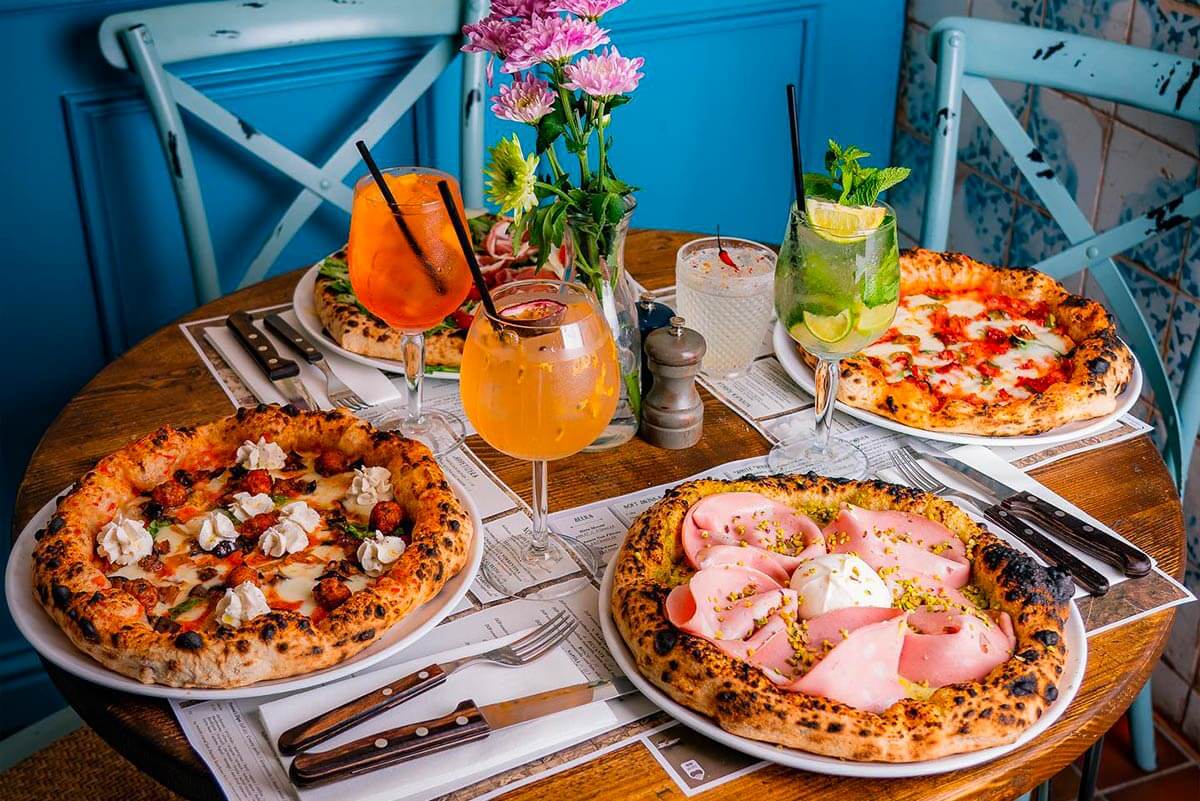 Maybe we are biased, but Italian food is always exceptional. However, sometimes Italian dishes can be so delicious it becomes impossible to choose what to order.
In this post, we will discuss some of our most popular dishes and hopefully aid you in your decision on what to order next time you dine in with us.
How We Make Our Italian Food Delicious
We pride ourselves on being able to produce the best Italian food in London. We achieve this by using only top-quality Italian ingredients, fermenting our pizza dough for at least 48 hours to improve hydration and achieve a crispy base, and utilising our Italian Chefs' knowledge.
Continue reading about what makes Cinquecento Pizzeria worth visiting.
List of Italian Dishes
If you love to experiment with your food choices, here is a list of Italian food that is popular in our restaurant. So next time you visit Cinquecento Pizzeria, you can choose a starter, main or dessert you have yet to try. Of course, you can also chat with our helpful staff to discuss the menu and get their recommendations.
Popular Appetisers and Starters:
Focaccina Al Formaggio: A platter with our 48 hours raised dough topped with garlic, tomato, fresh mozzarella cheese, and oregano. This appetiser is great for sharing and enjoying a quick bite before your main.
Primosale Dippers: Deep-fried fresh pecorino cheese in breadcrumbs with a glorious caramelised onion and tomato dip. If you love mozzarella dippers, these are similar but a thousand times better.
Popular Pizza Dishes:
Margherita: The traditional Neapolitan pizza is top of the list for typical Italian foods you should try, made with marinara sauce, fresh mozzarella cheese, tomatoes, and basil leaves. Although this may sound unremarkable, sometimes simple is best! Read more about what goes into an incredible Margherita pizza in this blog post. 
Piccante: For a pizza with a bit of kick, try our tomato sauce, mozzarella, Italian salami, and fresh chilli pizza.
Capricciosa: One of our most popular dishes for meat eaters is the Capricciosa made with tomato sauce, fresh mozzarella, cured ham, black olives, and artichokes.
Popular Pasta Dishes:
Pasta e Fagioli: Similar to the classic Margherita pizza, this pasta dish doesn't need any fancy ingredients to show off. This pasta dish made with an authentic Neopolitan tomato sauce, cannellini beans and nutty parmesan cheese is just the ticket if you want a simple yet delicious pasta dish.
Gnocchi: We offer three different flavour and sauce options for our homemade potato gnocchi: green pesto, tomato sauce with crispy mozzarella, and creamy gorgonzola, walnut and truffle sauce.
Vegan-Friendly Options:
Of course, we couldn't very well leave the vegans out of the fun. For more information about our vegan pizza options, read our previous blog post.
Vegan Bosco: A vegan twist on one of our most popular pizza choices. The Bosco is topped with vegan cheese, mushrooms, rocket and, most notably, truffle oil.
Vegan Calzone: Classic folded pizza made vegan with plant-based cheese, aubergines, mushrooms, and courgettes.
Popular Desserts:
Tiramisu: Our take on the classic tiramisu with espresso-soaked ladyfingers and a fluffy mascarpone cream topped with cocoa.
Cannolo: Pastry filled with sweet ricotta cheese topped with crumbled pistachios. A traditional Sicilian pastry dessert is a must-try for anyone with a sweet tooth who wants to finish their meal with a taste of Italy.
What Wine To Pair With Popular Italy Meals
If you are over the drinking age of 18 in the UK, why not pair a lovely wine with your mains. Our top wine picks for enhancing your cuisine Italian include:
Pinot Grigio: Great for pairing with our Gnocci al pesto for its strong yet simple flavour.
Chianti Classico: If you fancy going straight in for a bottle, try this famous red wine that works beautifully with most Italian dishes, especially those with cheese or salad.
Chardonnay: If you have chosen a creamy dish, this wine is a great option. It is also a good choice if you are still developing your wine palette due to its light agreeable flavour. Our wine list has two Chardonnay options to suit your taste and budget.
Shall You Go For Pizza Or Pasta?
Now you have read through our popular Italy foods list, and you may already have chosen a dish or two to try next time you visit us. However, if you are still torn between pasta and pizza, here is our advice (other than just ordering both or trying to convince your dinner guests to share). Although pasta is now the top of the list for the world's favourite foods, we think if you are torn, pizza is the way to go. An authentic Italian pizza cooked in our restaurant in the stone oven gives Italian restaurants such as good name. There's a reason Neapolitan pizzas are so well-loved by Londoners seeking a taste of Italy.
Get Your Order Ready and We Will Do The Rest!
By now you should have an idea from our list Italian food of what you wish to try next time you visit us. If you are still struggling to choose, the only thing left is to convince another friend to join you for a second trip. Whether you are looking for the best of simple Italy dishes, such as a Margherita or want to try something completely new, our Italian chefs are here to help you enjoy your reservation to the fullest.
Our team are enormously passionate about serving the people of London with the best quality Italian food made with 100% Italian ingredients. If you have any more questions about what to order, please feel free to message us on Instagram to discuss the menu in more detail or call us to discuss your dietary requirements.