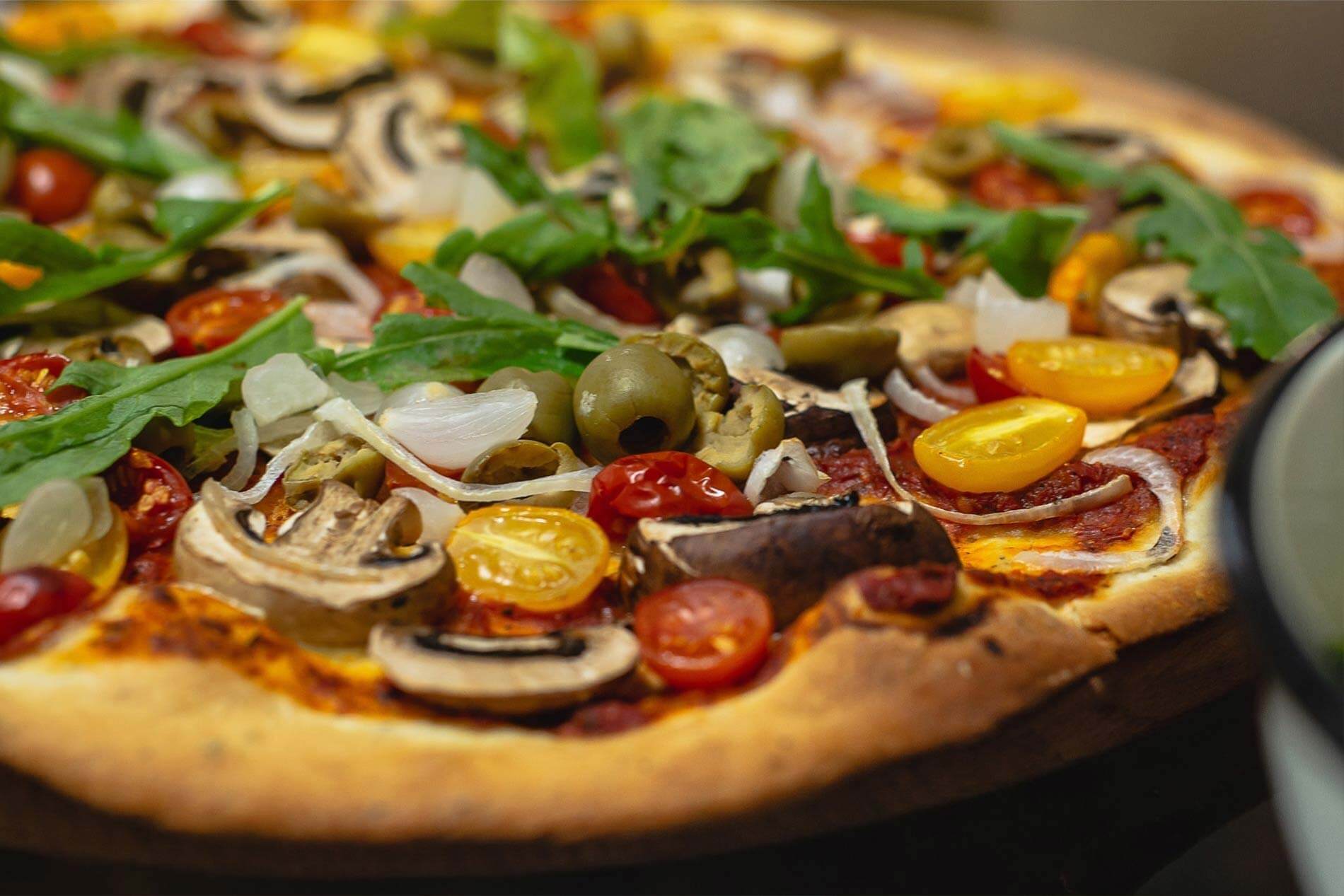 We couldn't live with ourselves knowing some people would be missing out on our authentic Italian pizza. So of course, we had our top chefs develop the best vegan pizza London has to offer. If you are looking for vegan options or just curious to try something a little bit different we have got you covered. Who knew finding vegan pizza restaurants London was so easy? 
The Best Of Vegan Pizza Restaurants London
Our three Cinquecento Pizzeria branches are quite possibly the closest to Italy you can get in London. We use Italian cooking methods and 100% Italian produce to get our pizzas 'just like Nonna used to' make them back home in Napoli. In the last ten years, we have served over 1.5 million pizzas to the people of London and now we are proud to also be serving the ever-growing vegan community in the city. You can trust our team at Cinquecento Pizzeria to provide the best vegan pizza in London. 
As well as an Italian taste explosion you also get the full experience when dining in with us. Our kitchen is an open gallery kitchen meaning you can literally watch your pizza come to life right in front of you. Watch the chefs prepare your pizza from throwing the dough to swirling the tasty tomato sauce to sprinkling on your favourite vegan toppings. What are you waiting for? Check out the best of vegan pizza East London and vegan pizza North London today.
What Vegan Pizza Is On The Menu?
Our accommodating team take dietary requirements very seriously and we are always happy to go over anything on the menu and discuss how we can make arrangements to suit your needs. We currently have four vegan options on our menu plus another vegan-friendly option from our standard menu that is suitable for those following a plant-based diet. Our vegan options include: 
Vegan Margarita:

Tomato sauce, dairy-free cheese, EVO oil

Vegan Bosco:

Tomato sauce, dairy-free cheese, with a drizzle of truffle oil

Vegan Spinaci:

Boiled spinach, sundried tomatoes, black olives, dairy-free cheese, EVO oil, basil

Vegan Calzone:

Dairy-free cheese, aubergines, mushrooms, courgettes

Pizza Marinara: DOP tomato sauce, fresh garlic, basil, oregano, EVO oil
Can I Make A Customised Pizza With Vegan-Friendly Toppings? 
Yes of course. We would be more than happy to help you create a bespoke pizza for you with all your favourite toppings. Feel free to customise a pizza yourself. The toppings that are suitable for vegans include: 
Artichokes

Aubergine

Basil, Oregano

Capers

Chilli

Courgette

Garlic

Mushrooms

Olives

Spinach

Cherry tomatoes

Rocket

Sun-dried tomatoes

Truffle Oil
The easiest way to order a customised vegan pizza would be to order a vegan margarita (which includes tomato sauce, and vegan mozzarella), then choose 2-4 toppings to add as additional extras (charges applied depending on the additions chosen). 
What Else Is Vegan On The Menu?
The vegan options for appetizers, starters and sides are Sicilian olives and Tomato Bruschetta, which is an Artisan house-baked bread topped with Italian cherry tomatoes, and a House Green Salad. Please chat with your server to discuss the vegan options or enquire about making small menu adjustments to suit your dietary needs.
Does This Vegan Pizza Restaurant Have Any Options That Are Gluten Free and Vegan?
At Cinquecento Pizzeria we pride ourselves on allowing everyone to enjoy delicious Italian food. Whether that be in one of our branches or at home, traditional Italian pizza or a vegan or gluten free alternative, for kids or adults, we want everyone to enjoy what we have to offer. The same goes for people who are on the hunt for options that are both vegan friendly and gluten free. Please speak to a member of our team to ask for advice when ordering vegan and gluten free options. 
Vegan Pizza Takeaway London and Vegan Pizza London Delivery
Now there is no missing out for the vegans, vegetarians or flexitarians of London. We can deliver Italian pizzas to suit your vegan dietary needs in the following areas: Chelsea, Knightsbridge, South Kensington, Kensington, Holland Park, Shepherds Bush, White City, Ladbroke Grove, Paddington, Fulham, Battersea, Belgravia, Earls Court, Marylebone and Mayfair.
If you prefer to order on your phone, you can find us on the Deliveroo and Supper apps for vegan pizza London delivery options. 
You are always welcome to cut out the middle man and stop by for a click and collect order if you live close to one of our branches. We can have our team prepare your order form when you arrive so you can enjoy restaurant-quality food at home. 
Being Vegan
We understand there are many reasons you may choose to opt for a vegan option in a restaurant. With veganism more popular than ever before it is essential to us that we accommodate vegans as much as possible. This is why we have brought a vegan section to our menu. Long gone are the days where vegans had to settle for boring options or a mix of side dishes. Whether you are vegan for health, animal rights or the environment (or all three!) we want to help you experience a taste of Italy without compromising on your core values. 
Dough You Want To Try It For Yourself?
Excuse the terrible pun but we know you won't find a better vegan pizza option that is more authentic to its Italian roots in London. Cinquecento Pizzeria is an all Italian team that is dedicated to providing the best quality handmade pizzas to the people of London. They use 100% Italian ingredients to capture the taste of Napoli. If you have any further questions about the vegan pizza menu or how to find us, feel free to get in touch via Instagram. and we will do our best to help.