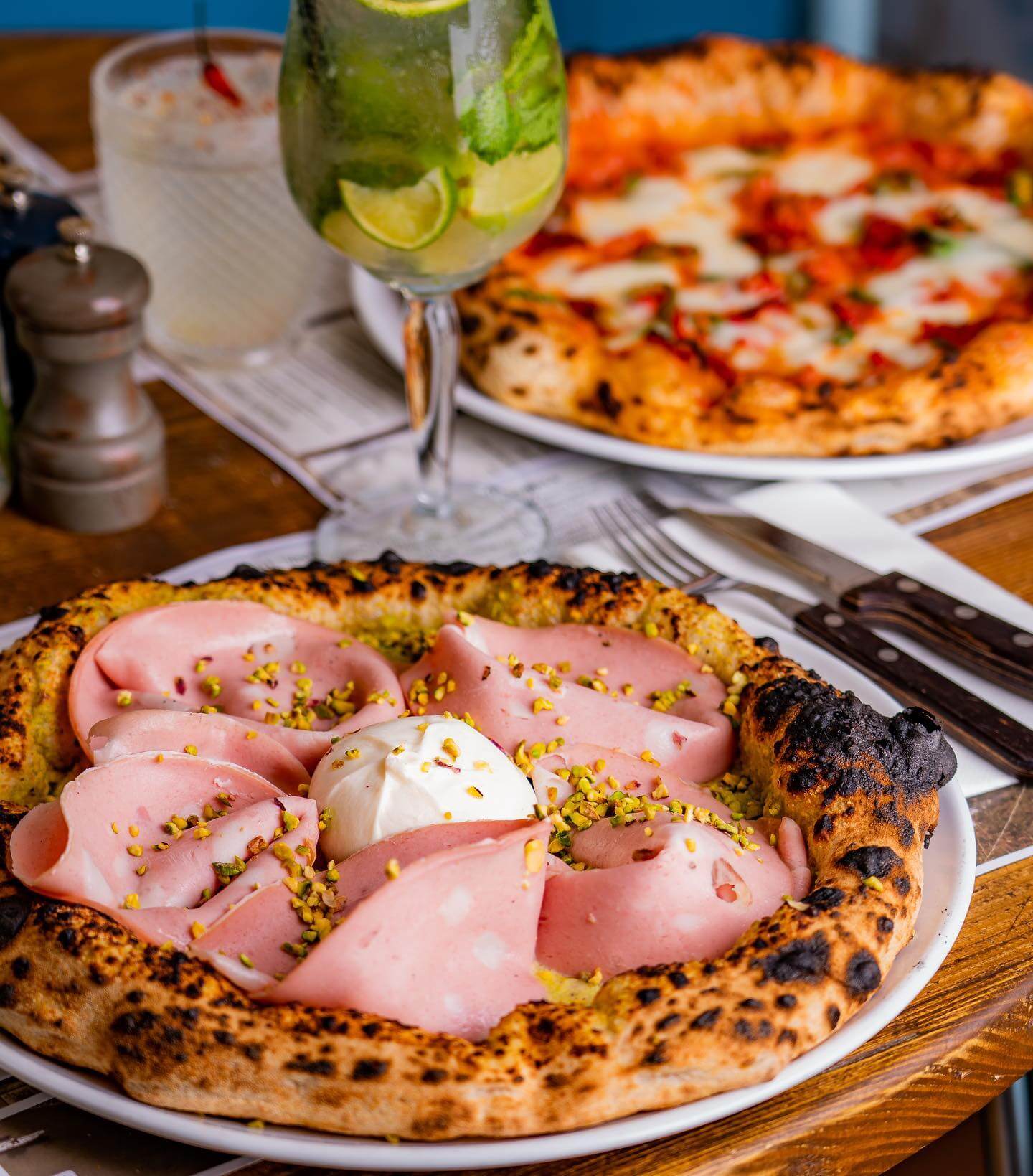 Are you someone who sticks to the classics and always orders the same pizza, or someone who loves to try new things every time you go out to eat? Whichever one of these categories you find yourself in, this post will give you a guide to the most popular pizza styles and toppings so you can find something delicious and totally new or opt for something similar to what you love next time you visit Pizzeria Cinquecento in London.
Top 10 Pizzas by Toppings
Here are the most popular pizza toppings according to the Internet:
Pepperoni – Although we don't do pepperoni in our restaurant, we can offer you a less processed, chunky sliced meat. The salame Napoli used is less spicy than pepperoni but feel free to choose the Piccantissima pizza, which includes a spicy salami and fresh chilli.
Mushroom – Five of our pizzas include mushrooms in their list of toppings. However, our top pick has to be the Tartufata which is a no tomato sauce pizza topped with buffalo mozzarella, wild forest mushrooms, courgettes, truffle oil, Parmesan and fresh basil.
Cheese – We have plenty of cheeses available for you to go all out on the cheese because extra cheese is always an option!
Onion – our pizza menu doesn't currently have any pizzas with onion included as standard. However, if the onion is your go-to pizza topping, we would be happy to add this to your pizza and bring a smile to your face.
Sausages – We offer an Italian sausage on the Calabria pizza alongside roasted courgettes, cured Calabrian 'nduja (a spreadable sausage with a spicy kick) and mozzarella. You can also enjoy the Italian sausage on the Salsiccia e Friarelli with broccoli and two kinds of mozzarella cheese or the Salsiccia e Fungi, which is similar to the addition of wild mushroom and rocket instead of broccoli.
Olives – Several of our pizza options include olives, but why not go for the vegan Spinaci pizza to try something new? This pizza is topped with spinach, sundried tomatoes, black olives, fresh herbs and vegan cheese.
Ham – although ham and pineapple is a popular pizza combination in America, it's not traditionally Italian. However, you can enjoy a cured ham on plenty of our delicious pizzas, including the Ripieno Pizzante with buffalo ricotta cheese, mushroom, spicy 'nduja and mozzarella.
Fresh garlic and garlic oil – Even if you join us for a date night, you can never have too much garlic. And if your new date says they don't like garlic, run!
Tomato – most of our pizzas use our homemade tomato sauce made with 100% Italian ingredients. However, a few of them are tomato-less pizzas, so these are always a good option if you are in the mood for something less conventional.
Fresh herbs – Nothing beats a garnishing of fresh herbs. The Margherita pizza certainly wouldn't be the same without adding fresh basil to the top to complete the symbolism of the Italian flag in red, white and green.
You can find almost all of these items on the Cinquecento Pizzeria menu.
Most Popular Kinds of Pizza
Pizza is like cake. You don't say no to a piece of cake, and you would certainly give someone a strange look if they said they didn't like it. But did you know that all pizzas are created equally? In Italy, the home of pizza, there are many regional varieties that use different doughs, sauces, toppings and cooking methods to make their identifiable provincial pizzas.
The most popular pizzas by region in Italy include:
Neapolitan pizza
Roman pizza
Sicilian pizza
To learn more about the difference between the different types of pizza, read our previous post, 'How To Tell Types of Pizzas Apart'.
FAQ
Which regional pizza is the most popular pizza in Italy?
The most popular type of pizza in Italy and across the board is the Neapolitan pizza or Naples-style pizza. Known for their thin crispy base, fluffy crusts and tasty toppings, it's no surprise everyone loves a slice.
Coincidentally this is the style of pizza we make at Cinquecento! So come down to one of our branches in central London and try this pizza out for yourself. We are all about taking the humble pizza that is loved by virtually every Brit and transforming it into something unforgettable with our Italian expertise and passion for this bread-based dish.
What's the most popular pizza topping in Italy? 
You only need one guess to figure out that the most popular pizza in Italy is the .
What is the most popular pizza in the world? 
Worldwide, the most popular pizza is the pepperoni or plain cheese pizza, as these are universal choices that almost any pizza lover enjoys.
What are the most popular veggie pizza toppings? 
If you are vegetarian, vegan or flexitarian, you might be wondering what the most popular topping is among the veggies. Of course, tomatoes are an obvious choice as they are used in 90% of pizza sauces. However, additionally, you can expect peppers, onions, fresh herbs, courgette, aubergines, and rockets to come out on top. Mushrooms are also a popular choice for a vegan pizza topping.
Time for a Pizza Party!
Now you know the top 10 pizza flavors and popular types of pizza in Italy!
If you know you are ready for pizza favorite our website so you can remember to head over to us soon to try our delicious Neapolitan pizza in London. You can view our Italian menu and decide ahead of time what you'd like to order, or just show up in the spare moment and take whatever options tickle your fancy. We can't wait to host your in one of our branches!