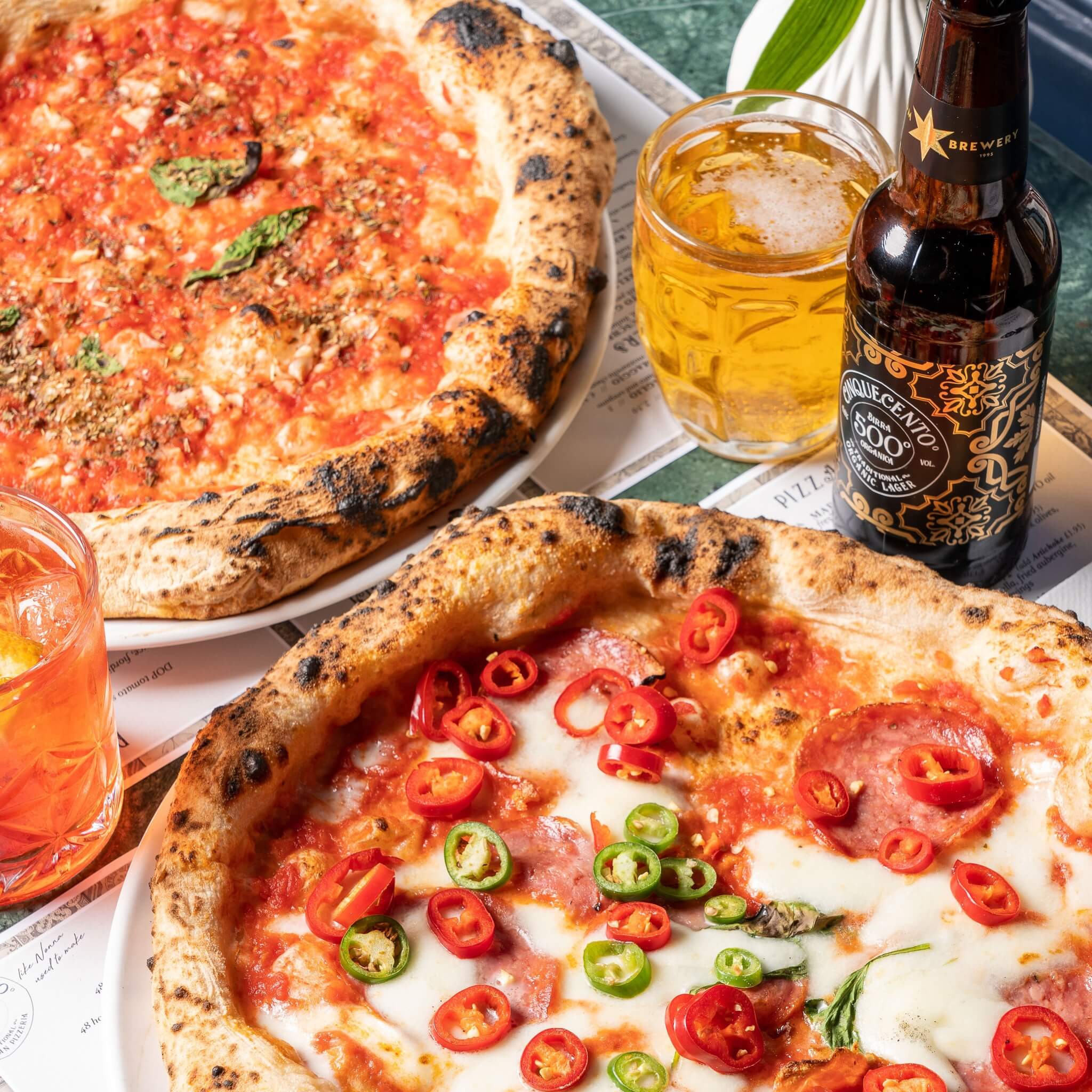 Our top priority is creating authentic Neapolitan pizza just the way our Italian Nonna taught us. However, we would be nothing without our fantastic team sharing our delectable-looking pizza images on our social pages. 
This article is dedicated to highlighting the fabulous work our team does behind the scenes. We also hope to give you an insight into what we share on social media and why you should drop Cinquecento Pizzeria a follow. 
Scout out the mouth-watering pictures of pizza on our Instagram
Of course, anyone who visits our pizza restaurant in person can see how delicious and flavourful our pizzas are in real life. However, if you still need convincing with some images that show off our menu, check out our Instagram page for the most scrumptious pizza pictures on the internet (ok, maybe this sounds like an exaggeration, but we promise you, you won't be disappointed when you head over to our social media page). As well as a pizza photo from time to time we also share videos of our chefs hard at work too! 
The Cinquecento Pizzeria showcases our authentic Italian pizzas and highlights each of our venues' vibrant atmosphere (as best we can in a still image). 
When you visit the Instagram page @cinquecentopizzeria, you'll be greeted with a colourful feed featuring melted cheese pizza slices that make you want to reach into the screen and grab a slice straight from your phone and some behind-the-scenes glimpses of the kitchen. 
As much as we love our social presence and sharing pictures of pizzas pictures can only say so much. So, head to the website for more information on walk-ins and table bookings.
Watch your pizzas being made by professional chefs
Another reason to check out a video and picture of pizzas on our Instagram is to see our chefs in action. Check out the Pizzeria 500 Instagram to see how our top chefs make our tasty Romangola pizza from our bespoke menu or see our chefs preparing multiple pizzas ready for our 500-degree stone pizza oven. You can even see how each pizza transforms on its way through the stone stove. Now if that doesn't get your tummy rumbling for a bite, we don't know what will!
See the decor 
Additionally, if you have ever wondered what the seating arrangements and tables look like inside a branch at Cinquecento Pizzeria, this is your chance! 
You can also see our stunning semi-maximalist interior decor and comfy art deco sofas that make our restaurant so welcome inside. And our outdoor spaces at a selection of our venues bring out the Italian charm of our restaurant with wicker chairs and a large selection of flowers and greenery to help you escape the London lifestyle and imagine yourself on holiday in Naples. 
We hope the images on our social media help you gauge a sense of excitement and encourage you to visit one of our restaurants to immerse yourself in the welcoming atmosphere.
Special events 
You can also see how our team like to style the restaurants to support local events and British celebrations such as King Charles III's coronation in this post. 
Or spot our special occasion pizzas such as the Cinquecento Pizzeria heart shapes Valentine's Day menu back in February. 
More recently we got involved in supporting some more local events just a stone's throw from Cinquecento Pizzeria, including the Chelsea in Bloom. This event is a celebration that is well-known for being Chelsea's prestigious annual floral art show. So, we decided to decorate the exterior of our restaurant with a giant Venus fly trap enjoying a Neapolitan pizza on us. 
Get to know our fun and welcoming team
See the team acting silly eating a pizza in just a couple of bites, making each other laugh in our pizza-related skits or catch a cheeky chef nibbling at the cheese from our most popular pizza (of course, every order at Cinquecento will arrive with the full order of cheese to your table this is just our chefs being Italians who can't handle a few hours without a delicious melt-in-the-mouth cheese to keep them going). 
Keep up to date on our offers
Finally, and possibly the most important reason to follow our Instagram, you can keep up to date with our promotional offers, events, and seasonal menus at our pizzerias in London. This is the first place we will notify our regular customers about any new happenings in our restaurants. 
So be sure to drop us a follow to be among the first to find out about these occasions. We particularly focused on offers and incentives during the festive period so be sure to follow now to get ahead of the game. 
No Instagram? No problem
If you have not made yourself an account Instagram yet fear not. You shan't miss out on the pizza images we share from now on. We understand not everyone has a social media account, so we do repost all of our Instagram images of pizza in London onto Facebook as well. So, every pic of pizza from Insta is over on Facebook so no one needs to miss out! 
Have Your Say (and a Slice)  
Of course, the main reason we love posting our delicious pizza pictures is to showcase our food. But we also love to connect with other food lovers and people who can enjoy pleasing food photography. 
If our Instagram page has made your mouth water and tempted you to visit please feel free to drop by and request a walking table at any of our branches in London or book a table. Of course, when it comes to pizzas images can only say so much, so it's worth stopping by for a real-life feast for all the senses. So that a photo of pizza in London can come to life in front of your eyes. We can't wait to see you soon!