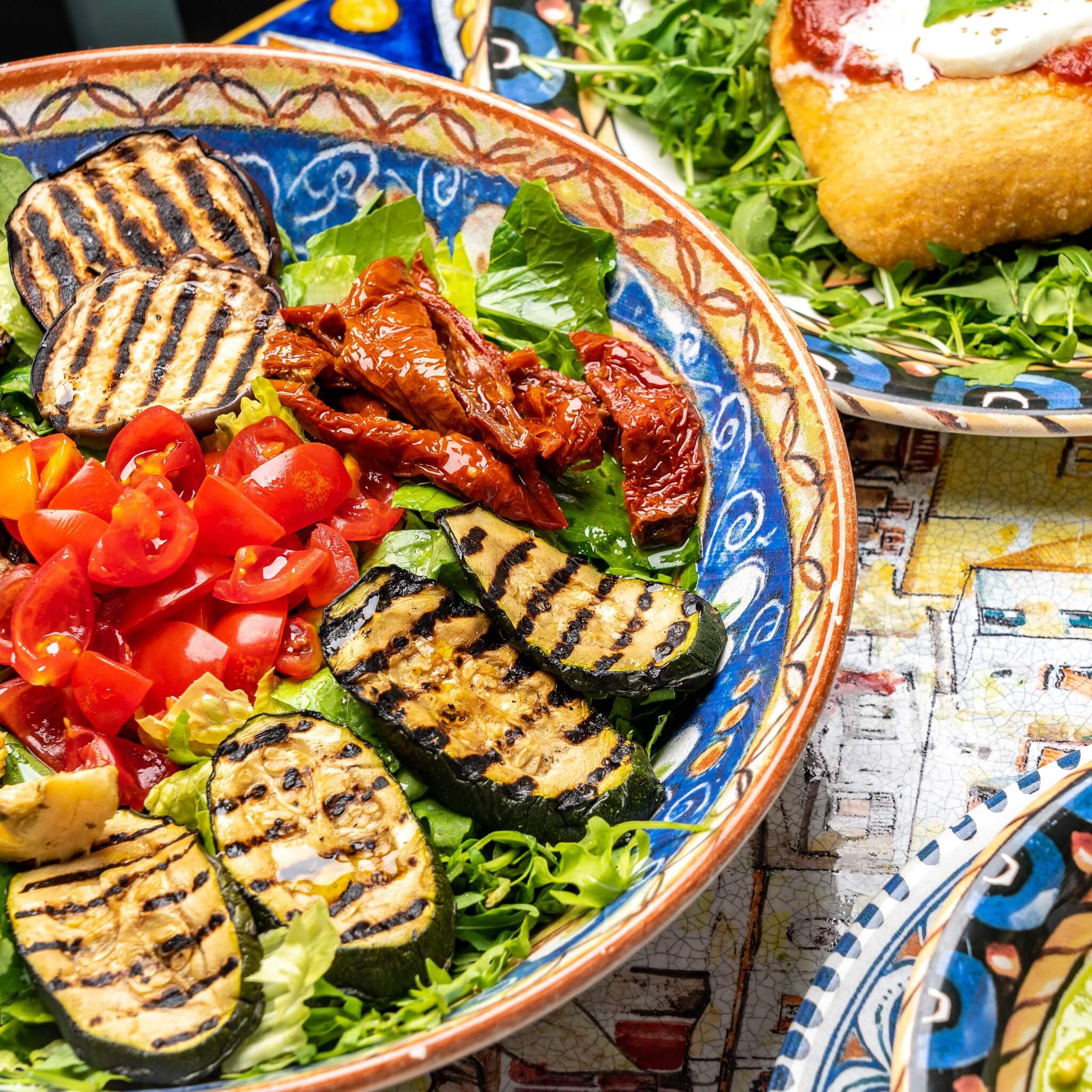 Cinquecento Pizzeria makes, arguably, the best lunch in London for any occasion and almost any budget. We pride ourselves in providing pizza and other Italian delights to the people of London without breaking your bank account in the process. We believe in sticking to our roots and honouring the history of pizza, which started as a simple street food, by keeping our menu as low-cost as possible without compromising on the quality of the food. 
In this blog post, we will look at the Cinquecento Pizzeria menu and offer some budget-friendly lunch ideas in London. 
Affordable Lunch Central London 
As we consider ourselves the best lunch restaurants London has to offer, it's about time we showcase the top affordable lunch options at Cinquecento Pizzeria:
Tomato Bruschetta:

A great light lunch option for anyone. This delicious veggie option consists of delicious Artisan homemade bread with fragrant cherry tomatoes. Plus, as this dish is only £6.00 
Ricotta Bruschetta:

Alternatively, this bruschetta also comes with avocado and Parmesan to add more healthy fats to keep you fuller for longer for just £7.00.
Parmigiana Napoletana:

One of our favourite starter options you could have at our restaurant is this traditional aubergine Parmigiana with fresh mozzarella and San Marzano tomatoes, and Parmesan. A great hot meal choice for cooler days or a hearty meal that can see you through a busy afternoon at work. Better yet, you get the whole dish for just £9.00. 
Marinara pizza

: Opt for a simple pizza option for lunch with just DOP tomato sauce (homemade and fresh every day), fresh garlic, basil, oregano and EVO oil. It may sound simple, but simple doesn't have to mean boring, and at just £8.50, why not give this a try for an affordable lunch option in the city? 
Margherita pizza

: Of course, we couldn't be one of the good places for lunch in London with an Italian menu if we didn't offer the humble Margherita pizza at an affordable price. Plus, you can get the vegan option for the same price of £14.00 because we don't believe in penalising people for different lifestyle choices or dietary requirements – everyone deserves to enjoy delicious pizza. 
Pasta e Fragioli

: As the best place to lunch in London serving Italian options, it's only right that we have some pasta dishes on our affordable lunch menu. This pasta is just £11.00 and consists of an authentic Neopolitan pasta dish with cannellini beans and Parmesan cheese. 
Gnocchi al Ragu

: if you are a gnocchi fan, this homemade potato gnocchi is made fresh in our kitchen and served with an ultra-fresh beef ragu. Although this is a little more than our other lunch options, this dish is still only £11.00. 
Caprese Salad

: Of course, you may just fancy a salad for a light lunch, especially in summer. So the Caprese salad for just £9.50 is a great option for a true Italian salad made with Italian DOP buffalo mozzarella, cheery tomatoes, gorgeous balsamic vinegar, and fresh basil and dried oregano. This is also one of the more filling salad options with filling cheese and satiating fresh foods and punchy herbs for flavour. 
Make Your Own Pizza Combo
We are always open to tailoring the experience to suit you and your party. 
For example, if you want to grab a pizza with half of one topping and half of another to share with a friend or colleague alongside some appetisers and side dishes, we are happy to oblige. Or if you fancy a Margherita pizza with an additional topping of courgette, this is also never a problem for our friendly team. Let's say you love the sound of a pizza from our regular menu but are trying to reduce your dairy consumption. Then we can switch up the cheese to a vegan alternative. 
Just let your wait staff know your requirements and we would be more than happy to accommodate your requests. Of course, the best place for lunch in London must ensure they provide you with the option to make the experience your own. 
Quick and Reliable Service 
All our five branches across central London will provide a speedy and well-mannered service. So even if you are in a rush to dine over a quick one-hour lunch break, you can still manage to relax and enjoy your meal with us. 
London Lunch Restaurants On Deliveroo
You're in luck – Cinquecento Pizzeria is on Deliveroo. With only a £7.00 minimum spend and typical delivery fees coming in at just £2.50, you can easily get lunch from us delivered straight to your home or work address (or even the park!). Our delivery and takeaway menu is much the same as our regular menu. So you can order all your favourite mains and desserts via the Deliveroo app. 
Or Try an Italian Takeaway Lunch On The Go
Alternatively, you can get a call and collect your order from the venue to take your lunch to your favourite picnic spot nearby or your home or work address. Just be careful you don't get too addicted, as it will be a hard habit to break. 
Summary
Now you know the best place to have lunch in London without breaking the bank. Our affordable menu is worth every penny, and we can't wait to host you on your next lunch break in London. And with our new restaurant open on Greek Street in Soho, there are now five branches of our pizzeria for you to choose from when selecting the closest location for a quick and delicious lunch option. Finally, you'll never have to ponder over where to go for lunch in London ever again!