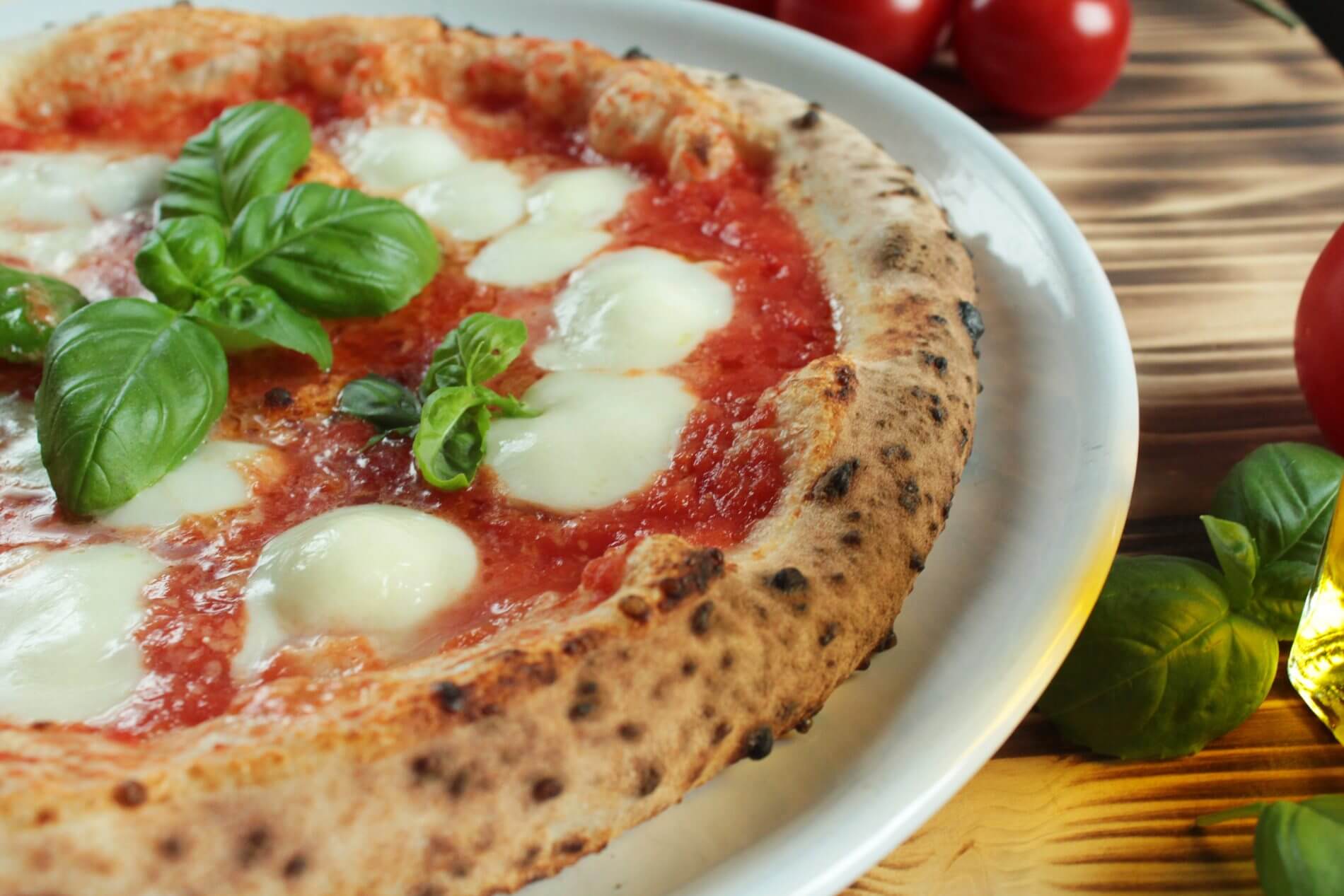 Enjoying the best gluten free food in London has never been easier even when it comes to gluten free pizza London. Even foods that are traditionally made with gluten, such as bread and pizza, are back on the menu no matter what dietary restrictions you may need to accommodate. However, enjoying the best gluten free pizza in London is not just accessibly but plentiful and remarkably similar to the original alternative.
For whatever reason you are on the hunt for gluten free pizza restaurants, be that for allergies or because you simply enjoy trying new foods, there is an authentic Italian restaurant that can deliver such wonderful gluten free pizza in London that you may never know the difference.
A gluten free pizza is made using gluten free flour but the process by which the specialist Italian chef prepares the dough is ultimately the same.
The Best Of Gluten Free Pizza In London
Arguably the best Italian food in London, our Neapolitan pizzeria is made 'just like Nonna used to' back in Italy. We have not altered the process and can produce exceptional quality pizzas that taste identical to ones you would find in Napoli. The only difference is that you are in London rather than Italy. We are proud to have brought over our much-loved pizza to the people of Chelsea for the last ten years. Our record number of pizza sales just hit 1.5 million because the people of London really know an authentic Italian slice of pizza when they see one (or rather taste one!).
What's more, our kitchen is a wonderful open gallery. When you dine in our restaurant you can watch your pizza materialise right before your eyes. You may even hear our Italian staff singing to the pizza while it is being created. What are you waiting for? Pop down for a visit today or order your own authentic Italian gluten free pizza for takeaway or delivery.
What Gluten Free Pizza Is On The Menu?
Our helpful team are more than happy to guide you through our extensive menu and discuss the options you have when dining with us. We can make almost any pizza on the menu on a gluten free base for you. Let us know what your favourite pizza toppings are and we will do our utmost to provide you with the best experience.
Does This Gluten Free Pizza Restaurants Have Any That Are Gluten Free and Vegan?
As well as catering for those avoiding gluten, Cinquecento Pizzeria also offers a wide selection of vegan options to choose from. Be sure to specify you wish to opt for gluten free dough when you order. We would be more than happy to assist your ordering to include a true Italian pizza that suits your dietary needs. One of our most popular vegan pizzas is the Vegan Calzone made with vegan cheese, aubergines, mushrooms and courgettes. If you prefer something simpler but by no means basic, we also offer a Vegan Margerita.
What Else Is Gluten Free On The Menu?
Cinquecento Pizzeria offers far more on their menu than just exceptional gluten free pizzas. For appetizers and starters, they also offer Sicilian Olives and Parmigiana Napoletana. There are also a number of side salads that are not only scrumptious but naturally gluten free. If you have a sweet tooth you may also enjoy a tub of our Italian Gelato in hazelnut, lemon, chocolate or vanilla and pistachio flavour. Although the tubs are large enough to share, you may wish to keep this a secret once you try your first spoonful. Please consult with the staff on duty to discuss your options as they will be more than willing to accommodate.
Gluten Free Pizza Takeaway London and Gluten Free Pizza London Delivery
Enjoy the best pizza in London 'just like Nonna used to make it' in the comfort of your own home. We deliver our handmade Italian pizzas straight to your door in Chelsea, Knightsbridge, South Kensington, Kensington, Holland Park, Shepherds Bush, White City, Ladbroke Grove, Paddington, Fulham, Battersea, Belgravia, Earls Court, Marylebone and Mayfair.
You can also find our gluten free pizza London delivery on the familiar apps Deliveroo and Supper. If you are particularly close to our London branches and prefer to order for gluten free pizza takeaway london we are more than happy to have your order piping hot for when you drop by to pick it up.
Benefits Of A Gluten Free Diet
Gluten free foods have surged in popularity in recent years. Not only within the community of Coeliacs (those with Coeliac disease, a condition whereby eating gluten can damage the gut lining) and those with non-celiac gluten sensitivity but for the wider population.
Although the science is not concrete, there have been many articles that suggest there are possible health benefits to avoid gluten in your diet. This is particularly the case when it comes to people who suffer from gastrointestinal issues, such as irritable bowel syndrome (IBS). In some patients they claimed a gluten free diet had the:
• Possibility To Relieve Digestive Symptoms, such as bloating. 
• Possibility To Improve Energy Levels
Although, it is advised to contact your GP if you suspect you may be intolerant to gluten. Always discuss your options and get a formal diagnosis before eliminating gluten from your diet entirely.
Knead We Say More?
When searching for the best gluten free pizza London, Cinquecento Pizzeria hits far more than just your dietary needs criteria. Our team are dedicated to producing authentic Italian pizzas using 100% Italian ingredients. Feels as though you have stepped straight into Napoli from the moment your feet touch our restaurant's floor and be catered for by our wonderful staff. If you have any more questions about our gluten free pizza menu feel free to message us on Instagram. We'd be more than delighted to discuss our mouthwatering menu with you.