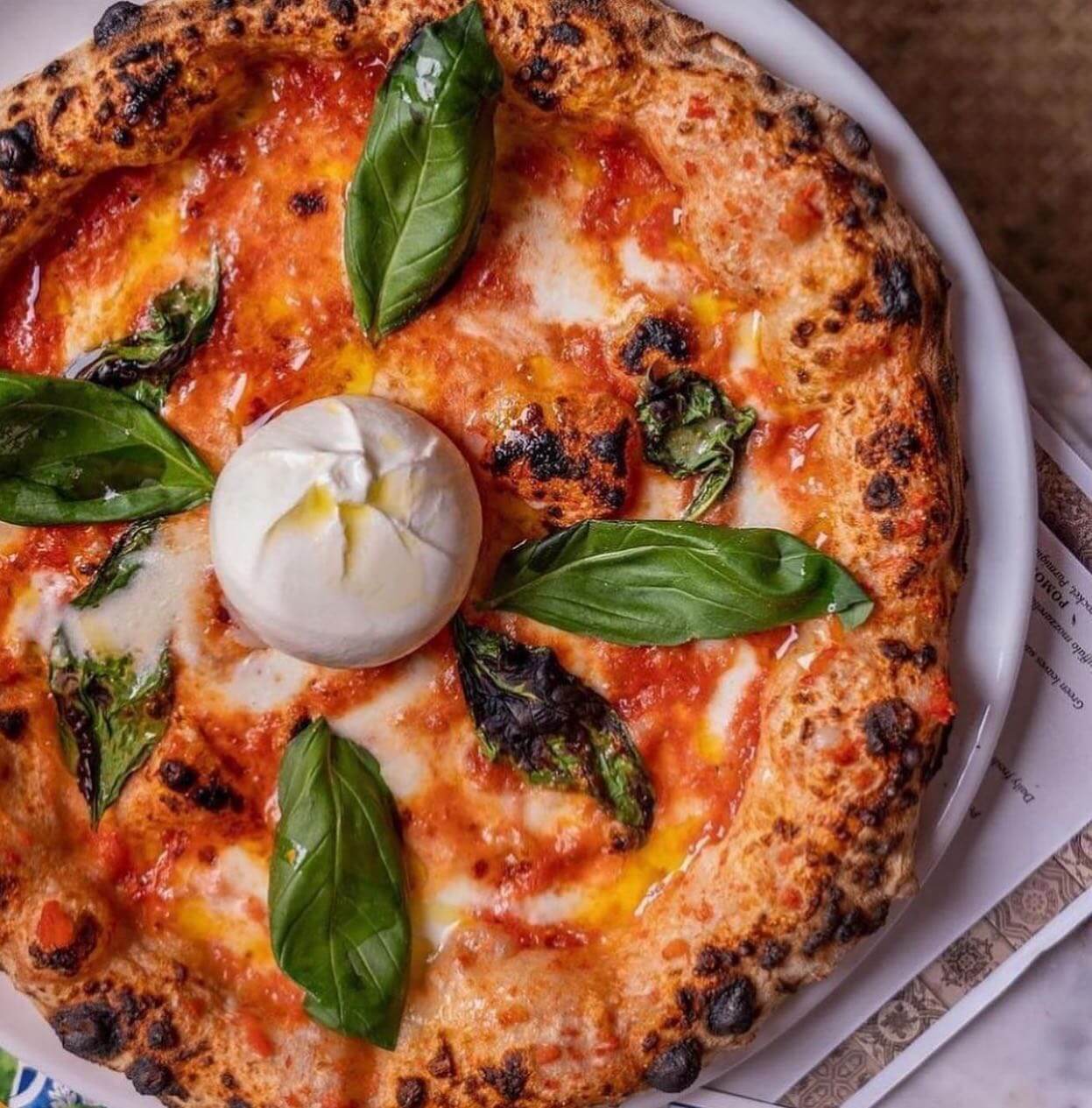 In the UK, pizza is one of the most popular foods, and some statistics even reckon that 50% of our population consumes a pizza at least every ten days! And as almost half of the British popular also enjoy drinking wine regularly, we would like to help you choose which wines to have alongside your traditional Italian pizza next time you dine in at Cinquecento Pizzeria. 
General Advice for Pairing Wine with Pizza
Pairing up an original Italian pizza with the perfect wine to balance the flavours of the dish is a great way to enhance your dining experience. But how do you know which wine to choose? Fortunately, you can consult the help of our friendly team when you dine with us at Cinquecento Pizzeria. 
However, our general tips for pairing pizza and wine is to consider the characteristics and flavours of the pizza you wish to bring out and then choose a corresponding wine with these characteristics. 
For example, you can balance the rich red meat with an equally rich red wine. On the other hand, you may wish to enhance the freshness of a vegetable pizza with a rosé or use an earthier wine, such as our Rosso Piceno, Vignamato, 2017, or the Pieno Sud Rosso, Terre Siciliane IGT, 2018, to enhance the natural, earthy tones of the mushrooms and truffle on a pizza. 
Bottom Line
There are dozens of wine and pizza combinations to choose from on our menu. Therefore, you may ask our staff for assistance selecting a personalised choice of wine to bring out the flavour in your food. 
If you are struggling to decide, go for your favourite red wine. Red wine is the safest choice and will work with the majority of pizzas on our menu as red wine is acidic enough to compliment the acidity in the tomato sauce while full-bodied and flavourful enough to fight against the meat and rich, creamy flavours of the cheese in your pizza. 
Wine Pairings for Traditional Pizzas 
Classic Italian Pizza 
Any authentic Neapolitan pizza will stem from a few core ingredients, including a thin, crispy base with homemade San Marzano tomato sauce and fresh mozzarella cheese. So naturally, every real Italian pizza from Italy should work with a few wines. 
Our best choices for all-rounder wines on our menu that work with 90% of pizzas include a bubbly Prosecco Extra Dry Casa Canevel and the Fiano Visconti della Roca 2018. 
Margherita Pizza
The humble Italian Pizza Margherita is one of the simplest pizzas on our menu. Therefore, this creation goes with most wines on our menu. 
However, our top choice to balance this delicately balanced pizza is a fruity red, such as our medium-bodied Pinot Nero Meczan, Tenuta J. Hofstätter 2017, or go for a fresh flavoured Rosé to compliment the freshness of the Margherita. 
Pizza with Italian Sauage
We have five pizzas that include delicious Italian sausage, including the exquisite Tartufo e Salsiccia and the Calabria (as you can tell, we love to stick with the classic pizza names, so just check out the menu to see what each of these pizzas include if you aren't sure by the Italian names). As sausage is one of our classic pizza toppings, it goes well with a juicy wine such as a Chianti Classico, Pèpoli, Antinori, 2017.
Ricotta Pizza
Our Ripieno pizza, topped with Italian buffalo ricotta, cured ham and mozzarella, is great alongside a dry, crisp white wine such as our Chablis, La Boissonneuse, Julien Brocard, 2017. 
If you are wondering what the name Ripieno means, it comes under the traditional Italian pizza names we use in an authentic Italian restaurant, and it means 'stuffed' in English. 
Mushroom Pizzas
Many of our selections contain mushrooms, including the Vegan Bosco (made with mushrooms, tomato sauce, vegan cheese, rocket and truffle oil) and the Salsiccia e Funghi which uses some delicious forest wild mushrooms. You may remember these mushroom pizzas from our previous post about the top 10 Italian pizzas and topping choices. 
A pizza with mushrooms as a star ingredient works best with our Pinot Nero, which is acidic and earthy. For a white wine option, we recommend our Chardonnay Tormaresca, 2018, which is available by the glass or bottle, or the Chardonnay, Vigna San Francesco, Tasca, 2016, which you can share among your table as a bottle-only order. 
All Wine Options At Cinquecento Pizzeria 
Of course, this blog post has our top recommendations for the best wine pairings to have alongside an authentic Italian pizza from our restaurant. However, you may also prefer to choose your own wine. 
Head to our menu to browse through all sparkling, white, red, and rosé wines at our Pizzeria. We also serve fresh cocktails, Italian beers and a variety of soft drinks if you aren't in the mood for wine on the day you dine with us. 
Should you go by meat type? 
One commonly asked question is should you choose the wine based on the meat alone? Of course, you could follow everyday wine pairing advice and go for red wine for any meat pizza. But do all meats go with red wine? Of course, all dated wine-pairing advice will suggest red meat with red wine and white wine with fish. And although there is some truth in this, there are some nuances that may persuade you to choose an alternative pairing.
Don't Compromise on Quality
At PIzzeria 500, we pride ourselves on creating each dish just like the traditional Italian pizza in Italy we make at home. Yet, our top chefs want to ensure you get the best pizza for a fair price. You can check out our menu with the prices on our website, and we hope you will be pleasantly surprised with the value as the pizzas begin at £12.95 – a steal compared to some fast food chains that charge around £17 for a single pizza using poorer-quality ingredients! Hopefully, see you soon.