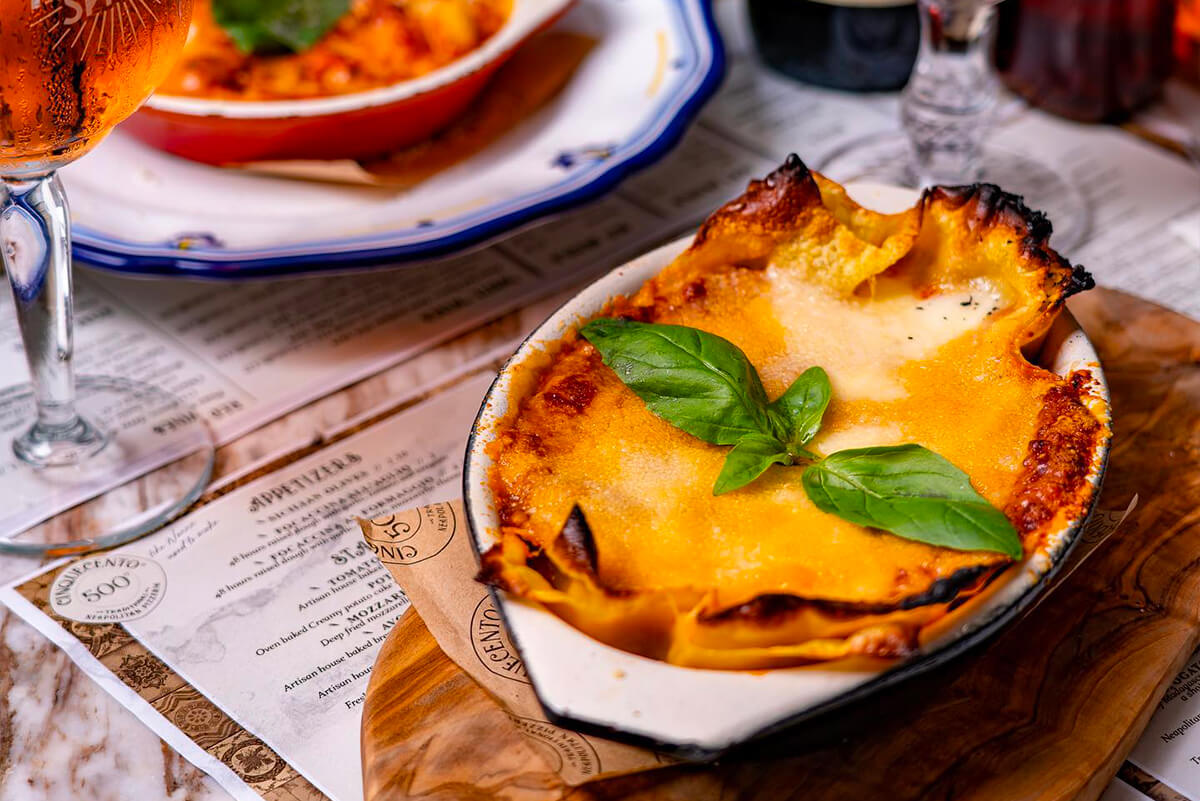 If you are wondering what the best Italian food is on the menu, we have collated the top Italian dishes you need to try. Of course, everyone has their preference when it comes to the best Italian dishes on the menu, but here are our top picks! Let us know your favourites on Instagram, or share a picture of your order on your IG Story and tag us so we can share it with our audience of hungry foodies. 
List of Best Italian Food
Here is a list of the best dishes in Italian cuisine you can find on our menu:
Focaccia
We off two options when it comes to classic chewy, oily Italian focaccia. Both out focaccia appetisers are made with our homemade 48-hour raised dough seasoned with garlic and tomato, plus a touch of oregano. You can leave this staple as it is or go for the Focaccina al Formaggio, which is the same with an addition of fresh mozzarella cheese. This dish is the perfect starter or side dish for any Italian meal. 
Margherita Pizza 
Top of the list for pizzas has to be the world-famous Margherita. Named after Queen Margherita in the 1880s, this pizza is something almost anyone with any sense has tried. It is a simple pizza but every element is made to perfection from the Italian tomato sauce to the top quality buffalo mozzarella. These red and white toppings are finished off with a fresh basil leaf to represent the three colours of the Italian flag! What could be more fitting? 
We love the classic Margherita pizza so much we even dedicated a whole blog post to it! To learn more about what makes a great Margherita and the Italian secrets to making a top tier pizza read our previous post here. 
Piccante Pizza
One of our classics that is a top recommendation for anyone who wants something classic but with a little meat and heat is the piccante. This classic pizza is topped with fresh basil, salami Napoli, and fresh chilli for a fiery kick. 
Calzone Pizza 
You've probably seen the incredible calzone pizza before as its unique shape is recognisable from across the restaurant with its half-moon shape and folded over the top crust to hold all the fillings inside. 
Initially, the calzone was designed to make pizza easier to eat while walking or standing without the mess. This makes sense considering that pizza has become popular through being a tasty street food! 
 Bosco Pizza
A Bosco pizza makes up one of the most delicate but punchy pizzas with the standard tomato sauce and fresh mozzarella toppings plus, cured ham, wild mushroom and tasty Italian EVO oil. 
At Cinquecento Pizzeria, we also give you the option to go vegan on your Bosco pizza, a classic pizza with a vegan cheese substitute, mushrooms, rocket, and the star ingredient – truffle oil. 
Salsiccia e Funghi Pizza
Ok, when this pizza arrives at your table covered (or rather smothered) in fresh green rocket leaves, you may be worried that you haven't even been given a pizza at all. But, not to worry, under the bed of pepper greens is a classic pizza with tomato sauce, mozzarella, tasty Italian sausage, and earthy forest wild mushrooms. This pizza is a catfish in all the right ways! 
Romagnola Pizza
Introducing the most eye-catching and Instagramable pizza on an Italian menu. The Romagnola pizza is a unique pizza with a folded ham topping, nutty pistachio pesto, burrata, mortadella, crushed pistachios, and, of course, fresh mozzarella. This green pesto pizza will have all your friends green with envy when they see your order arrive! 
Lasagne 
Lasagna had to make it to the list of top 10 Italian foods for all your pasta lovers who enjoy comfort food at its finest. This dish with layers of fresh pasta sheets, beef mince with a tomato sauce and a creamy béchamel sauce topped with parmesan cheese is the ultimate pasta dish loved by many Brits. 
Gnocchi Alla Sorrentina
Our homemade gnocchi is made from scratch using potato as a base. These little potato dumplings are then served hot with a sauce of your choosing. However, our favourite has got to be the Gnocchi Alla Sorrentina which is a classic dish with a homemade San Marzano tomato sauce and a mozzarella topping. 
If you prefer a sauce that is a little different you could also opt for the gnocchi with basil pesto or the gorgonzola cream sauce with walnuts and truffle oil. 
Tiramisù
Of course, when it comes to Italians food, this list wouldn't be complete without a dessert! Although tiramisù was invented in the 1980s, we have to say it takes the biscuit (or, more specifically, the coffee-soaked ladyfinger biscuits) for the best Italian dessert. The espresso ladyfingers are topped with a fluffy mascarpone cream to give you the ultimate combination of sugar, alcohol and caffeine. Trust us, if you are a coffee lover with a sweet tooth, this will be your new favourite dessert! 
Where To Try These Great Italian Dishes
If you prefer to dine in the luxury of your own home, you can also order Italian food online through Supper, and we will deliver your food of choice to your door. We see you there peeping through the curtains in anticipation of the arrival of your food, and we don't blame you! 
Penne For Your Thoughts? 
We'd love to know your thoughts regarding what you would rate as the best Italian meal. So please get in touch with our friendly team via Instagram to let us know. We would be more than happy to chat about all things pizza, pasta and sweet treats with you. And hopefully, we can serve you your best Italian dish at Cinquecento Pizzeria in the near future.