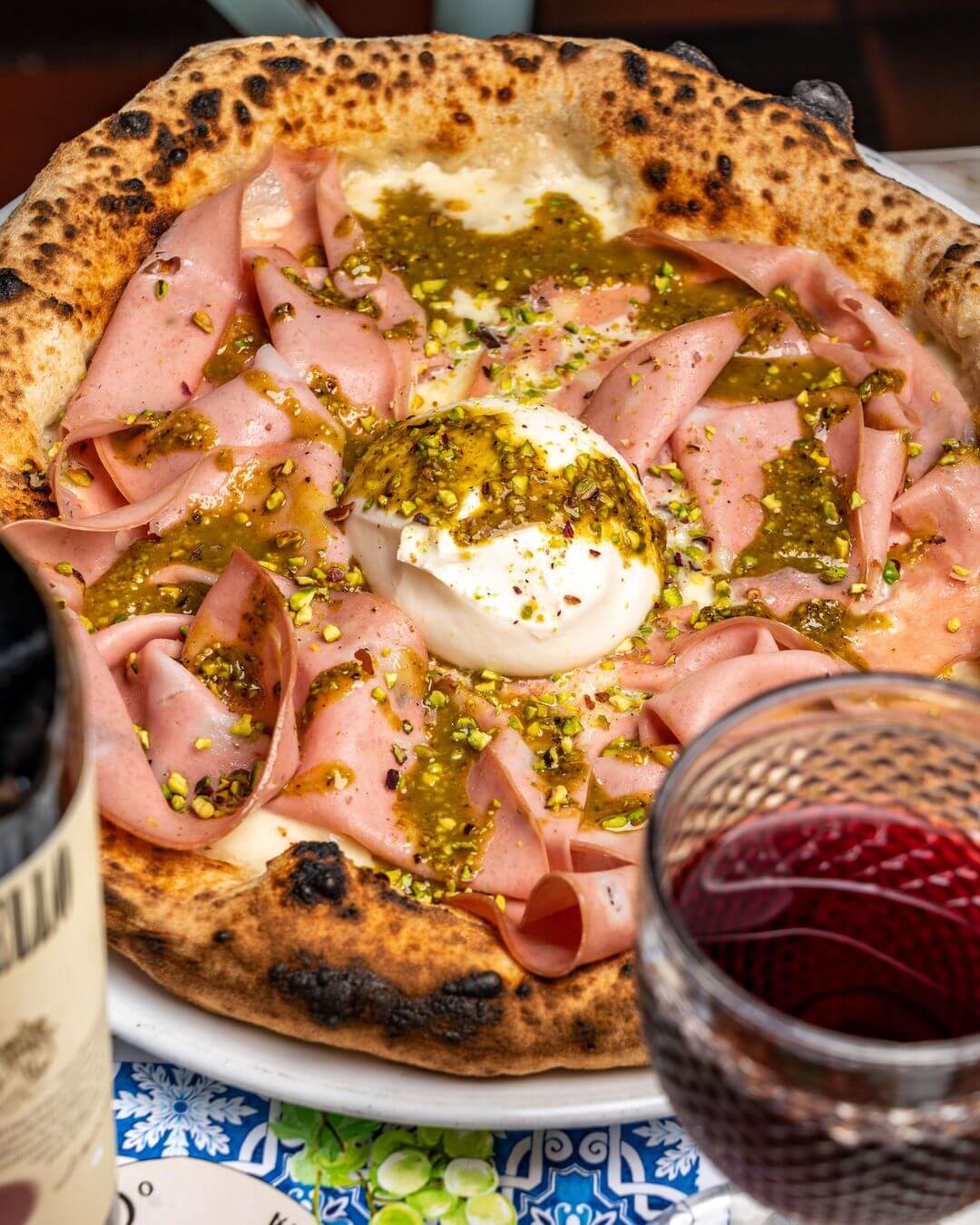 Ok, maybe I am biased but Cinquecento Pizzeria has secured a place on top of the podium as my favorite pizza place menu outside of Italy. In this post, we will go over some pizza FAQs and help you discover all the reasons our Italian restaurants are the place to come for your next tasty meal out. 
Favourite Pizza FAQ
What is the most popular pizza topping? 
When it comes to the world's favorite pizza toppings, you may be surprised what toppings come out trumps. Of course, most information about the most popular toppings online concerns American pizza sales, which are a little abstract from the most traditional pizza toppings (don't even get us started on pineapple on pizza!). 
The most popular pizza topping includes pepperoni, mushrooms, extra cheese, onion, sausage and olives. However, feel free to check out our menu or create your dream pizza with every kind of topping your heart desires next time you visit our restaurant. 
What type of cheese do traditional Italian pizzas use? 
Our chef's favorite pizza cheese is, hands down, a Fior di Latte mozzarella which is used on the most popular pizzas at Cinquecento Pizzeria. This type of mozzarella is the most commonly found type of this cheese and is made using fresh cow's milk. It is known for its sweet, creamy and light flavour with a gooey and elastic finish in its consistency. 
How do I choose a good pizza?
Any pizza at Cinquecento Pizzeria is an excellent pizza! Don't believe us? Check out these third party reviews from seven different online reviewing platform with reviews from professional private diners, magazines and the general public. It's no surprise we are a popular pizza place in the capital. 
Should I eat pizza with cutlery or with my hands? 
On occasion, our guests ask if they can eat with their hands or if they should eat with a knife and fork to be within the etiquette code. And we have no preference for how you enjoy your pizza at our restaurant. You are in control, and as long as you aren't throwing pizza at our lovely servers, you can eat your pizza however you like, with your hands or with cutlery. 
Our Neopolitan pizzas are floppy in the middle and have a good crispy crust on the outside, so you can hold this as you eat the slice of pizza. 
What is the most ordered pizza? 
In the UK, Brits go mad for Pepperoni and Margherita pizzas. 
However, as the pepperoni is a hybrid of a spicy Italian salami with an American twist, we currently don't serve this dry sausage on our Italian menu. However, you can find three delicious pizzas with Italian sausage within our selections, which are incredibly popular with our meat-eating diners. And, of course, we couldn't call ourselves an Italian restaurant without serving Margherita pizza in our restaurants. 
What is a Margherita pizza?
A classic Margherita is made on a Neopolitan pizza base (thin pizza dough with a crispy crust). Then the chefs will add a homemade tomato sauce to represent the red part of the Italian flag. Next top the tomato with a hearty portion of creamy mazzarella cheese to symbolise the white part of the flag. Finally, the chefs add some fresh basil leaves to finish the pizza off and complete this Italian flag inspired pizza which has become world famous for its simply yet delicious taste that everyone can enjoy. 
To learn more about this simple but tasty and elegant pizza and the history of this dish, have a read up on our Italian guide to a top tier Margherita pizza. 
Why is pizza a favorite food in Western countries? 
When it comes to dinner options, among our favourites pizza is always a top choice of the British. The average Brit enjoys almost 6,000 slices of pizza in their life, so it's, unsurprisingly, one of the nation's favourite dinners. Pizza became popular just after the Second World War in the 1950s. It's a favourite of many people for its versatility, as you can eat it on the go or enjoy it at home or in a top-tier restaurant. 
Who makes the best pizza menu outside of Italy? 
When it comes to finding your favourite pizza menu outside of Italy, of course, it makes sense to find an Italian restaurant in your home town that is run by an Italian family. As our owners are born and bred Italians with a huge passion for food, we know exactly what it takes to create an outstanding, traditional pizza. 
Our reputation is on the line, so we serve nothing but the best Neopolitan pizzas in London. We even import 100% of our pizza ingredients from Italy, so you can quite literally enjoy a taste of Italy without leaving London. 
Find Your Favourite Pizza Place Today
Rediscover what it means to taste quality Italian pizza at Cinquecento Pizzeria in central London. Every pizza made at our independent restaurants is made according to the traditional instructions passed onto us by our Nonna. Therefore, you can enjoy an authentic pizza over 2,000km from Naples, the home of the Neopolitan pizza. 
If you are excited to grab a bite of your tried and tested favorite pizza, want to try a delicious vegan option, go back to basics with the humble Margherita pizza or even go for something you have never tried before, we can do it all! Take a look at our menu today, and then head over to one of our branches when you are ready to dine in. We don't take bookings for tables under 6, so you simply need to turn up and take your seat.