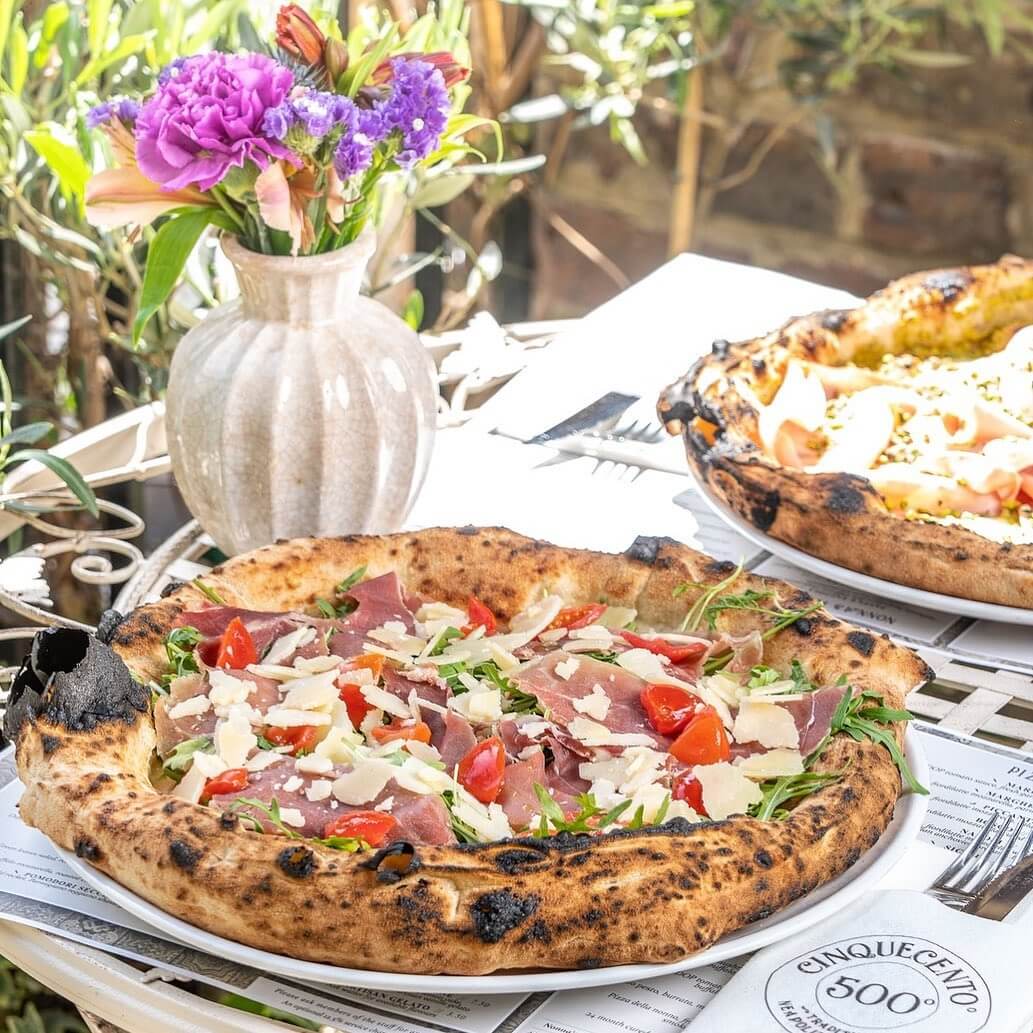 Looking for the best gluten free restaurants in London serving up delicious Italian cuisine? Cinquecento Pizzeria may be the solution! 
Our restaurants in central London cater to vegans and anyone on a gluten-free diet. We are passionate about creating our Neapolitan pizzas with a gluten-free base as well as several other gluten-free options, so no one has to go without. 
Gluten Free Menu at Cinquecento Pizzeria
Although our authentic Italian pizzeria isn't a 100% gluten free restaurant in London, we are happy to cater for anyone avoiding gluten in their diet. 
Here are the GF options you can typically expect on our menu:
Appetisers and starters

: Sicilian olives, Parmigiana Napoletana, the Mozzarella in Carrozza, and the tagliere, which is a selection of tasty grilled veggies (Vegetariano option) or meat (standard tagliere), cheese and artisan bread (simply ask your server to swap the bread to a gluten-free alternative).

Pizzas:

Swap to gluten-free pizza dough to enjoy any of our pizza options from our tasty Italian menu.

Sides:

A simply side salad, Caprese salad or a rocket, Parmigiano and sundried tomato salad.  

Desserts

: We currently only have one gluten-free dessert option of Italian gelato. However, we can offer this in various flavours to suit your taste preferences.
FAQ
Will your menu change in the future? 
Possibly. We like to use fresh ingredients, so our menu may change from season to season depending on the availability of fresh crops. However, you can always expect the classics, such as a Margarita pizza, to stay on the menu. But, there will always be something for gluten-free guests to enjoy whether that is the gluten-free dough for pizza or other main menu items.
Are there any gluten-free desserts? 
Although most of the dessert options contain gluten, you can enjoy our Italian gelato when you are on a gluten-free diet. We have a range of flavours to choose from, so please consult with your host to hear what we have available when you dine with us. Typically we have hazelnut, lemon, chocolate or vanilla and pistachio flavour gelato. However, this may change depending on when you are dining with us. All our gelato is of the highest artisan quality and head and shoulders above regular ice cream. 
Can you order gluten-free options for delivery or takeaway?
Absolutely! You can order from our gluten free restaurants central London using our click-and-collect service or order food for delivery with the Supper app. 
Do all Cinquecento Pizzeria locations use the same menu? 
For the most part, each Cinquecento Pizzeria restaurant with gluten free menu in-house will be the same as it is online. Therefore, you can quickly check ahead of time to see the gluten-free options on our menu. 
There may be occasions when ingredients are unavailable or when the chefs prepare specials that are unique to a particular branch, but for the most part, the menu will be as it appears on our website. 
What gluten-free drinks can you have from our menu?
Most of our drinks menu is suitable for those following a gluten-free diet. However, our range of Italian beers contains gluten, so please choose another drink option if you are gluten-free. 
Are there any vegan and gluten-free options?
Of course! We couldn't call ourselves the best restaurant for gluten free options if we didn't cater for those of you who are vegan or vegan and gluten-free! 
We currently have four pizza options on our vegan menu, including a vegan Margherita or vegan calzone made with delicious vegan cheese, aubergines, courgettes and mushrooms. Please inform your server that you would like a vegan pizza on a gluten-free base so we can cater for both of your dietary needs. 
Why do people follow a gluten-free diet?
If you read our previous post on 'the best authentic Italian gluten free pizza in London', you'll know that there are various reasons that people choose to live without gluten. 
For example, some people avoid gluten if they have Coeliac disease, as eating gluten may damage their gut lining and cause health issues. Some people are also under a doctor's guidance while following a temporary low FODMAP diet to help with the symptoms of IBS. 
Other people avoid gluten for other health reasons, such as improving digestion or energy. However, the sluggish feeling many people experience after eating gluten may not occur when consuming our gluten pizza dough. So if you are not avoiding gluten because of a medical issue and simply wish to avoid gluten because of energy level concerns, you may love our 48-hour fermented dough. Although we can't guarantee you won't feel full or lethargic after eating our fermented dough, many people have told us the fresh dough from our restaurants doesn't trigger the same bloated or full feelings as other gluten products. 
Can the restaurant cater for gluten allergies and medical conditions?
If you are worried about consuming gluten when at our restaurant due to allergies or medical issues, please talk to your server so we can ensure you are taken care of when dining with us. 
That's a wheat off your mind
When you're hunting for a tasty gluten-free Italian option in London, you don't need to settle for something just to fill you up. Now you can enjoy your food and experience Italian flavours and textures just without the gluten! 
Our team have created over 1.5 million pizzas in our kitchens,  so we know a thing or two about making the best pizza in town. So head down to one of our restaurants to try the menu for yourself (you don't need a booking, just show up and request a table at the door) or visit our Instagram for more photos of the food to help you decide what to order.