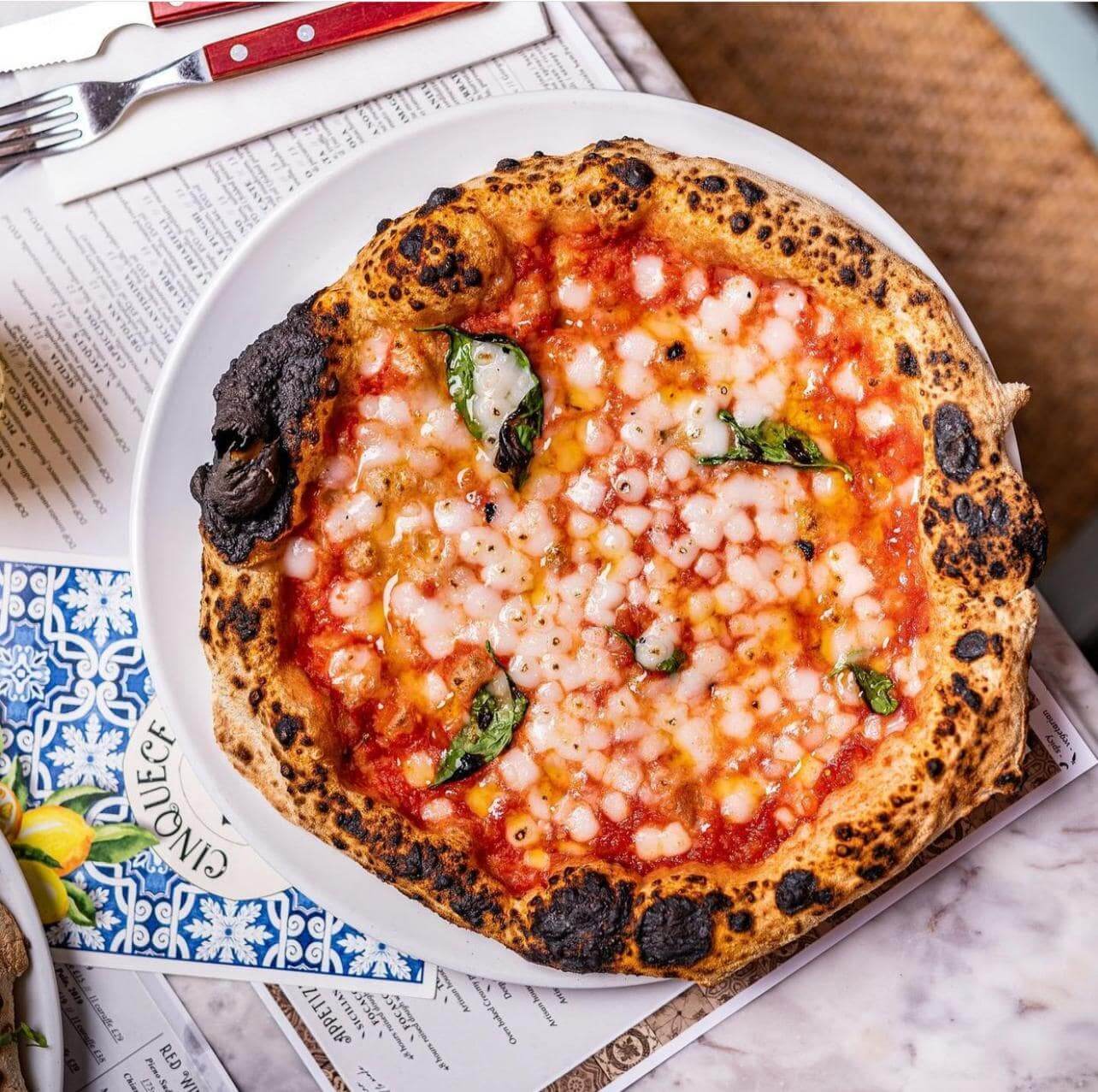 This blog post is all about how to host the ultimate Hyde Park pizza party. Make the most of the dry weather and gather your nearest and dearest in the park for a taste of Italian excellence and a good time. While the evenings are still light, you can grab a bite after work, or it's still possible to squeeze in a quick lunch during the week or plan an extended weekend get-together in collaboration with Cinquecento Pizzeria. 
5 Tips for a Tip Top Pizza Picnic 
Choose a top pizza restaurant
Firstly, food is key. So choosing one of the greatest pizza restaurants near Hyde Park is essential when organising a pizza party in the park. Cinquecento Pizzeria can provide everything you need to be the ultimate host. We only make authentic Neapolitan pizzas in a traditional stone oven, so you can trust our food to be the very best. And although we could talk for hours about our pizzas and other menu items, we can just redirect you to our previous blog post, where we discuss all the reasons to choose Pizzeria 500. 
Which restaurant is closest to Hyde Park?
As we have three branches of our pizzeria in central London, there are a couple of options when it comes to ordering delivery pizza Hyde Park. You can try the Notting Hill Gate restaurant or the Chelsea branch as these are the closest options to the park. 
We recommend sitting nearer to the park entrances if you plan to order your pizza for delivery so our delivery drivers can find you easily. We also recommend sitting either on the south or the west edge of the park as these sides are closest to our two closest pizzerias. If you prefer, we can also arrange for your to click and collect your orders. 
Get the orders in the early 
Make sure you send everyone attending your picnic a copy of our Hyde Park pizza menu in advance so they can confirm their order ahead of time. We have over 24 pizzas on our menu, including four vegan options. You can also get your gluten-free friends involved as we offer gluten-free bases to all our pizzas. So there is always plenty of options to choose from! 
You have two options for the food order: order individual pizzas or order a bulk lot and allow everyone to try a few slices of different flavour pizzas. We recommend ordering a selection of flavours as this option will allow you to try various types of pizza from our menu.
Additionally, if anyone fancies anything other than pizza, we also offer pasta and salad options. There are also dessert options if you want to grab a few sweet treats for after the mains. 
When other friends or significant others hear about there being pizza near Hyde Park, they may try and pry for an invite. And why not share the fun with more people? Therefore, it's maybe worth ordering an extra pizza or some sides in case more people than you expect to turn up to the picnic event. You could also pick up some strawberries or breadsticks from the shops on the way to the park to hold back the hunger before the main event arrives. 
After scouting out the best pizza place in Hyde Park, you can get to work planning some fun games to get everyone working together and having some fun. Organising games can be a great way to get friends from different circles to mingle and get to know each other. 
We recommend bringing a few options from board games, playing cards or even some poker chips to up the steaks. You could even go all out and purchase a murder mystery game to liven the energy and pass the time quickly before your pizza arrives at the park. You can purchase interactive murder mystery games online for just a few bob from websites like Etsy. However, these may take a little extra preparation, and you may need to ensure your friends are confident enough for a role-play game, but these can be an exciting way to spice up your event and make it more memorable. 
Although not much else is needed to enjoy the pizza in Hyde Park, below are some essential items you should pack to ensure all bases are covered. We recommend assessing the weather and estimating the number of people who will be attending the picnic in the park, so you know exactly what to bring to the park. 
Cutlery 

Plates

Cups

Napkins

Suncream and sunhats (if it's hot outside!)

Picnic blankets (bring more sitting space than you expect)

Extra layers for a slight evening chill 

Bags for rubbish 
BONUS TIP: Don't forget the speaker!
After finding the best Hyde Park pizzeria to provide the food, don't forget to set the scene with some background music and ambience. Bring a portable speaker and plug it into a summer vibes playlist to get everyone in a relaxing mood. We recommend finding a fun retro or Japanese city pop playlist to set the mood alight. 
It's Picnic Time!
Now you have found the best pizzeria Hyde Park has to offer in Cinquecento Pizzeria and know all the tips for hosting the ultimate picnic in the park! If you organise a pizza party in the park or back at home, please send us a quick snap on Instagram of you and your friends enjoying your pizzas from us. We love to see you enjoying our tasty creations! Or you can send us your top tips for hosting a top-tier picnic in Hyde Park.