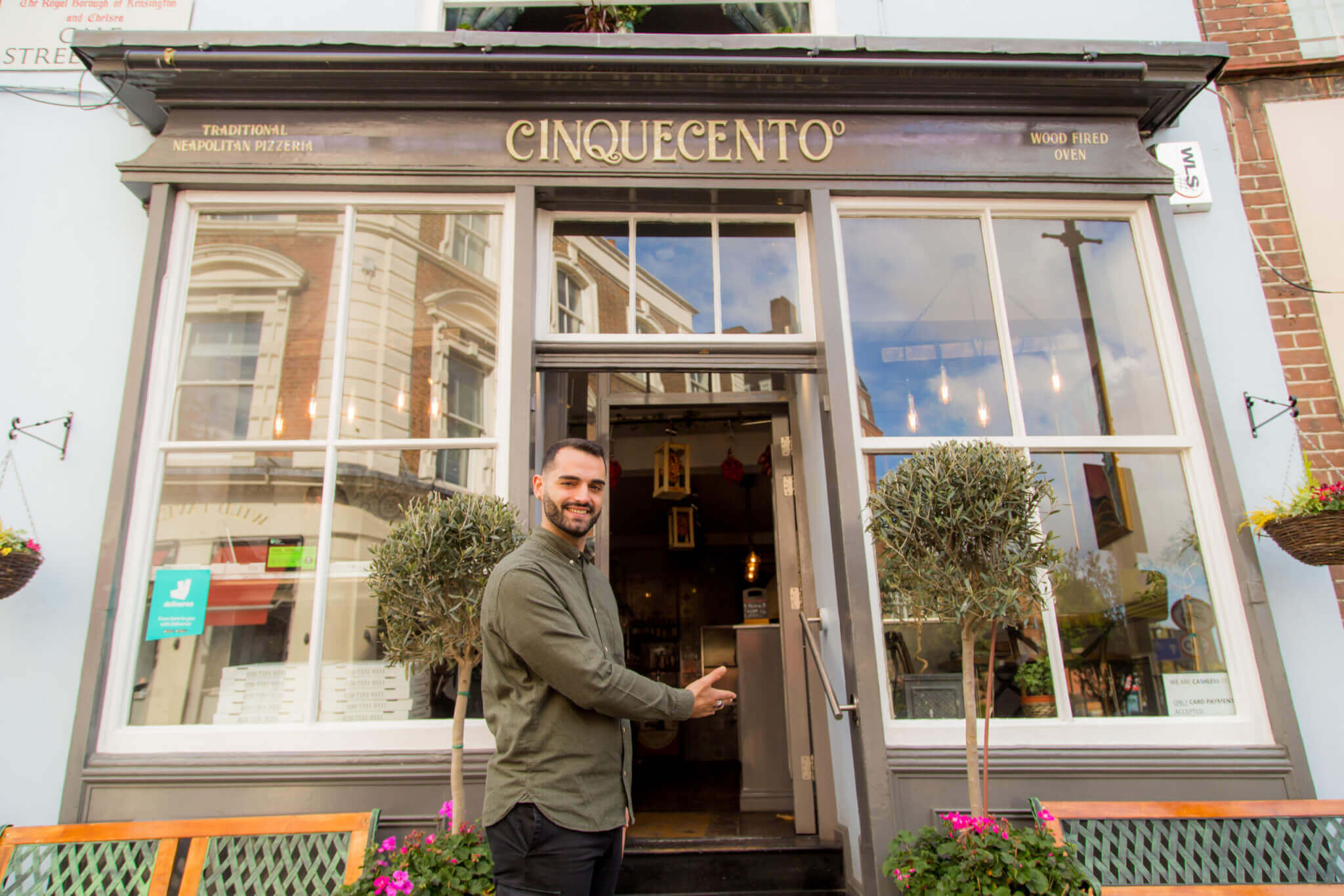 At Cinquecento Pizzeria, Italian Restaurant Chelsea, we use our expert knowledge to create quality pizzas from scratch using 100% Italian ingredients. Arguably, making us one of the best Italian Restaurants in Chelsea London. Our authentic Italian pizza, made with a crispy base from stoned crush flour topped with a multitude of sensation flavours, will transport you to Italy on a summer escape. But what exactly makes our pizzas so worth shouting about? 
What Makes Us The Best Italian Restaurant in London
We Are Authentic
The secret to an authentic Italian pizza is in the ingredients. You can't build a house with poor foundations and we can't cook a first-class Italian pizza without top-notch ingredients. This is why our pizzas use ingredients that are 100% Italian and DOP (Denomination Protected Origin). 
What Makes An Authentic Italian Pizza?
Perfect Dough
Contrary to popular belief, gluten-based dough can be gentle on your stomach and easy to digest. This is because we use dough that has been fermented for 48 hours and stands at 67% of hydration. The fluffy and light dough is then worked by our expert chefs into your thin and crispy pizza base just like nonna used to make in Italy. Only you are enjoying it in an Italian restaurant in Chelsea. 
Fresh Cheese
What makes us a number one Italian restaurant Chelsea is our top-quality cheeses that bring that milky, light and full flavour to the pizzas. We use a number of different cheeses depending on the pizza including Fiordilatte Mozzarella, Parmigiano Reggiano, Italian Buffalo Ricotta, and Buffalo Mozzarella. 
Tomato Base
We handmake all our tomato sauce from the San Marzano tomato variety. These heirloom tomatoes grow in the volcanic area of Campania and are renowned for their sweet, less acidic flesh. Like all heirloom plants, these tomatoes are open-pollinated which means they are pollinated naturally. Open-pollinated farming also has the potential to increase biodiversity. So when you are enjoying your pizza, you know that the planet is benefiting too. 
Toppings
With the basics taken care of, it's time to add some personality to your pizza. Traditional Italian Margarita pizzas will be topped with fresh basil leaves. However, you are more than welcome to choose a pizza with a few more toppings to compliment your mood. See our menu for an extensive list of pizzas and toppings to choose from when customising your own pizza at our Italian Chelsea. 
Our Team Are Top Italian Chefs
To add to the authentic and traditional experience at Cinquecento Pizzeria, all of our staff are Italian. The team worked for seven years in top Italian restaurants Santa maria and Franco Manca, so they really did learn from the best. Now we are dedicated to serving our own customers a true Neapolitan pizza to the people of London from our Italian restaurants Kings Road. 
No Missing Out With Dietary Needs
Our goal is to share our authentic Italian food with everyone. This means that our expert chefs have developed a menu for our Italian restaurants Chelsea to cover as many dietary needs as possible while still keeping to that authentic Italian taste. It would break our hearts to see someone sitting with a side salad while the rest of the table enjoy our outstanding Italian dishes. Check our menu to see our full range of gluten-free and vegan options. 
Authentic-k All The Boxes
Our Italian food at one of the best Chelsea Italian restaurants really does tick all the boxes in being authentic Italian food in London. Plus we are inclusive of most dietary needs and available for click and collect or delivery if you are still worried about joining us inside post-lockdown. But don't just take our word for it, over 1.5 million pizzas have been sold from our Italian restaurant kings road and other branches in the last 10 years. 
We are dedicated to serving the people of London with pizzas made with 100% Italian ingredients. For more information about the menu or how to find us visit our website or get in touch via Instagram if you have any more questions about our leading.