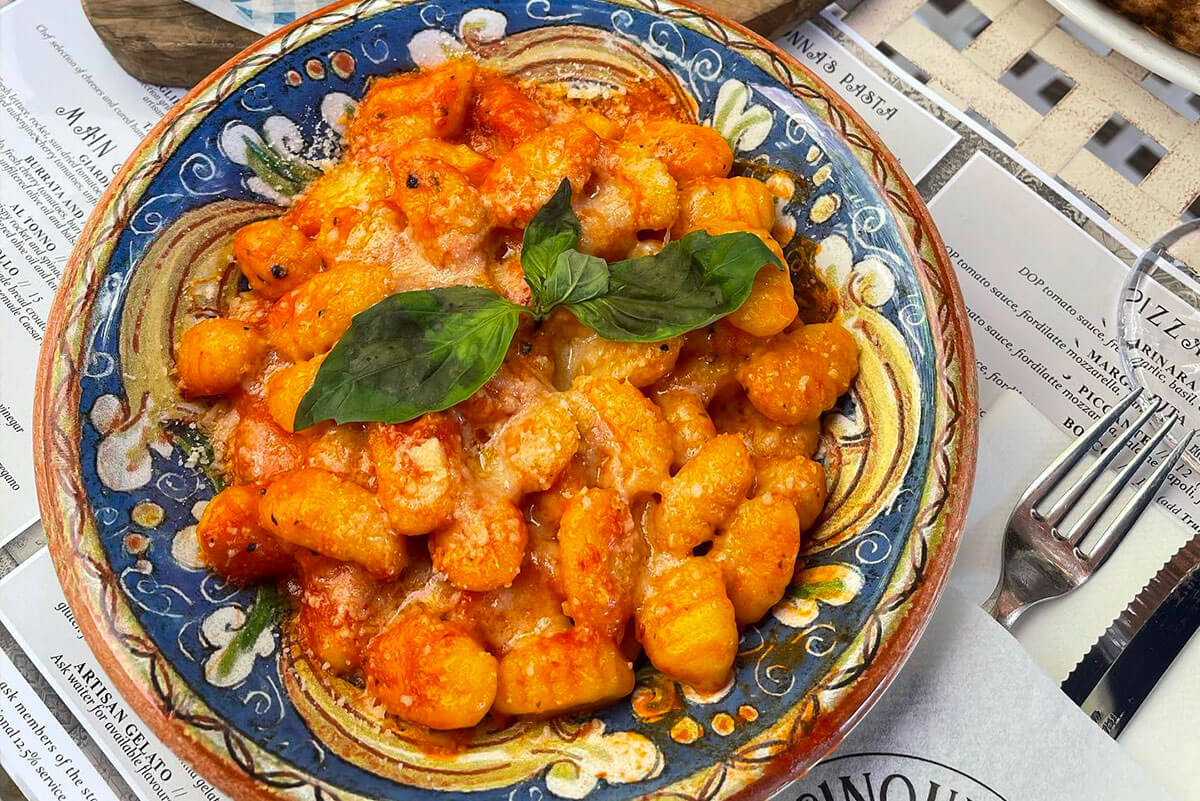 There are few Italian restaurants in Notting Hill Gate worth travelling into the area for, but Cinquecento Pizzeria is undoubtedly one of them. You can plan your day around a visit to our restaurant to fuel up on delicious crispy Neapolitan pizza. If you are a local or just in the city for the day, there is a lot to do in the Notting Hill Gate area. This post will give you a few ideas of what you can do with your friends or family within the area, either within walking distance or just a tube stop away! 
Factor in Food at Italian Restaurant in Notting Hill
Enjoy Food at Cinquecento Pizzeria 
Of course, you need to plan your day around one of the best Italian restaurants Notting Hill Gate is home to. And you can look no further than the best Italian food Notting Hill Gate has to offer at Cinquecento Pizzeria. Our Italian chefs are experts at making you the perfect Neapolitan style pizzas that make you want to do a small happy dance when you take your first bite. So either stop in for lunch and continue with your day or enjoy a day of fun activities and then pop in for a bite each after your day of excursions. 
If you are too tired after your day out in London to make it out to our restaurant, why not order our homemade pizza for delivery from the Notting Hill Gate restaurant. 
Activities Near Our Notting Hill Gate Italian Restaurant 
Where is Notting Hill Gate? 
Notting Hill Gate is an area of central London in the borough of Kensington and Chelsea. This area gets its name from the former use of the main street as a toll gate. 
There is an underground tube station by the same name which you can access from the Central line, Circle line and District line. From the tube station, it is just a short two-minute walk to Cinquecento Pizzeria, which is, in our humble opinion, among the top Italian restaurants in Notting Hill. 
Where is the Notting Hill Gate Cinquecento Pizzeria Branch? 
Notting Hill Gate Address:
115 Notting Hill Gate
Kensington
London
W11 3LB
Notting Hill Gate pizza shop number:
+44 20 7792 8881
Activities for the Whole Family
Ladbroke Square Garden and Holland Park 
London isn't known for its green space compared to the rest of the gorgeous British countryside. However, this doesn't mean that London is devoid of attractive outdoor spaces for the public to enjoy. Fortunately, there are many public parks in the area for you to check out during the warmer months. 
Ladbroke Square Garden is a stunning grassy private park with many old trees and colourful flowerbeds. Although this garden is only available to the area's residents, there are many open days during the year when the public can spend some time in this tranquil space. You can check out their website to see when you can enter the space on an Open Day. 
Or you have Holland Park, a large park with a playground, making it perfect if you are trying to entertain smaller children. There is also a Japanese-style garden making it a unique space in London. 
Kensington Palace
Although Kensington Palace is a popular destination for tourists, it's worth visiting even as a local in London, especially during the spring and summer, as the gardens are beautiful. There are also numerous events and exhibitions throughout the year, so even if you have been to the Palace before, it's worth keeping an eye on their website to see what's new when you are visiting. 
The Electric Cinema
Another great activity just around the corner from our Notting Hill Gate restaurant is the Electric Cinema in Portobello. This cinema is like no other. The big beautiful armchairs and large leg room make you feel like you are in your living room. 
Depending on the time of your film, you may want to join us for an early dinner beforehand or saunter over after the film to have a catch up with your friends are the movie. 
Bonus Idea: Notting Hill Carnival 2022
If you happen to be in the area for the annual Notting Hill Carnival between August 27th and August 29th 2022, you should head over to Cinquecento Pizzeria to refuel after a day on your feet! We would be happy to help you fill up on pizza and a glass of wine after a day of enjoying the carnival. 
More Activities Near Out Notting Hill Gate Restaurant 
As we discussed in a previous post, 'Winter Activities By This Pizza Shop Near Me', we also highlighted the other activities you can do at any time of the year, including visiting The Notting Hill Book Shop and taking a tour of the Notting Hill area and viewing the Graffik Gallery. Of course, these activities are also great for the spring and summer months when the weather is looking less reliable. 
Activies Near Our Restaurant Portobello
In a previous blog post, we discussed the three best activities near our Portobello pizzeria, including checking out Portobello Road market, hyde park (especially when it's sunny outside!) and the Natural History Museum (which is great for a family day out). All of these activities are also easy to get to from our Notting Hill Gate branch. 
Not(ting Hill) Just Your Average Italian Restaurant
Visit the Chelsea, Notting Hill Gate or Portobello restaurant in London before or after a busy day in London. As we are arguably one of the best Italian restaurants in Notting Hill Gate, we are also on Instagram, so you can view our menu and decide what you are going to order.