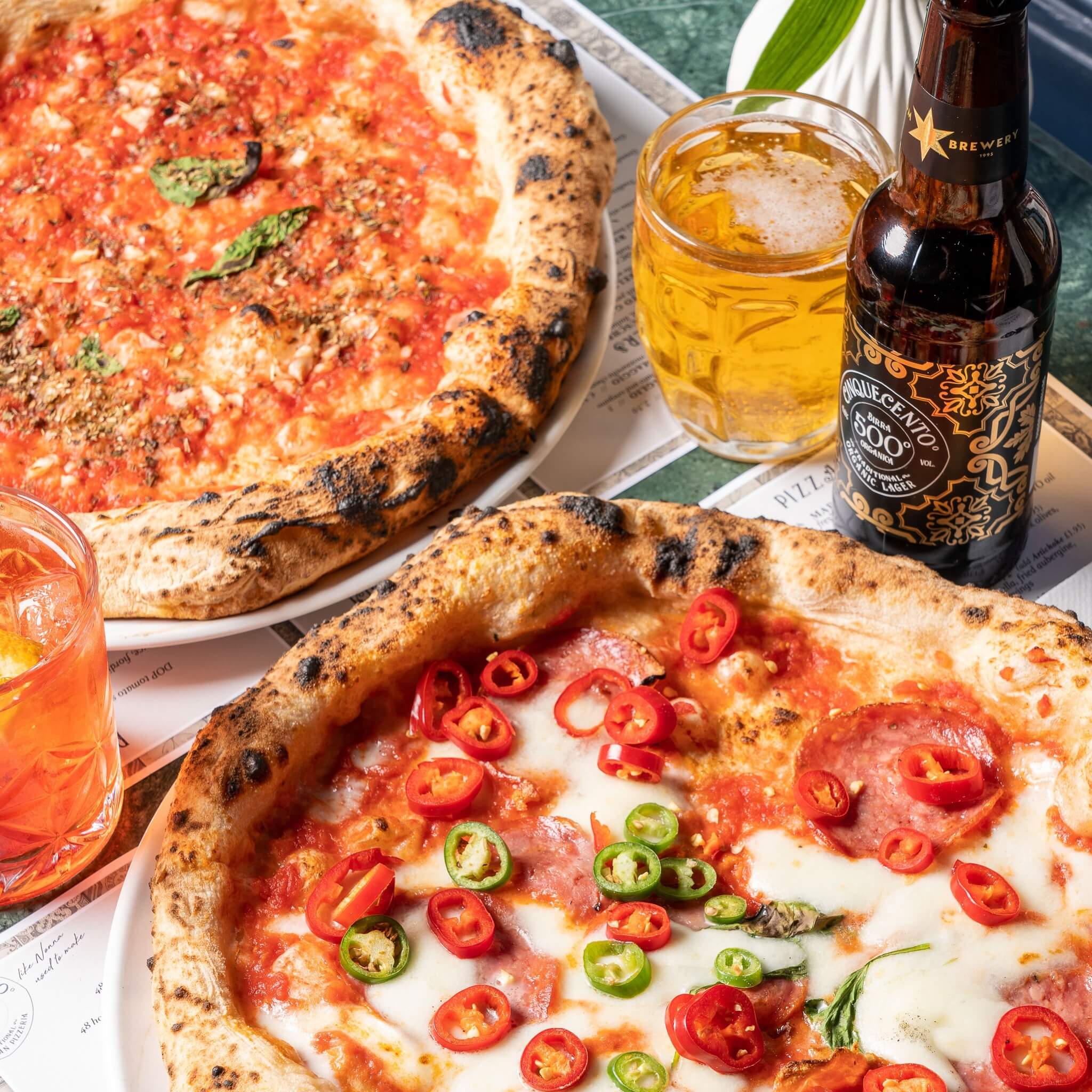 If you're looking low calorie pizza options in London, Cinquecento Pizzeria has some great options for you. Although calories aren't the most important factor when choosing food, we also understand that a small proportion of those who dine with us at Pizzeria 500 will be looking for low calorie pizzas. Just speak to our staff to help you find a pizza to help you stick to your food plan while enjoying great-tasting dinners. 
Healthier Pizza at Cinquecento Pizzeria Made With 00 Flour
You might know by now that our team at Cinquecento Pizzeria are dedicated to creating *happy dance* worth pizzas with delicious Italian ingredients. Additionally, we recognise the importance of nourishing your body with food that not only satisfies your taste buds but also provides your cells with the nutrition they need to thrive. Therefore, our pizzas are made with traditional techniques and high-quality ingredients to ensure your gut is as happy as your taste buds when consuming our delectable mains. 
We ensure our pizzas made with gluten flour always use a 00 flour. 00 flour is an Italian flour variety made without the germ or bran from wheat flour. Therefore, it is finely ground flour made with only the flour's endosperm. Because of this Italian 00 flour can only be used in especially high-heat ovens, like the stone pizza oven at Pizzeria 500, which (you guessed it) gets up to 500 degrees in temperature. 
00 flour is naturally lower in protein than most wheat-based flour used in baking, and 00 flour is only around or less than 1% fat. Therefore, using 00 flour in our pizza dough ensures you can order a low fat pizza base from our restaurants across London. 
Of course, you may consider our pizzas to be made with low calorie pizza dough, but this depends on your total calorie goal for the day. However, on the whole, we estimate most people eating a healthy and balanced diet with adequate calories for their body can enjoy a pizza at our restaurants without worrying. 
As 00 flour is super finely ground and then left alone for 48 hours before baking, to ensure your gut can digest these wheat grains with ease. We allow our 00 flour to ferment for approximately 48 hours, resulting in a light and fluffy dough that your body can easily digest. Therefore, many of our previous diners have commented that the pizzas at Cinquecento Pizzeria don't leave their stomachs aching and bloating as they may with shop-bought or American-style pizzas. Although please be aware our 00 flour pizzas are not suitable for individuals with celiac disease or a gluten allergy (different from being gluten sensitive). 
For more information about the more nourishing pizza options at our pizzeria in London, take a peek at this previous blog post, 'Healthier Pizza For Your Gut At Cinquecento Pizzeria | Easy to Digest Pizzas'. 
Lowest Calorie Pizza Toppings 
We are open to making each pizza exactly how you like them so feel free to get creative and order a custom pizza with lower-calorie toppings from our Pizzeria next time you swing by. 
Here are some of our favourite low calorie pizza toppings:
Bell peppers:

A classic Mediterranean vegetable with tonnes of vitamins. 

Fresh garlic:

great for immunity and packed full of flavour. 

Roasted courgette:

like many green veggies, courgette is loaded with vitamins, including vitamin A. 

Forest wild mushrooms:

mushrooms are a great way to ensure you feel your gut with a wide variety of nutrients.

Neapolitan wild broccoli:

with half a broccoli bunch containing around 100 calories, this is an easy choice when hunting for low calorie pizza toppings. 

Wild Italian rocket:

like most green leafy food, wild rocket is very low calorie. However, its peppery nature is great for pizzas as it can help add to the flavour and keep you satiated for longer. 

Fresh basil:

herbs have very few calories, but they make up for this lack of energy with a vibrant flavour. 

Cured ham

: a lower calorie density meat option which can also give your pizza a source of protein to keep you fuller for longer. 
Another fantastic approach to creating a healthier pizza is by opting for protein-rich toppings, including Italian meat varieties. Luckily, the kitchens at Cinquecento Pizzeria offer a plethora of nutritious protein options which will keep you full. Instead of processed pepperoni commonly found in fast-food chains, we use high-quality ingredients like cured ham, Calabrian 'nduja, and Italian sausage.
Explore the Cinquecento Pizzeria menu to discover both vegan and regular pizza options available in our humble kitchen.
Can You Eat Pizza on a Low Fat Diet?
Absolutely! Simply choose one of our pizzas without a heavy dairy cheese or ask our chefs to prepare your pizza with less cheese or dairy products than usual. Additionally, you may prefer to choose vegetable or low-fat meat pizza topping options to ensure you can still enjoy your pizza on a low-fat diet.
Is Fat Free Pizza Worth it?
In our opinion, good pizza is never going to be completely fat-free. However, you can eat reduced-fat pizza by choosing your toppings with your goals in mind.  
Does Pizza Have Low Fat Option?
As mentioned, pizza dough is naturally lower in fat and many of our toppings, particularly the vegetables, are suitable for those on a low-fat diet. 
Summary
Just because you're going lower-calorie this summer, doesn't mean you have to go for low fun foods! So pop into one of our pizzerias in central London and tailor a pizza to your needs on our 00 flour pizza dough to make some tailored low calories pizza. Enjoy the sensational flavours of Italian food in the capital of England.