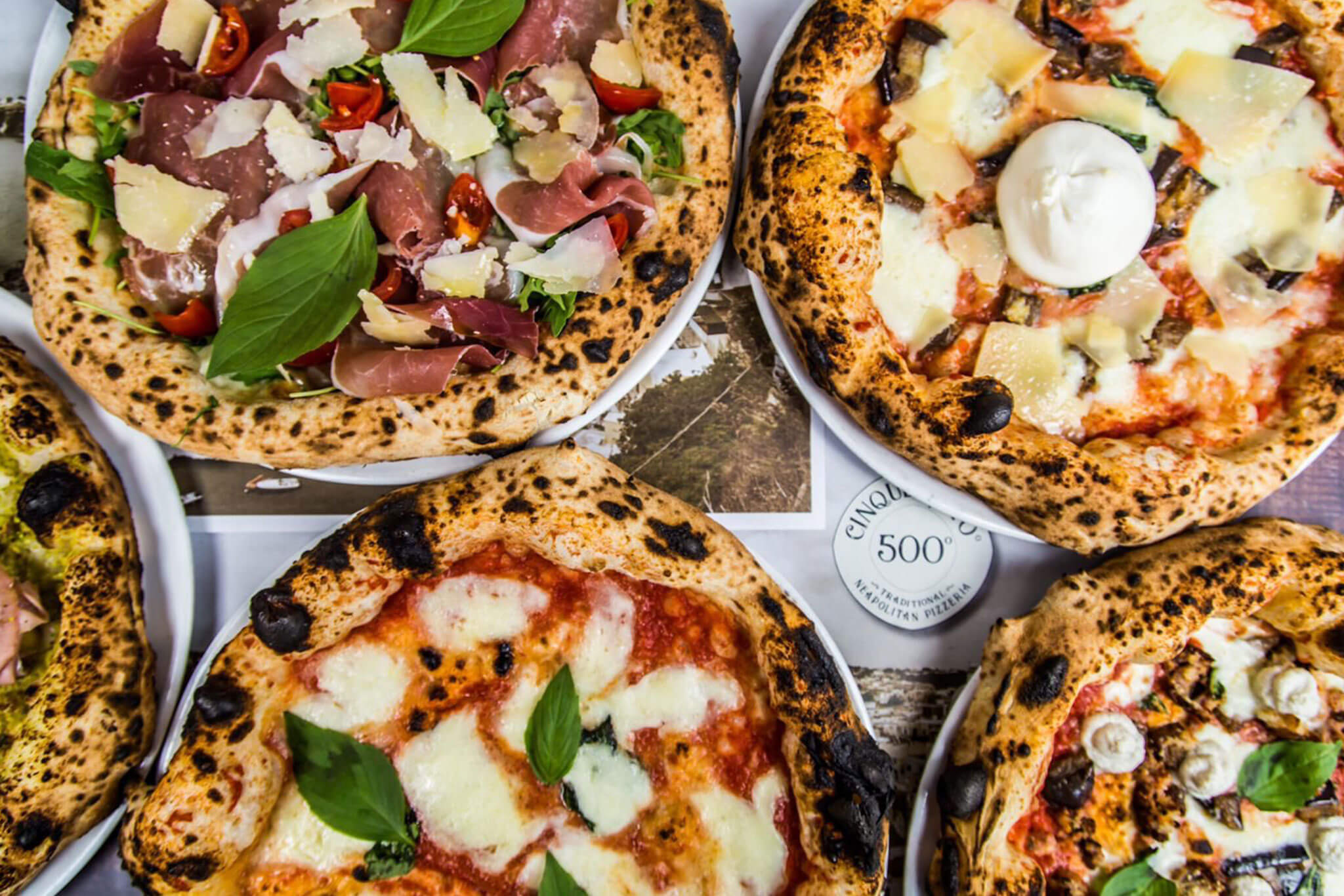 If you have been searching high and low for the best pizzas delivery near me, here is your solution! Our authentic pizzeria is here to offer you the fastest delivery service possible and a convenient pizza takeaway, so you can spend your evening actually enjoying your friends' company and planning some killer games to ramp up the entertainment.
We offer Italian fooddelivery directly to your door in many locations across London.
Top Tips For The Best Pizza Takeaway Night In 
Hosting a pizza night for your friends doesn't have to be an unmemorable occasion. Here is how to make the most of your night including getting the most traditional pizza orders, provide hilarious entertainment and other tips for the best pizza takeaway night in.
Order Pizza Online
Find a place that offers authentic Italian pizza takeaways near you and grab everyone's pizza order. Place the pizza order online and wait for your delivery to arrive. The best part about ordering pizza for delivery from Cinquecento Pizzeria is that you can really WOW your guests with our delicious food. Plus, anyone can join in as we offer vegan and gluten-free items on our extensive pizza menu.
You can call our pizza restaurant branch to arrange a click and collect or hop on the Deliveroo or Supper apps to order pizza straight to your door.
Cinquecento Pizzeria offers delivery and pizza takeaway in London: 
Chelsea
Knightsbridge
South Kensington
Kensington
Holland Park
Shepherds Bush
White City
Ladbroke Grove
Paddington
Fulham
Battersea
Belgravia
Earls Court
Marylebone
Mayfair
Wear Comfy Clothes
Don't forget to tell your guests to wear their comfiest clothing. We don't want to see any jeans at your pizza night. Think more along the lines of onesies, jogging bottoms or even wear your pyjamas! You want to be able to slug away on the sofa in your cosy and non-restrictive clothing while enjoying your food.
Play Some Team Games
While you wait for your pizza to arrive you can start some games. These are a great way to lift the mood and keep everyone busy before the food arrives and prevent any hungry guests. Team games are a great idea if you are bringing together some friends who aren't as well acquainted and can offer some great time for bonding.
Our favourite games include:
Charades is a classic game where the group splits into 2 teams to act out different TV shows, movies, books, songs etc for their group to guess. You can buy the Charades board game with pre-written ideas for players to choose from or you can all submit a few ideas for the other team to act out. This is a great team game to get people working together and form bonds over the evening.
Another great team game is Articulate. Plays will draw a card and describe the word to their teammates. The game contains many different categories so there should be something in this game for everyone. You can play this game with 4 to 20+ players so it really is a great all-rounder for a pizza party game night.
Monopoly is a classic game but it can take hours to complete. For a shorter option try the Monopoly card game 'Monopoly Deal'. Not only is this game a speedier version of the board game but it is also a great game to bring with you as it is only a pack of cards it won't be as big as lugging a huge board game across London to your friend's house.
If you have a little more time you could play a game of murder mystery where everyone is assigned a character to play. This is great if you are in a confident group of people who love acting and performing. You can find many pre-made murder mystery kits online, through sites such as Etsy, where all the prep work is done ahead of time.
A very fitting game for this era! Pandemic is a board game where all participants work together against the clock to eradicate the four diseases from the game. This is a game with strategy and team planning so it is great to bring everyone together after a tense game completing against each other.
Choose A Movie
After the excitement of team games, get your drinks and film snacks ready to snuggle in to watch a movie together. We recommend choosing a Disney film or a classic chick flick that is easy to watch and great for that inevitable 'rest and digest' feeling you may have after eating some tasty pizza. Or you may wish to choose a movie to suit the holidays.
Here are some Halloween horror or cosy Christmas film ideas:
Hocus Pocus
The Nightmare Before Christmas
A Quiet Place
Home Alone
Elf
The Holiday
Our favourite chick flick/Disney movie picks include:
Coco
Mean Girls
10 Things I Hate About You
She's The Man
Bridesmaids
Don't Forget Drinks and Dessert!
If you are of age and choose to drink alcohol don't forget you can also order Italian beers, wine and sparkling drinks, or soft drinks through our delivery system when you order pizzas online.
At Cinquecento Pizzeria we also offer Italian desserts for you to share (or not… we aren't here to tell you how to enjoy your order!) and enjoy during your movie. Our top choices are the tiramisu and the cannoli, a traditional Sicilian fried pastry filled with sweet ricotta, or for vegans, we also offer soy-based ice cream with strawberry sauce.
Summary
Now you are all set to find the best takeaway pizzas near me or the speediest delivery pizza near me in London for the foundation of a great night in with your pals. Nothing beats a takeaway night in when it is done right.