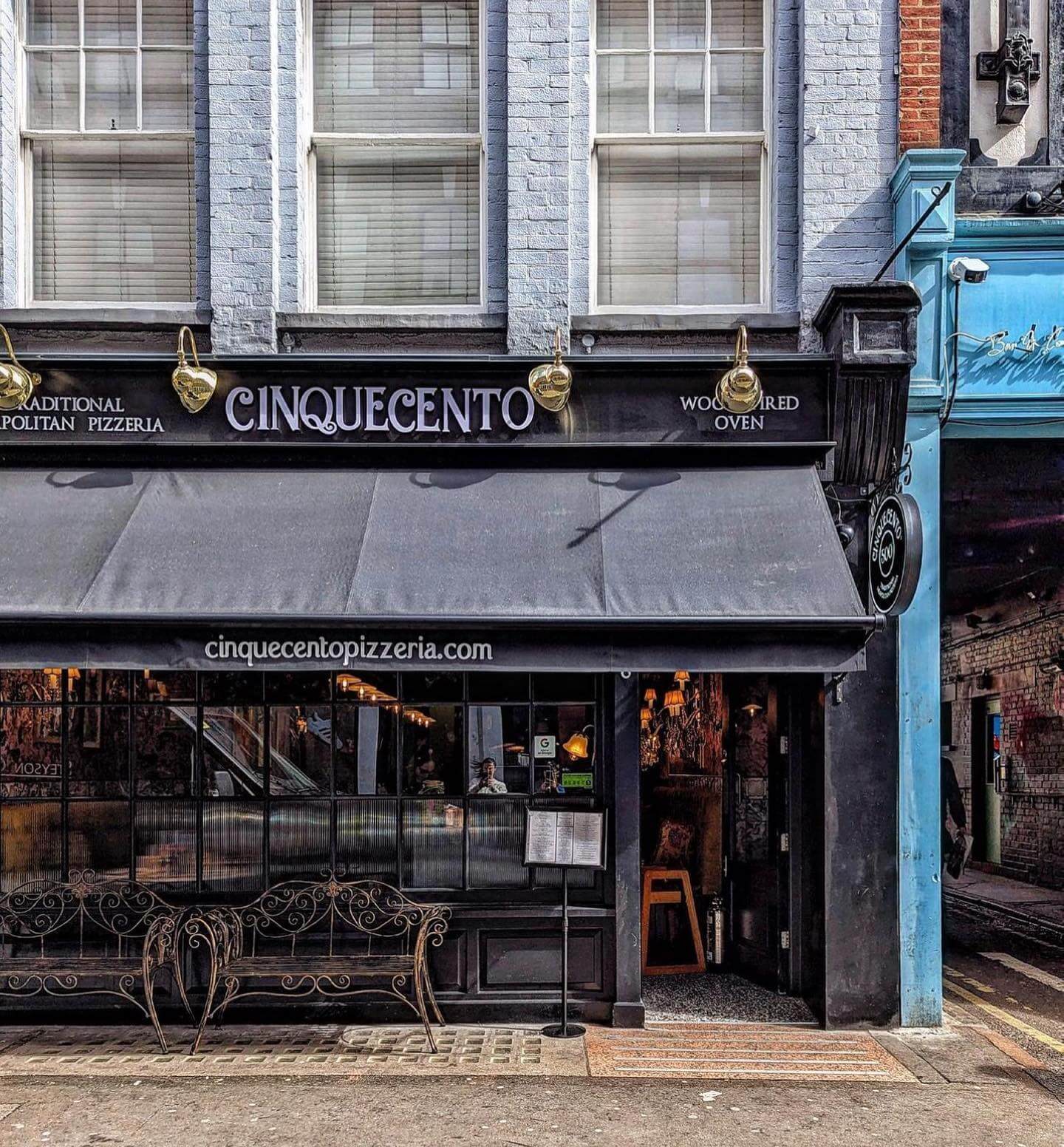 Let us introduce you to one of the best places to eat in Central London for a work or corporate event, Cinquecento Pizzeria. From a welcoming atmosphere to the five different locations to choose from and some private dining options, this authentic Italian restaurant is everything you need to have the best work celebration, new client introduction or Christmas party.
How to Choose Where to Go for Your Corporate Work Event from the Top 10 Restaurants in Central London 
With London being the capital of England and a food hub for many great chefs and food artists, there is (unsurprisingly) a huge selection of great restaurants in central London to choose from. Here are some factors to consider when selecting your next venue for a work event. 
Location
Firstly, look at the location. Of course, it's best to choose somewhere central so that it's easy for your staff and colleagues to get to from work or home. 
You may wish to select a location near your office so you can head to the restaurant after work. However, remember that some people prefer to go for work celebrations after brushing up at home for an hour or so. If you aren't sure, speak to your team and gauge their preferences.
Check out our website for locations of our top restaurants in Central London! We have five restaurants across the city centre to choose from, so you are sure to find a place to suit the location you need! 
Atmosphere and Interior Decoration
Like all good restaurants in central London, we focus on our food and level of service above everything. However, that isn't to say we neglect our restaurants' interior design, background music, etc. In fact, many of our customers have cited our interior and welcoming atmosphere as one of the top reasons they wanted to join us at Cinquecento Pizzeria for a work event! 
Hosting Numbers 
Find out if the restaurant has the capacity for your group. If you are a particularly large work party, please feel free to contact our friendly team to discuss our available options. As we have five sites in central London, there is a high chance we can accommodate your team at Cinquecento Pizzeria. 
Dietary Needs 
If you or anyone in your team has any dietary restrictions, such as gluten allergies, or the request for vegan-friendly options, we are happy to accommodate these at Cinquecento Pizzeria. 
However, don't be fooled into thinking that all the nice restaurants in central London will be as accommodating. Nevertheless, if you wish to accommodate everyone, including those with allergies or dietary preferences, look no further than Pizzeria 500, as we are used to catering for everyone, so no one misses out! 
Check out the full menu on our website or contact us for more information about our food. 
Cost 
Everything in London comes with an extra zero on the price tag. However, at Cinquecento Pizzeria, you can expect the very best food from top Italian chefs right in the heart of London at an affordable price. This means you won't be stressing about the bill and can sit back and relax during your booking and when you get stuck into socialising and fun. 
As you can see on the menu, we have options on the pasta money from just £11, pizzas including a margarita or a vegan option from £13. Even a touch of flu is Selsea car pizza at the top of the menu comes in at £25. However, this includes Black truffle shavings and truffle oil, along with some top-quality Italian sausage mushrooms and the finest mozzarella money can buy. 
We also have a range of affordable starters, appetisers and desserts if you would like to round your meal off with two or three courses. Plus, let's not forget our affordable drinks menu, including some Italian beers, wines and non-alcoholic options. 
Check the Reviews 
Of course, we don't expect you to just take our words in this blog post as bible, so please check out the Tripadvisor reviews from our branches across central London to verify our claims as one of the best restaurants in London City. 
We also have a blog post titled 'How we know we are one of the top Italian restaurants London has to offer'. This article showcases all the places you can find reviews online from Tempus Magazine, Design My Night, Square Meal, Foursquare City Guide, TripAdvisor, OpenTable and Happy Cow (the leading online vegan and vegetarian directory). So now you don't just have to take our word for it when we say we are a top-tier Italian restaurant in London! 
Private Dining 
If you have ever sought to book a table for dining in Central London, you'll know that finding a private space can feel like finding gold on the moon. However, we offer a solution and can provide private dining spaces in London, perfect for unforgettable parties, intimate private gatherings with high-profile clients, launch parties and more. Please enquire on the private dining page of our website for more information and to get your party booked. 
Conclusion 
As you can see, there are countless reasons to choose Cinquecento Pizzeria next time you're looking for the perfect venue for a work event. As one of the top places to eat in Central London that Has been serving the people of London authentic Neapolitan Italian food for several years, we know what it takes to provide you with everything you need to sit back, relax and enjoy your booking. Four of our restaurants currently take bookings, so please feel free to enquire on our website for more information about securing your table.