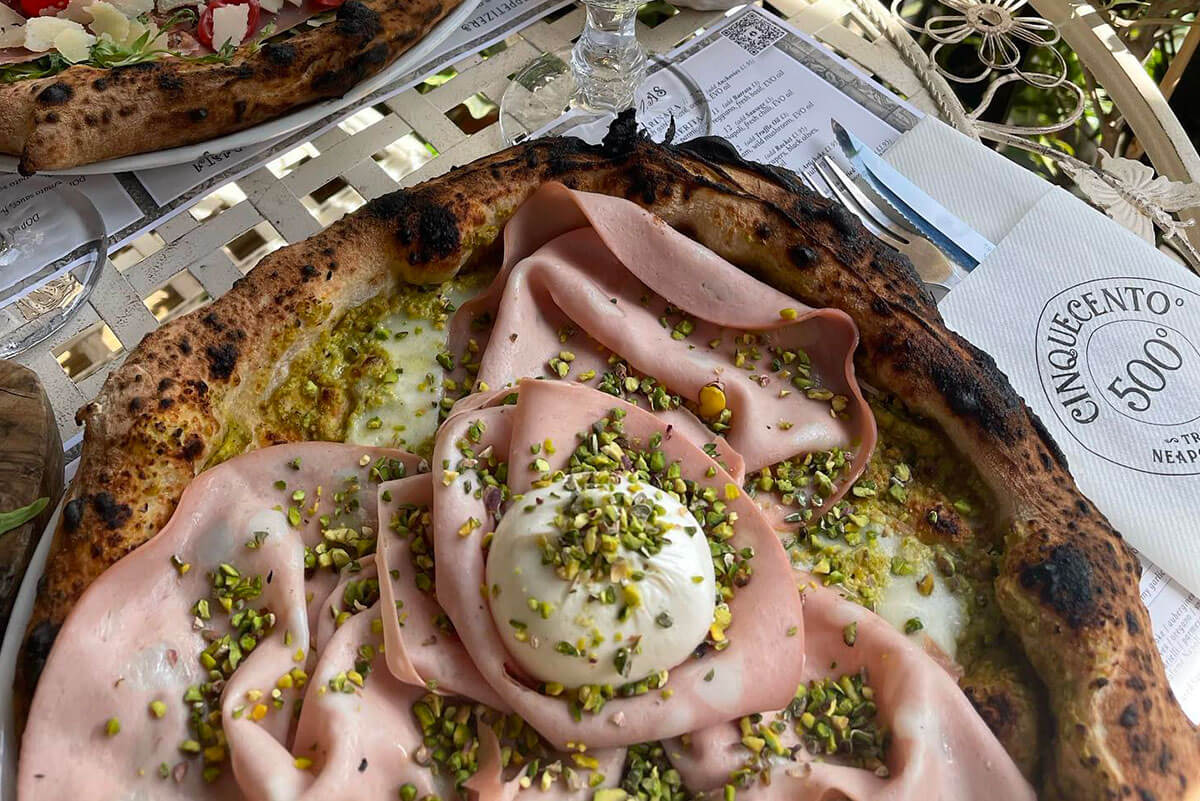 London is home to several Neapolitan pizzerias, and we wouldn't want it any other way. It's no secret that the majority of Brits love their food and can spot a decent restaurant from a mile away. In this article, we will be comparing Santa Maria Pizza and Cinquecento Pizzeria, two of the leading Neapolitan pizza restaurants in the capital. We will be looking at how these restaurants fare on food, price, service, and location. 
Who are Cinquecento Pizzeria? 
Cinquecento Pizzeria is a small chain of three independent traditional Neapolitan pizzerias in London. The restaurants were opened by founders Emanuele and Melo, who are passionate about bringing their Italian culture to the people of London. They hold high standards and make their pizza just like their Nonna used to make back at home in Naples. They opened their doors in their flagship restaurant in December 2019; after working in hospitality for years, they have used their experience to deliver the best Italian experience in London. 
What is Santa Maria Pizza? 
Santa Maria London is a small chain of pizzerias in the centre of the city. The restaurants are run by two Italians, Angelo and Pasquale, who have self-confessed their obsession with pizza. The first Santa Maria restaurant opened to the public in early 2010. 
Let's Compare: Santa Maria Pizza Vs Cinquecento Pizzeria
Food 
Both pizzerias offer extensive Italian menus that have been created by people who truly care about Italian food. As you may know, the chefs at Cinquecento Pizzeria are all Italian, and they only use 100% Italian ingredients in their food. Therefore, they can guarantee the food is of a high-quality, and the taste can match that of Italian food in Italy. Unfortunately, there is no mention on the Santa Maria website of where the ingredients are sourced. 
The dessert menu seems to be discrete on the Santa Maria website, so it is unclear whether they offer any sweet treat options to finish your meal. On the contrary, Cinquecento Pizzeria proudly displays its Italian desserts, including a tasty Tiramisù and traditional artisan gelato. 
Price
The Santa Maria pizza menu is slightly less expensive than the competitor's menu. However, both restaurants are very well priced for the central London area and considering the high quality of the options, and these menus are very affordable. 
Service
According to the 10s of Tripadvisor reviews on a branch of each restaurant chain, Cinquecento Pizzeria in Chelsea scored a 4.5 out of 5 on their service ratings (alongside 4.5 of 5 stars for food and value), whereas Santa Maria Fitzrovia scored just 4 out of 5 on their service ratings. 
Of 86 total reviews in the Cinquecento Pizzeria venue, the restaurant received 53 excellent reviews. Unfortunately, Santa Maria Fitzrovia can't boast such triumphs as they only secured 41 excellent reviews of 84 total reviews. 
Location 
Santa Maria is currently open in five locations across London, and Cinquecento Pizzeria is open in three. But, of course, all of these locations are easy to locate from most places in central London. 
Where are the Santa Maria restaurants located?
Santa Maria Ealing (new!) 

Santa Maria Fulham (due to the location, this brand is often known as Santa Maria Chelsea or confused as Santa Maria Kings Road)

Santa Maria Fitzrovia

Santa Maria Islington

Santa Maria Brentford at the Duke Of London
Where are the Cinquecento Pizzeria restaurants located?
Cinquecento Pizzeria Cale Street 

Cinquecento Pizzeria Portobello Road

Cinquecento Pizzeria Notting Hill Gate
FAQ
Do these restaurants do takeaway or delivery?
The Santa Maria website says they offer takeaway options. There is no mention of delivery options, and there are no directions as to how to order a takeaway in these venues. 
On the other hand, Cinquecento Pizzeria is happy to take orders for click and collect or pizza delivery in central London. 
Do these restaurants take bookings?
Cinquecento Pizzeria will take bookings for larger tables of 6 or more people. For tables of 1-5 people, please feel free to arrive and receive a table on a walk-in basis. 
Santa Maria does take bookings for any table size. 
Do these restaurants offer private dining? 
Cinquecento Pizzeria is happy to offer restaurant space for your events or special occasions. To book a table in this pizzeria and enjoy an unforgettable private event for parties of various sizes, please contact the friendly team today. 
Do these restaurants make gluten-free pizza? 
Santa Maria has a few gluten-free options, including gluten-free garlic focaccia, bruschetta and gluten-free pizza bases. However, you have to pay £2 to upgrade to the gluten-free pizza base. 
Read all about the gluten-free options in Cinquecento Pizzeria in our previous post. 
Do these restaurants do anything vegan?  
Cinquecento Pizzeria have Sicilian olives and a focaccina appetizer option. They also have tomato bruschetta (and an upgrade of avocado topped bruschetta) alongside a green salad for a vegan starter or side options. Cinquecento Pizzeria's pasta e Fagioli (pasta with cannellini beans) is also vegan on request without the Parmesan cheese. Alongside these options, Cinquecento Pizzeria also offers a vegan pizza menu with options such as vegan calzone and vegan Bosco (mushroom, rocket and truffle oil). You can also customise your pizza to add your chosen vegan toppings. 
Santa Maria has a small vegan pizza menu with vegan mozzarella. They also offer basic vegan starter options, including olives, bruschetta and garlic focaccia. They also have a Mediterranean salad for a light main option. 
Conclusion
As you can see, Cinquecento Pizzeria comes up top for most of these categories, including offering private dining and delivery options. The Cinquecento Pizzeria chain also scored better in their reviews from the public on TripAdvisor. So we know where we'd visit next time we were searching for a place to eat in central London. However, if you still aren't sure, check out the Cinquecento Pizzeria Instagram for pictures of the menu to see for yourself what you could enjoy in this restaurant.