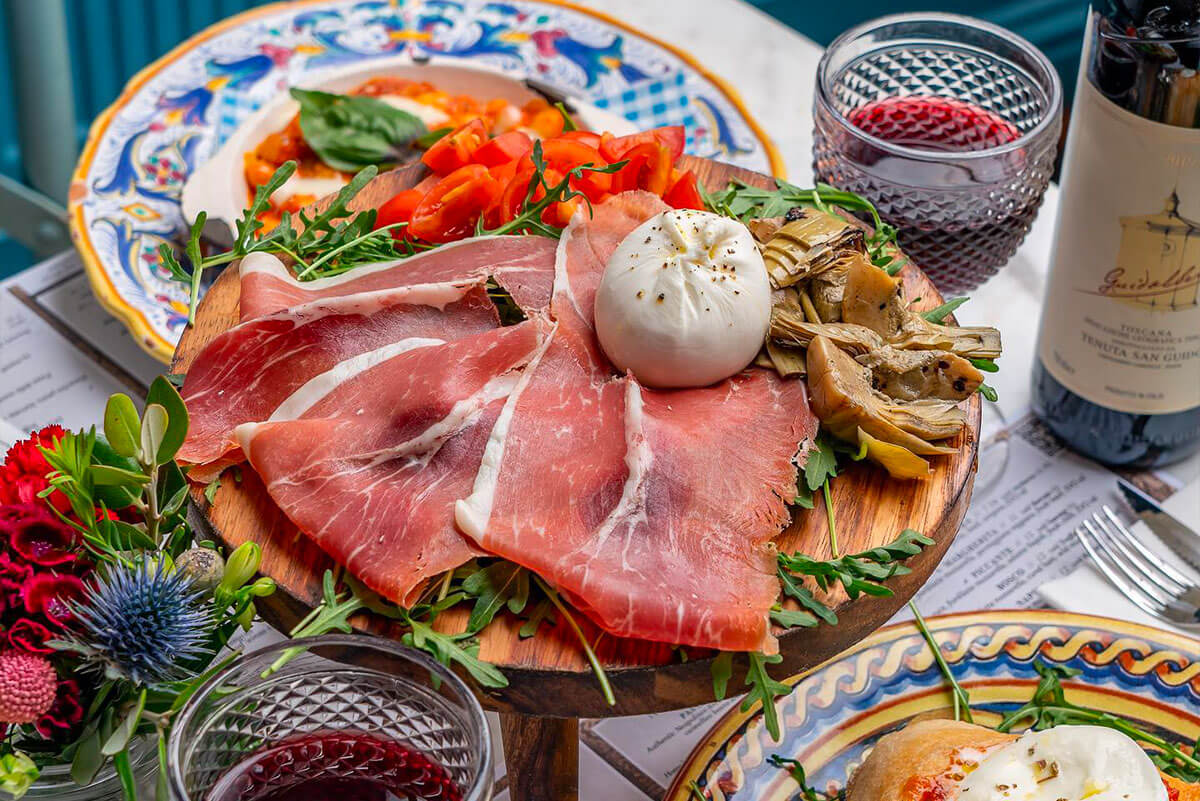 If you are wondering where can you eat in London with exceptional food, look no further than Cinquecento Pizzeria. After all, How many places to eat in central London can claim that they have served over 1.5 million pizzas to the people of the capital in the last ten years? If you still need convincing why we are one of the nice places to eat in central London, here are five reasons our customers come back time and time again. 
Why We Are The Best Place To Eat In London:
1. Italian Food By Italians
Call us snobs, but we can't stand it when pizza and pasta are done with a half-hearted attitude. That is why we always use our homemade pizza dough that has been left to ferment for 48 hours to ensure a tasty, light and hydrated dough (which is better for digestion!). In addition to the dough, we only use San Marzano tomatoes for their sweeter flavour in an Italian marinara sauce. We use fresh cheese (mainly mozzarella) for dairy options, or we have a vegan cheese alternative if you are avoiding dairy in your diet or just want to try something new. 
Along with vegan options, we also offer gluten-free bases, so no one has to miss out when it comes to enjoying real Italian food, just like how Nonna makes it back home in Italy! 
Plus, once our professional pizza chefs craft your pizza by hand, they will then cook it in a stone oven to crisp up evenly. 
Read more about what makes an authentic Italian pizza in our previous post. 
2. Great Date Night Location
Many people discount Italian-style venues as good restaurants in central London for a date as Italian food has the perception it is saucy, messy and clumsy. However, we would argue that Italian food is one of the most romantic cuisines you can choose! 
Just think, even in Disney, lady and the tramp has a romantic scene with spaghetti (ok, it was between two dogs, but you can't say you weren't rooting for them after this!) and the Italian language is the language of love. Add a bottle of red wine to your order, and you are set for a romantic dinner for two. 
Or why not take yourself on a solo date at one of the top restaurants in London. There's no reason you can't treat yourself to an Italian dinner and maybe after a long day at work or travelling, this is precisely what you need! 
3. Instagrammable Interior
As three of the best restaurants in London central to Chelsea, Portobello Road and Notting Hill Gate, we know before you take the first bite of your food, you need to feed the gram first before you get stuck into your pizza or pasta. 
We've all been guilty of wanting to take a nice photo of ourselves and our friends to post to show the world just how exciting we are and how great we are at finding the top restaurants in central London. And our restaurants are built for that photo opportunity. With quaint seating arrangements, wooden food platters, rustic tiles on the wall, flowers on the tables, and an open kitchen, there couldn't be a better place for a backdrop for your photos. 
As if this wasn't enough, and we may be biased here, but the pizza themselves are runway ready. Even Tyra Banks would be happy with their smizing! 
If you do snap a picture in our restaurant, be sure to tag us on Instagram @cinquecentopizzeria so we can share it on our page too. 
4. Family Friendly
As Italians are some of the most outgoing and fun-loving people in Europe, we don't want to leave the little ones out when it comes to enjoying food with the family. This is why all our restaurants are family-friendly. 
Your children can enjoy a classic Margherita pizza, choose a pizza with their favourite toppings or go with a gnocchi pasta dish. There is something for everyone at Cinquecento Pizzeria. 
Discover more about our menu in our ultimate guide to the different Italian pizzas.
5. Private Dining at a Good Restaurant in Central London
Our restaurants are also available to hire for private dining for events such as work gatherings, launch parties, birthdays and other personal occasions. We are happy to bring some Italian charm to your evening or lunch event with our friendly, lively service and tasty food.
The best way to enquire about our private hosting services is to get in contact with our team today or send us an email (info@cinquecentopizzeria.com), and we can get back to you to arrange the perfect dining scenario for you and your needs. 
For even more reasons to book a table at our Italian restaurant, read our previous post about why we are one of the best places to eat in London and why we should be next on your list to visit the city. 
Pizza is Always a Good Plan
If you are looking for where to eat in London that fits your needs for private dining, a photogenic location, or a place that is family or date friendly, yet don't want to compromise on tasty food, then you have found your next restaurant destination! We can't wait to host you Cinquecento Pizzeria and deliver you outstanding Italian food. And don't forget if you are looking for nice restaurants in central London that offer click and collect or delivery we can do both! 
For more inspiration about what to order at our famous restaurant in London, visit the Cinquecento Pizzeria Instagram and drop us a follow so you know when we are adding new items to the menu.