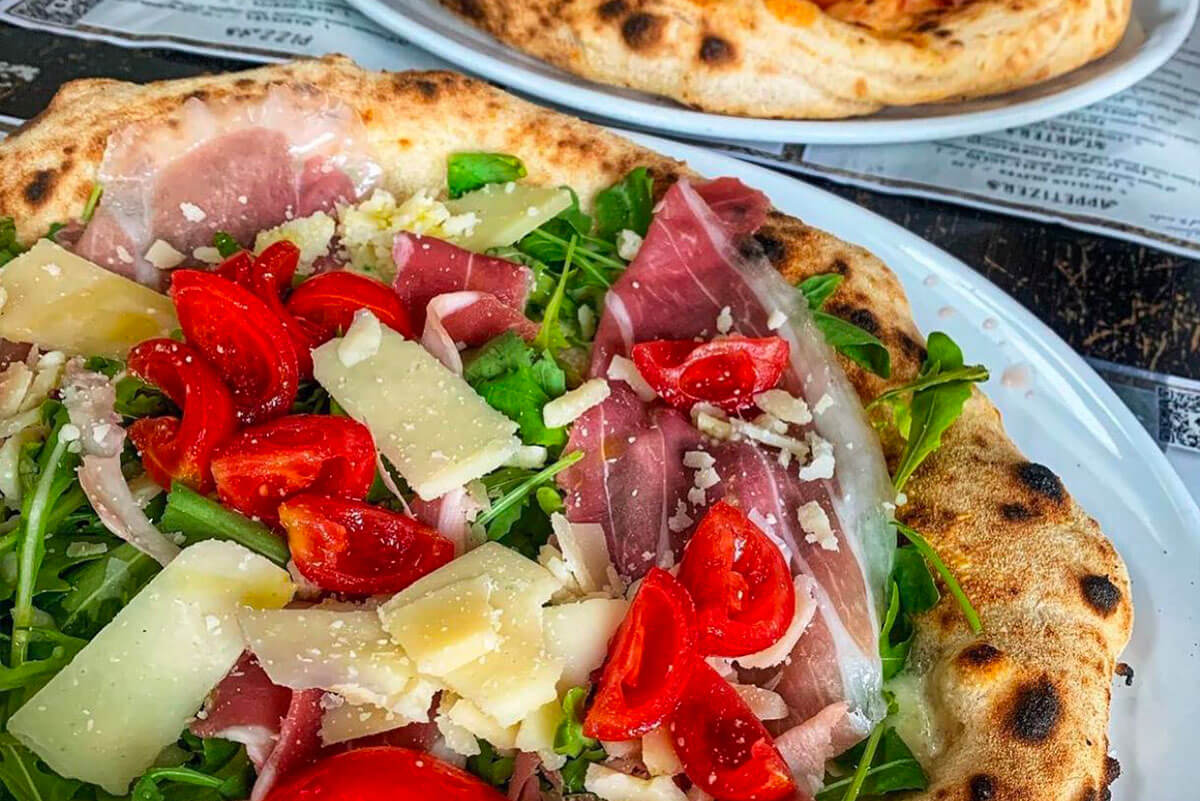 We are sure that when you type in 'best pizzas near me' into Google, you aren't just looking for the closest location wise. You want to find the combination of the best food in a nearby location. If it means going another 1-2 minutes down the road for a pizza that is twice as good, we can bet you are ready for those extra steps! 
This post is all about how to choose the best pizza in London and why we believe that our Italian restaurants should be next on your list to visit in the city. 
How Do I Choose The Best Pizzeria Near Me? 
If you were asked to list the pizzerias near me, you would know a few off the top of your head. Maybe you walk past them on the way to the bus stop or have seen their name on your food delivery app. But you shouldn't have to compromise on quality food and an authentic Italian experience just because something is near. Being in London means we have almost everything we could ever wish for right on our doorstep and even more than we need just 5 or 10 minutes down the road. 
If you are looking for a top tier experience at a pizza restaurant, here are a few things you should check they offer before you book your table:
Do they make authentic Italian pizza with real Italian ingredients?
Do they make their pizzas and the dough in house from scratch?
Are they able to cater for your friends and family members with dietary needs? 
Fortunately, at Cinquecento Pizzeria, we are able to tick all these boxes! All three restaurants in London offer authentic Italian food made by Italian chefs from scratch. We source all our ingredients straight from Italy. Making our food the closest thing to what you can get in Naples without leaving the UK! 
Read more
about why we believe we are head and shoulders above the rest when it comes to being the best Italian restaurant. 
How To Find Us
With three restaurants across central London, you are sure to find a nearby pizza shop from Cinquecento Pizzeria by your home or workplace. So choose which of these three restaurants below are closest to your and pop in today! 
1, Cale Street
Chelsea
SW3 3QT
+442073519331
233 Portobello Rd
Notting Hill
W11 1LT
+442039153797
115 Notting Hill Gate
Kensington
W11 3LB
+44 20 7792 8881
We are available for walk-ins only, meaning you don't need to book a table. Just turn up, and we will handle the rest. However, if you are looking to plan a trip with six or more people, please feel free to contact us via phone to discuss a reservation. 
Visit our contact page
for more information about our opening times and find your nearest pizza shop contact information. 
Looking for Vegan Pizzas Near Me?
With London being the second most vegan-friendly city in the UK, we are making sure to do our bit when providing people looking for plant-based options in the capital. This is why we have dedicated much of our time to developing some exquisite vegan options for you to enjoy. So whether you are strictly vegan, going vegan for Veganuary or just looking to try something a little bit different, we are here to provide these delicious plant-based options. 
Here are some of our most popular vegan options made with dairy-free cheese:
Vegan Margarita

Vegan Bosco

Vegan Spinaci

Vegan Calzone

Pizza Marinara (cheeseless pizza) 
Looking for Gluten-Free Pizzas Near Me?
With 1 in 10 people now choosing gluten-free alternatives, we decided it was about time to offer a gluten-free base for our pizzas. So speak to a member of our team to organise your pizza to be made on the gluten-free dough. 
You can also order the Sicilian Olives and Parmigiana Napoletana from our appetiser and starter menu and our side salads to enjoy with your mains. If you aren't already in a food coma after the first two courses, you may also be interested in our Italian gelato. Choose from chocolate, vanilla, hazelnut, lemon or pistachio flavour and get your dessert spoons at the ready! 
However, please know that we handle gluten and wheat in our kitchens on a daily basis. Therefore, we cannot guarantee that our food is free from contamination with gluten. 
For more information about our gluten-free menu,
read our previous post
. 
Find A Pizza Place Near Me Open for Delivery
Sometimes you want to get all dressed up for an evening out at a restaurant and make the most of the lively atmosphere and smell of the pizzas cooking in the kitchen. But sometimes you just want to sit at home on your sofa, in your cosiest pyjamas and have the pizza arrive right to your door. Both options involve the tastiest pizza in town so that we can get behind either!
How do I order pizza straight to my door from a pizza shop near me?
Cinquecento Pizzeria, Chelsea is currently available for orders for delivery on the Supper website. Find out if your area is covered in our Chelsea catchment area by reading this list of locations where we can deliver pizza. 
The Pepper-Only Place You Need To Know About!
When searching for nearby pizza shops, look no further than Cinquecento Pizzeria! We offer traditional Neapolitan pizza just like Nonna used to make it back home in Italy, and we can't wait to share our delicious creations with a pizza fanatic like yourself! To see some pictures captured in our restaurant and get your taste buds tingling, follow us on Instagram!