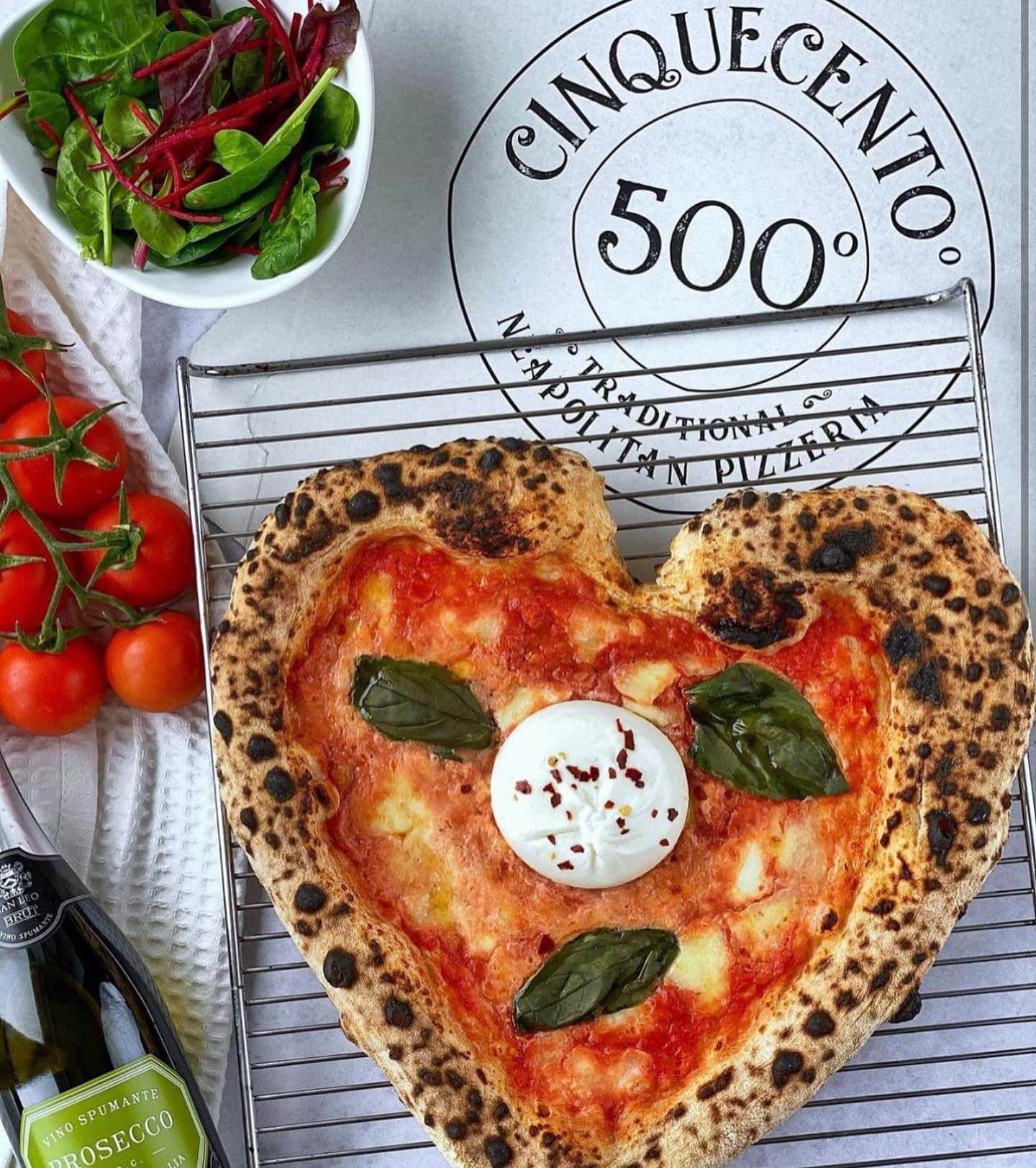 We could give you more reasons to love pizza than the slices of pizza we sell in a day – and the Cinquecento Pizzeria restaurants have sold over 1.5 million pizzas since our group of four pizzerias opened just four years ago. However, one reason we adore pizza is the countless possibilities of toppings you can add to change up the flavours of this incredible bread-based Italian main. 
At our Italian restaurants in central London, you can choose from our extensive menu containing over 20 pizza items. Plus, we even offer four vegan pizza options with delicious pizza toppings, including our melty vegan cheese for anyone avoiding dairy. This article will explore the different types of pizza toppings available for you to order at our restaurant (apart from pineapple because that is just a no-go for us Italians!). We will also review some frequently asked questions about popular pizzas and ideas for pizza toppings.
Toppings for Pizza Avalible at Cinquecento Pizzeria
Here is a list of all the pizza toppings found on the Cinquecento Pizzeria menu (you can find these toppings on our ready-curated pizzas or use the 'additions' section or the items from the menu as a list for pizza toppings ideas to use to create your own pizza topping combinations next time you visit our restaurant!): 
Mushroom

– We offer five pizzas with mushrooms as a topping for mushroom lovers. The fabulous Tartufata (a no tomato sauce pizza) is a top pick at

Cinquecento Pizzeria

with wild forest mushrooms and truffle oil. 

Cheese

– Our menu has plenty of cheese options to satisfy even your most intense cheese cravings. This type of pizza toppings is something you can even make vegan at our restaurants! 

Sausages

– We offer several pizzas with Italian sausage varieties, including the Calabria, Salsiccia e Friarelli, and Salsiccia e Fungi. Italian sausages are less processed than some other varieties of this meat, making this one of the best pizza topping ideas on the table. 

Olives

– you can find olives on several of our pizzas, but the vegan Spinaci is a great choice if you are in the mood for black olives and something a little different. 

Cured Ham

– ham is a popular choice across the pond. However, regular ham isn't a traditional Italian topping, so we have opted for more gourmet pizza toppings, including our premium cured Italian ham. The cured ham can be found on pizzas such as the Ripieno Pizzante. 

Fresh garlic and garlic oil

– garlic is a great addition to pizza in fresh or oil form. 

Tomato sauce and cherry tomatoes

– We use homemade tomato sauce on most pizzas, but tomato-less options are available. 

Fresh herbs

– our Italian chefs finish off each dish the best way they know how and often this involves the use of fresh herbs such as basil which sits on top of our classic Margherita pizza.

Chilli

– add a spicy kick with fresh chilli. 

Wild capers

– this Mediterranean staple is a favourite among those who love a slight tangy kick (almost like a lemony mustard taste) to their pizza. 

Sicilian anchovies

– if you're in the mood for one of our restaurant's more unique pizza topping ideas, this salty, soft fish is just the answer.  

Aubergine, broccoli, spinach and courgette

– add some delicious and healthy veggies to compliment your pizza. 

Pistachios

– it's no secret we Italians love using pistachios in our cooking. We add these mildly sweet nuts to our pizzas to add an earthy depth of flavour. Pistachios are certainly one of the more special pizza toppings available at our pizzeria. 
Pizza Topping FAQs
For more frequently asked questions about pizza toppings, visit our previous post, 'favourite pizza faqs and facts about popular pizzas'. 
What is the Most Popular Topping for Pizza? 
As mentioned in our previous post, 'Most Popular Pizza Types and Toppings', the most popular pizza toppings include mushroom, onion, olives, sausages, ham and pepperoni (at Cinquecento Pizzeria, we offer a chunky sliced salame Napoli as a superior pepperoni alternative). 
What is the Difference Between Pepperoni and Salame?
Pepperoni is a popular topping on pizzas in America. It is comparable to salami but with a spicier and sometimes smokier flavour. Pepperoni is also slightly softer and more delicate due to its higher fat content, meaning it usually has less protein than salami. 
As a proudly traditional Italian restaurant, we don't serve American-style pepperoni at Pizzeria 500. However, we do offer a chunky salami, which is good enough to convert any pepperoni enthusiast into a salami supporter. 
What is the Difference Between Fior di Latte Mozzarella and Buffalo Mozzarella?
Mozzarella di Bufala (aka mozzarella made of buffalo milk) is a creamier, tangier, and slightly sweeter mozzarella cheese. In contrast, Fior di latte mozzarella (mozzarella made with cow's milk) is more traditional and used on all of the pizzas on our menu, apart from the Bufala pizza, Burrata pizza and Tartufata pizza, which uses buffalo mozzarella. The Pizza Del Nonna also uses fresh buffalo ricotta instead of mozzarella. 
What is the Least Popular Pizza Topping?
The least common pizza topping order is a salty fish. Although, we never judge anyone for their pizza toppings of choice! 
What Pizza Should You Order?
Choosing a pizza from a menu with almost infinite topping combinations can be overwhelming, to say the least. However, if you aren't sure which pizza to get, we always recommend the Margherita Classica.
Now Back to the Top!
If reading about these pizza toppings and varieties has made your mouth water, come to our authentic Italian pizza restaurants in the heart of London and try them for yourself. You now know all about the best pizza toppings, so you can choose a pizza combination you haven't tried before or go for the standard option made by some of the best Italian chefs in town.