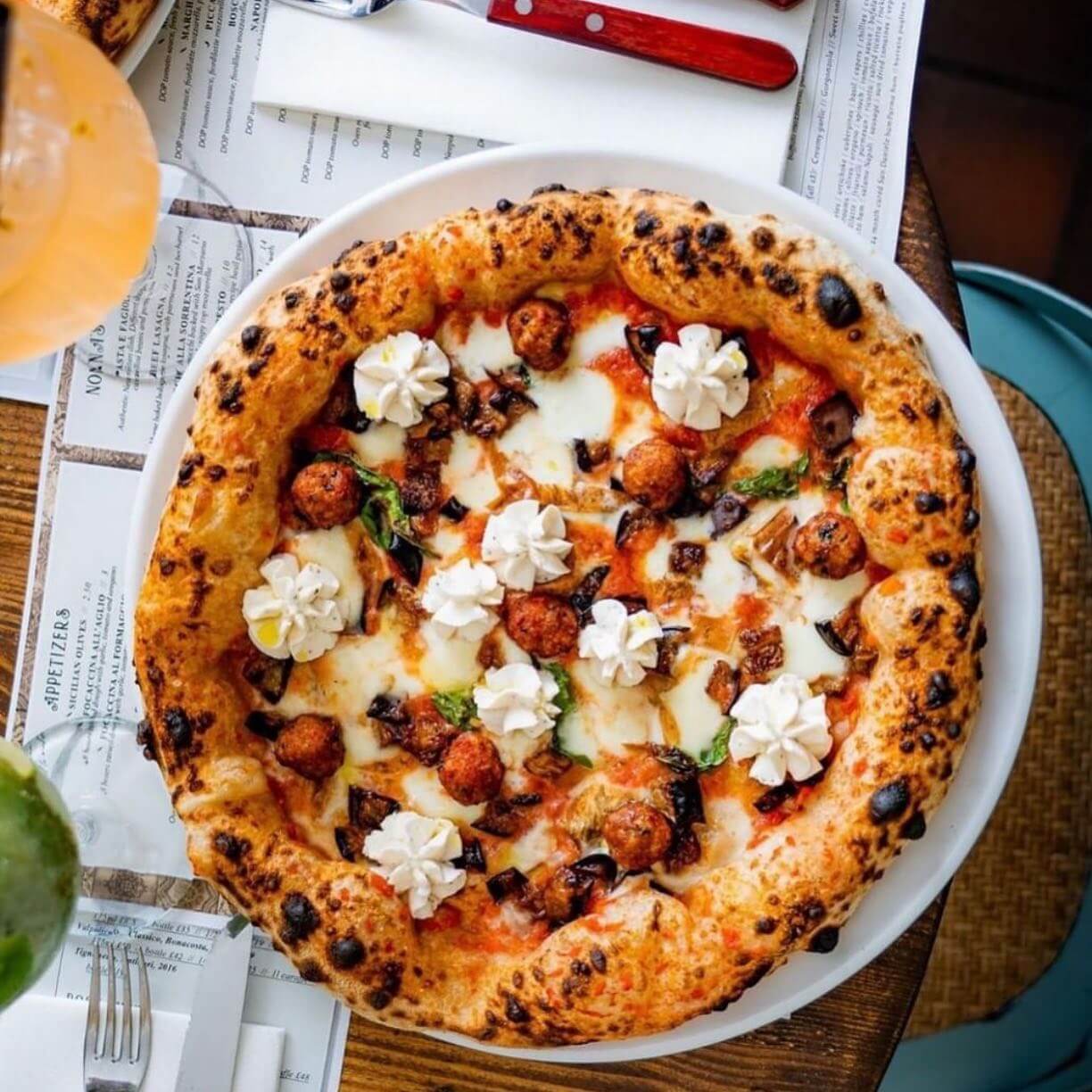 So if you're wondering who delivers pizza to your door in London, Cinquecento Pizzeria may be the answer. We offer countless options to help you relax and unwind from a busy day in the city, from our fermented pizza dough topped with homemade tomato sauce and other fresh Italian ingredients to fresh pasta in a creamy sauce and other options. 
Here is everything you need to know about ordering our dishes to your door by delivery or click and collect. 
How to Get Pizza Delivery Near Me 
If you are looking for a place for pizza delivered near me, check out our authentic Italian restaurant on Supper London. We have three branches in central London, so we are likely to be able to deliver to you at home, in the park or at work in the following general areas:
Chelsea

Knightsbridge

South Kensington

Kensington

Holland Park

Shepherds Bush

White City

Ladbroke Grove

Paddington

Fulham

Battersea

Belgravia

Earls Court

Marylebone

Mayfair
Click HERE to order pizza online from Cinquecento Pizzeria on the Supper app. 
What do you need to get started ordering pizza from Cinquecento Pizzeria? 
Firstly you need to decide whether you prefer to use our easy click-and-collect services or order your pizza for delivery. 
To order for fast delivery to your door:
Firstly, check if your address is served by the best pizza delivery in London on our delivery page. Then use your device to open the Supper app. 
Allow your hungry tummy to guide you when choosing your order, and add each item to your order with the click of a button (don't forget to make any amendments or add additional toppings when making your selections!). Select the 'view cart' option at the bottom of the screen and then proceed to checkout. You may be asked if you want to make a small donation towards a charity that aims to end classroom hunger, so simply make your choice and continue the order. 
You will need to quickly create an account to complete the order by adding in information such as your name, phone number (in case the restaurant staff or delivery team need to contact you or need help finding your address), email address (for future logins and processing your receipt) then select a unique password and agree to the Ts & Cs. Pay for your items in no time, and our Italian chefs will get to work preparing your order for delivery. 
You need to reach our minimum order value of £25 to use the Supper delivery service. However, if you are struggling to reach this amount, you can always use the click and collect or order extra food to enjoy for your lunch the following day or surprise a friend or neighbour. 
To order click and collect for speedy pick up:
Instead of using our local pizza delivery service, you can swing by and collect your pizza on the way. Simply head to our website, choose the closest pizzeria to you and select 'order'. To place an order, you need to select the items from the menu by tapping each item and clicking 'add to order'. Then you can 'view your order' and review your selections (don't forget your drink or sharing options!). 
To check out, you will need to log into your account with us or create a new profile (don't worry, it takes less than 30 seconds to do this) by including your name, email address and creating a password. You can also opt-in to receive emails about our discounts and offers in the future, which is handy if you are a pizza fanatic with an affinity for ordering traditional Neapolitan pizza on the regular. 
By creating an account with us, you can also earn points with every order to allow you to grab a cheeky discount on a future order! 
How to make the most of a takeaway night in
As a keen reader of the Cinquecento Pizzeria blog, you may already know that we are a huge advocate of ordering authentic pizza to your door and enjoying a relaxing night in with yourself or friends and family. If you are in the mood to invite your loved ones over for an Italian feast, simply order your food for delivery and then have a quick skim over our blog posts on how to be a top-tier host. 
Our previous posts on 'how to host a summer Italian takeaway party' and 'how to have the ultimate pizza takeaway night in' are packed with tips on how to entertain your guests and maximise your evening off. 
What to do if you are ordering and have an allergy?
If you have a food allergy, you can still order from us for delivery! Just place your order online and then give us a ring once the order has been processed on the corresponding number to the branch that is supplying your meal to inform us of your allergy. Simply give us your order number and any details of your allergy, and we will ensure your order is safe for you to eat. However, please be aware although we do our best to keep you safe, we may still use the ingredients you are allergic to in our kitchen.
Are there vegan options available for delivery?
Absolutely! We have covered you if you are vegan or just in the mood for a plant-based option. Our delivery menu is remarkably similar to our standard menu and, therefore, includes numerous vegan options, including authentic Neapolitan pizzas with gooey vegan mozzarella. 
Takeaway Points 
You may have noticed by now our puns aren't quite up to par with our outstanding cooking skills but cooking and delivering pizzas while they are still hot is another one of our skills. As one of the top places to get pizzas delivery near me, you can trust the team at Cinquecento Pizzeria to help elevate your pizza takeaway night.