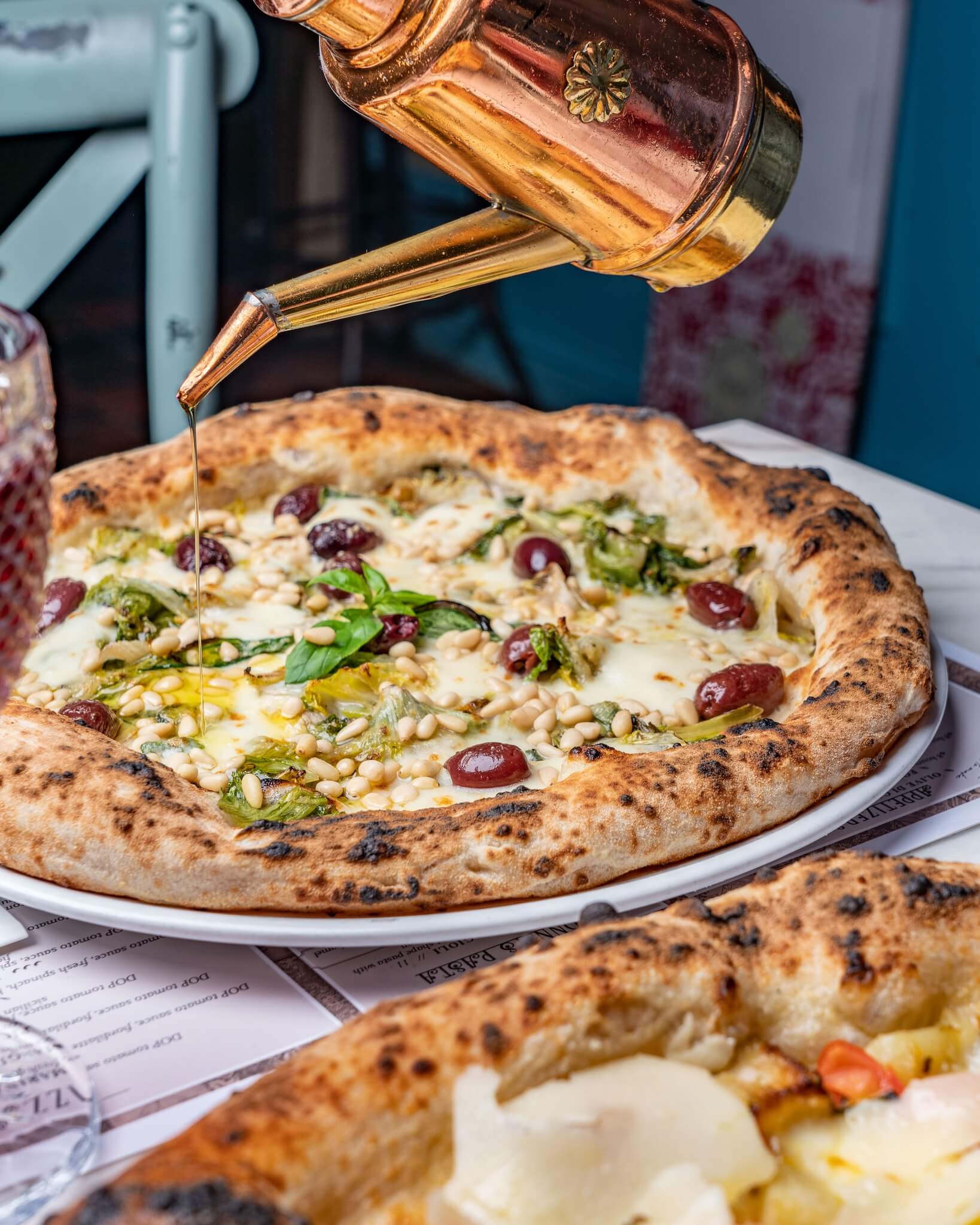 It's no secret that the people of Great Britain love pizza. No, really, you guys LOVE pizza. Pizzerias and Italian restaurants (like ours!) are some of the most popular types of restaurants in the UK, and unsurprisingly, the only type of food and drink serving venue even to come close to the number of pizzerias and Italian restaurants were pubs. So it turns out the average Brit might even prefer a pizza over a pint! But luckily, you don't have to choose between the two as all good London pizza restaurants serve both! In this blog post, we will introduce Cinquecento Pizzeria, our group of traditional Italian restaurants in central London that bake some of the best pizza places in London (not that we are biased or anything!). 
Cinquecento Pizzeria: One of the Best Pizza Joints in London
Cinquecento Pizzeria is a quaint group of traditional Italian restaurants located in the heart of London (aka the capital of pizza outside Italy). Our Italian chefs help make every experience in our branch a unique and authentic pizza experience. Our pizza is made with the freshest ingredients (that our pro chefs source straight from Italy) and cooked in a traditional 500° wood-fired oven, ensuring that every slice of our Neopolitan pizza is crispy and delicious. Although other Italian restaurants, such as Santa Maria Ealing, cook using similar techniques, we believe a few factors put pizzeria 500 head and shoulders above any other pizzeria in London.  
Founded by Italians
Our Italian founders, Emanuele and Melo, pride themselves on using traditional Italian techniques to make our pizzas. All dough is made with a blend of Italian 00 flour and is left to rise for at least 24 to 48 hours before it is stretched by hand. The toppings are made with the freshest ingredients, including locally sourced produce or 100% fresh Italian ingredients.
Top Dishes and Lots of Choices
Our Margherita pizza is one of the standout dishes on the Cinquecento Pizzeria menu. This humble pizza is made with acidic San Marzano tomatoes and creamy buffalo mozzarella and balanced with a few fresh basil leaves. The crust is perfectly thin and crispy, making it the best Neopolitan-style Margherita pizza in London.
Another great pizza to try at Cinquecento Pizzeria is our Piccantissima pizza. This spicy pizza has tomato sauce, Fior di Latte mozzarella (cow's milk mozzarella), spicy salami, Calabrian 'nduja (a type of spicy Italian meat) and chilli flakes. The heat from the chilli flakes is perfectly balanced with the richness of the mozzarella, making it a popular choice among daring customers.
Our London Pizzeria never likes to leave anyone out. And as London boasts the largest proportion of vegans in the country, we have created a delicious range of vegetarian and vegan pizzas. For example, our Vegana pizza is made with tomato sauce, chef-approved vegan cheese, roasted veggies, and fresh basil. This pizza is an excellent option for anyone looking for a delicious vegan pizza in London.
And don't stop at the savoury options! We also serve many traditional Italian desserts, including Rum Baba, artisan gelato, cannoli and Tiramisù. 
Non-Pizza Options
If you aren't in the mood for pizza, our menu also offers a spectrum of other traditional Italian dishes, including savoury dishes, like our delicious Gnocchi alla Sorrentina, and desserts. Our Tiramisu is a standout dish made with homemade ladyfingers, mascarpone cream, and espresso (not to be confused with the iconic trifle fail in the Thanksgiving Friends episode the character Rachel tries to make with ladyfingers and beef!).
Overall, Cinquecento Pizzeria is the best pizza restaurant in London. We are committed to using traditional Italian techniques passed down through the generations, and fresh ingredients set it apart from other pizza restaurants in London.
Four Cinquecento Pizzeria, London Locations
Now you can try the best pizza in London in four different locations in central London! After the success of opening our first branch in Kingston and Chelsea, we now have four venues across central London from Notting Hill Gate to Portobello. 
Check out the list and addresses of all our pizzeria locations on our website! 
Other Great Pizza Restaurants in London
Of course, the chains like Franco Manca do a semi-decent slice of pizza, but nothing beats the authentic taste of a pizza from a traditional Italian kitchen. So whether you are in the mood for a classic Margherita or something a little more adventurous, our pizza restaurant in London can satisfy your cravings. 
We Can't be Thamed!
Ok, maybe after writing over 30 articles on the Cinquecento Pizzeria blog, we are coming to the end of our fun pun streak. Still, we couldn't pass over the opportunity to reference the iconic River Thames that runs beside our Italian restaurants in central London. 
Cinquecento Pizzeria is arguably the top pick for the best pizza restaurant in London, thanks to our commitment to traditional Italian techniques (thank you to our Italian Nonna for her family recipe passed down through the generations!) and 100% fresh and Italian ingredients imported from Italy directly to our London pizza restaurant. 
More About London, Pizza and What to Do in This Vibramt City
If you aren't a London resident and are interested in popping into London for a little excursion and sightseeing, visit our previous articles, including '​​Italian Restaurants in Notting Hill Gate & Activities Near This Neighbourhood', 'How to have a Top-Tier Hyde Park Pizza Picnic' and 'What To Do Near The Neighbourhood of Portobello'.
No matter which of the four Cinquecento Pizzeria restaurants in London you choose, you are sure to enjoy a delicious meal. Want to know what you're in for? Check out the Cinquecento Pizzeria Instagram for mouth-watering photos of the food we serve daily in our authentic Italian restaurants or to share your shots with our team. We'd love to see any pictures of your food or some snaps of you and your loved ones enjoying some delicious Italian food at our lively and vibrant restaurants in London.