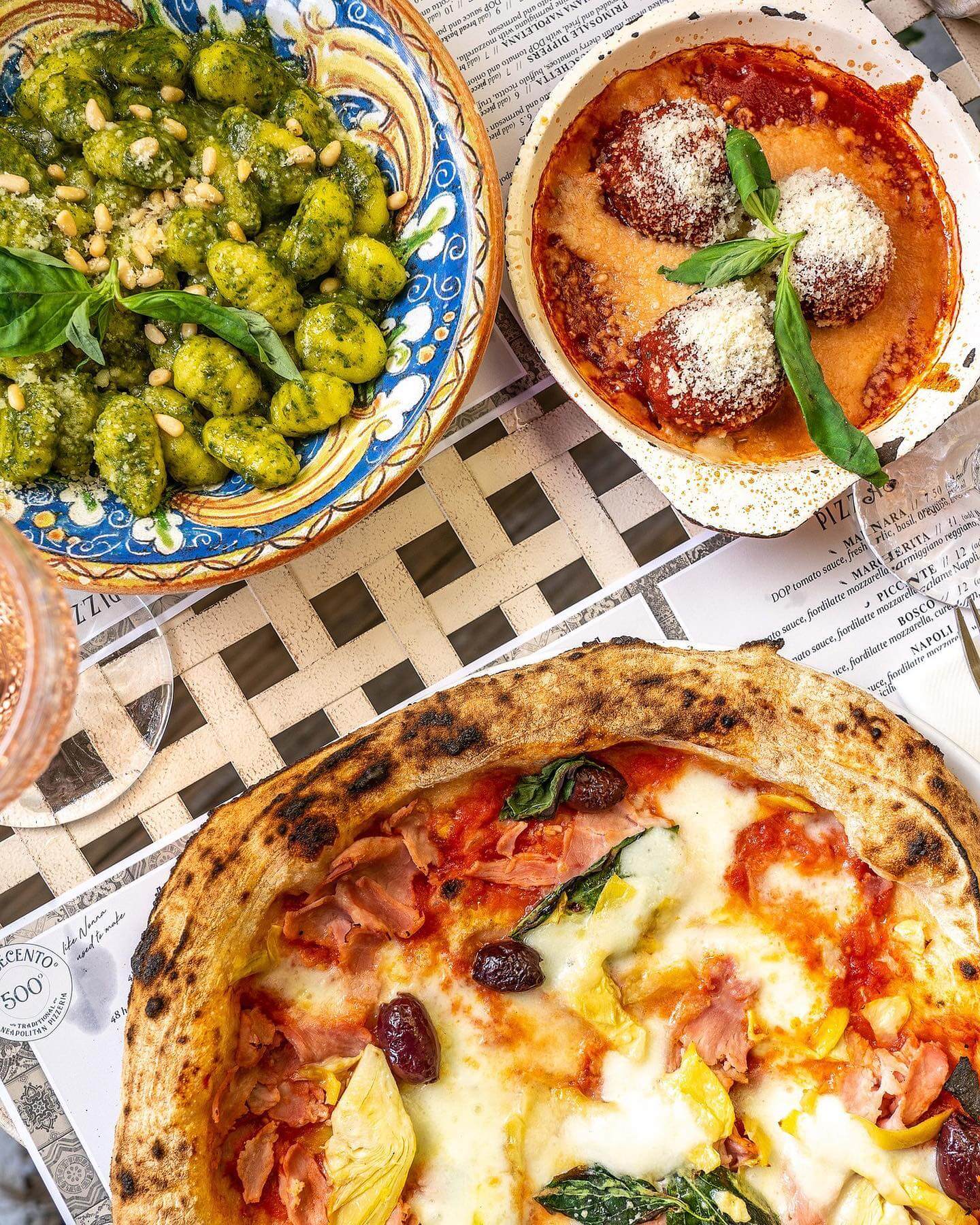 Hey Siri, find me a good pizza place in London! Does this sound like a search may have made recently? Then maybe you're in need of a craving fix at Cinquecento Pizzeria. 
In case you haven't been to one of our branches before, we thought we'd create this helpful article to go over some frequently asked questions that we get from new customers. We want to make you feel at home in our restaurant, so if there's anything we have missed, please feel free to send us a message on our Instagram.
Best Time and Day To Visit One of Our Pizza Restaurants in London
Our quietest days are generally between Monday and Wednesday, with Monday being particularly slow as people are still getting over their Monday Blues. Regardless, this also makes these days the best time to visit our restaurants if you are in need of a speed supper. As fewer people are in our branches these days, you can generally expect faster service, which can be ideal during a busy week. 
However, if you are looking for that loud Italian family atmosphere, we recommend visiting on a Friday or Saturday evening. As we are so popular, you may have to wait a little longer for a table and your food, but we can assure you it will be worth the wait.
Sundays are generally consistently busy throughout the whole day from 1 pm till closings. So if you are looking for the best day to come for a busy, lively background atmosphere at lunch, Sunday is your best bet. 
What to Order From Our Delicious Menu
When you find a good pizza place near me, it becomes hard to choose what to order! In the past, we have created countless articles to help you decide what to order, including:
What to do Near Our Restaurant? 
If you are new to central London, stopping by or just looking for something new to do in your local area, we have produced several guides to help. You can use these previous articles to plan a fun day out with your friends and family and treat them to a crispy Neapolitan pizza to finish off the day.
Does Cinquecento Pizzeria Take Bookings in Advance?
We prefer to operate on a walk-in basis, so please feel free to plan your night your meal and head on over to one of our three branches in central London and request a table. We realise this is trickier for large groups, so we accept some reservations for bookings of six or more people. To make a booking for a special event, please feel free to contact us via email.
Our branches are all within walking distance of each other or a short taxi ride so if one branch seems too busy, you can hop over to a different branch to get the pizza you have been dreaming of all day.
Does Cinquecento Pizzeria Deliver?
Of course – although we may be a team of Italians, we understand how much the Brits love a good takeaway in the comfort of their own home watching a movie. Therefore, you can use the Supper app to get any item from our menu delivered to your door (including vegan options). 
As a bonus, you can also plan a fun night at home using our helpful guide to the best pizza takeaway night.
Reviews of Our Branches 
Open Table lists our restaurants at a great score of 4.6/5 from the 63 reviews on the site. Food fanatics also said we offered 'top quality ingredients and good prices' and 'great place to go for a tasty pizza with lovely staff'. 
Other reviews on TripAdvisor recounted 'as an Italian, I appreciate this place and the fantastic Neopolitan style pizza with a superb base and toppings', and another customer recalled it being 'the most delicious dinner with the best pizza outside of Italy'. 
How Can I Find Cinquecento Pizzeria?
Okay, so maybe you know you want to head over and have had all your questions answered today, but where is the pizza place? As we have three branches in central London, you may find which is the nearest pizza place to your current location or home address. Check out the addresses of each pizzeria on our website and get directions to find your way to our door on our website. 
Contact Info
Need to speak to a member of the team? Head over to our contact page and submit the simple form to message us with any information or questions you may have about your visit with us. 
Alternatively, you can also call us via the location-specific pizza place number found on our locations page of the website. Please note the opening times of the three branches may vary, so check we are open and try and avoid peak dining times to avoid being disappointed by an ever-ringing phone. 
See you very soon!
Hopefully, we have answered your question on where is a good pizza place to get your Italian fix in London. As we use traditional Italian techniques and ingredients, we know how to really treat you to a high-quality Italian meal. Our friendly team at Cinquecento Pizzeria are passionate about creating Italian delights, and we can't wait for you to visit us in the near future.